Genetic variability of Senepol cattle in Colombia using molecular markers
Jeannie C Sepúlveda

Animal Genetic, Breeding and Modeling group (GaMMA), Facultad de Ciencias Agrarias e Instituto de Biología, Universidad de Antioquia

Paula A Ángel-Marín

Animal Genetic, Breeding and Modeling group (GaMMA), Facultad de Ciencias Agrarias e Instituto de Biología, Universidad de Antioquia

Alejandra Toro

Animal Genetic, Breeding and Modeling group (GaMMA), Facultad de Ciencias Agrarias e Instituto de Biología, Universidad de Antioquia

Juan D Corrales

Animal Genetic, Breeding and Modeling group (GaMMA), Facultad de Ciencias Agrarias e Instituto de Biología, Universidad de Antioquia

Manuel A Moreno

Animal Genetic, Breeding and Modeling group (GaMMA), Facultad de Ciencias Agrarias e Instituto de Biología, Universidad de Antioquia

Mario F Cerón-Muñoz

Animal Genetic, Breeding and Modeling group (GaMMA), Facultad de Ciencias Agrarias e Instituto de Biología, Universidad de Antioquia
Abstract
Summary
The Senepol beef cattle breed was introduced into Colombia through the use of artificial insemination and embryo transfer from a small nucleus of animals. Objective: to estimate the genetic variability of Senepol cattle in Colombia by heterologous microsatellites and to estimate gene and genotypic frequencies of single nucleotide polymorphic markers through calpastatin (CAST1), calpain (CALP316), and leptin (PB) genes. Methods: 412 blood samples from 28 herds were genotyped for population genetic structure with the STR: INRA32, BM2113, ETH10, BM1824, INRA037, ETH225, INRA064, SPS115, TGLA126, and TGLA122 microsatellite markers. Three SNPs of calpastatin, calpain, and leptin genes were used. Results: all microsatellites and SNP markers were polymorphic. The number of alleles ranged from 4 (BM1824) to 11 (INRA37), and the observed heterozygosity varied between 0.21 (INRA64) and 0.89 (BM2113). Combined probability of exclusion for the microsatellites was higher than 99.99%, indicating the usefulness of this set of markers for parentage testing in Senepol. Conclusions: despite being a small and closed population, this nucleus presents high genetic variability and low inbreeding.
Key words: beef cattle, genetic diversity, genetic structure, microsatellite marker.
Resumen
El ganado Senepol fue introducido en Colombia mediante el uso de la inseminación artificial y transferencia de embriones de un pequeño núcleo de los animales. Objetivo: estimar la variabilidad genética del ganado Senepol de Colombia por medio de marcadores microsatélites y estimar las frecuencias alélicas y genotípicas de SNPs en los genes que codifican para la calpastatina (CAST1), calpaína (CALP316) y leptina (PB). Métodos: 412 muestras de sangre de animales pertenecientes a 28 fincas fueron analizados para los STRs: INRA32, BM2113, ETH10, BM1824, INRA037, ETH225, INRA064, SPS115, TGLA126 y TGLA122 y los tres SNPs. Resultados: los microsatélites y los SNPs fueron polimórficos. El número de alelos de los microsatélites variaron entre 4 (BM1824) y 11 (INRA37), la heterocigosidad observada varió entre 0.21 (INRA64) y 0.89 (BM2113). La probabilidad de exclusión para el total de microsatélites fue mayor que 99.99%, indicando que el conjunto de microsatélites pueden ser usados para pruebas de filiación. Conclusiones: a pesar de ser una población pequeña y cerrada, este núcleo presenta una alta variabilidad genética y baja consanguinidad.
Palabras clave: diversidad genética, estructura genética, ganado carne, marcadores microsatélites.
Resumo
O gado Senepol foi introduzido na Colômbia mediante o uso da inseminação artificial e a transferência de embriões de um núcleo pequeno de animais. Objetivo: estimar a variabilidade genética do gado Senepol da Colômbia mediante marcadores microsatélites e estimar as frequências alélicas e genotípicas dos SNPs dos genes de calpastatina (CAST1), calpaina (CALP316) e leptina (PB). Métodos: 412 amostras de sangue de animais pertencentes a 28 rebanhos foram analisadas para os STRs INRA32, BM2113, ETH10, BM1824, INRA037, ETH225, INRA064, SPS115, TGLA126 e TGLA122 e os três SNPs. Resultados: os microsatélites e os SNPs foram polimórficos. O número de alelos dos microsatélites variaram entre 4 (BM1824) e 11 (INRA37), a heterocigosidade observada variou entre 0,21 (INRA64) e 0,89 (BM2113). A probabilidade de exclusão para o total de microsatélites polimórficos foi maior que 99.99%, indicando que o conjunto de microsatélites podem ser usados para testes de filiação. Conclusões: embora seja uma população pequena e fechada, o núcleo apresenta uma alta variabilidade genética e baixa consanguinidade.
Palavras chave: diversidade genética, estrutura genética, gado de corte, marcadores microsatélites.
|Abstract = 119 veces | PDF = 94 veces| HTML = 354 veces|
Downloads
Download data is not yet available.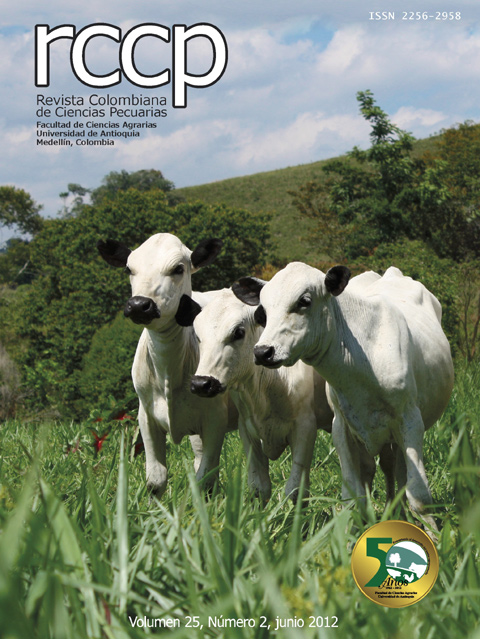 Section
Original research articles
The authors enable RCCP to reprint the material published in it.
The journal allows the author(s) to hold the copyright without restrictions, and will allow the author(s) to retain publishing rights without restrictions.