Efecto del Clorpirifos 0,0-dietil 0-(3, 5, 6-tricloro-2-piridil fosforotioato) en machos juveniles de tilapia (Oreochromis spp)
Abstract
Summary
Chlorpyrifos is a highly toxic insecticide to freshwater organisms and little is known regarding its potential to affect endocrine systems at sublethal concentrations. The induction of vitellogenin (Vtg) is a fairly sensitive marker of the effects of estrogenic compounds in juvenile fish. Objective: to evaluate histological changes and Vtg production in juvenile male tilapia (Oreochromis spp) exposed to sublethal concentrations of the insecticide Lorsban® EC (active ingredient chlorpyriphos). Methods: juvenile tilapia were exposed to 4, 8, and 12 µg/L of chlorpyrifos for 28 days in a semistatic system, with tanks receiving a 50% (v/v) daily water change to maintain nominal concentrations of the insecticide throughout the experiment. Subgroups of 3 animals from each concentration batch were euthanized on days 7, 14, 21 and 28 days, and samples of liver, gonads, gills, kidney and brain tissues were taken for routine histopathology examination. Liver and gonads were also processed by immunohistochemistry using monoclonal anti-killifish vitellogenin Vtg ND - 5F8 to detect Vtg. Results: we found significant statistical difference (p < 0.05) for some injuries to the brain (degeneration and gliosis of the optic tectum), kidneys (vacuolar nephrosis and tubular hyaline granules), and liver (karyomegaly, binucleation, and hyaline granules in hepatocytes). Similarly we verified the induction of vitellogenin synthesis in liver and gonads, finding significant difference (p < 0.05) in the expression of this protein between the control group and 4 mg / L with respect to treatment of 8 and 12 mg / L. Conclusion: the results obtained on the induction of vitellogenin in males suggest a general effect of blocking concentrations of Chlorpyrifos for the possible induction of this protein. The mechanisms are not known at this time.
Key words: biomarkers, endocrine disruption, immunohistochemistry organophosphate compounds, viteüogenin
Resumen
Hasta donde se conoce, no hay estudios en tilapias juveniles (Oreochromis spp), que valoren el potencial de disrupción endocrina del Clorpirifos por análisis histológico e inmunohistoquímico de la inducción de la Vitelogenina (Vtg) hepática. Objetivo: determinar los efectos de la exposición subaguda al Clorpirifos en órganos blanco de disrupción en peces juveniles machos de tilapia. Métodos: el experimento de dosis subletal, se realizó en un sistema semiestático, con recambio diario del 50% del volumen de agua manteniendo la concentración nominal en cada grupo experimental mediante la adición de la mitad de la dosis hasta el día 28. Las concentraciones de Clorpirifos para la exposición fueron 4, 8, y 12 μg/L. Con cada concentración se trataron 12 juveniles, con tres replicas para cada concentración. Los 12 peces del grupo control no recibieron tratamiento. Se realizó el estudio anatomopatológico de tres animales por grupo, por cada semana los días 7, 14, 21 y 28 de estudio. Se efectuó la toma de muestras para estudio histopatológico de hígado, gónadas, branquias, riñón y encéfalo y se procesaron por histopatología de rutina. Las muestras de hígado y gónada también se procesaron por inmunohistoquímica. Resultados: el análisis MANOVA encontró diferencia significativa (p < 0.05) para lesiones en encéfalo (degeneración tectum óptico), riñón (gránulos hialinos) e hígado (cariomegalia), constituyéndose en órganos de impacto de los efectos del Clorpirifos a bajas dosis. Se verificó la inducción de Vtg en hígado y gónada de los animales expuestos, encontrando diferencia estadística significativa (p < 0.05) en la expresión de esta proteína entre el grupo control y de 4 μg/L con relación a los grupos de 8 y 12 μg/L. Conclusión: los resultados obtenidos sobre la inducción de Vtg en machos sugieren un efecto antogonista del Clorpirifos sobre los Receptores Estrogénicos (REs), con una posible disminución en la síntesis de ésta proteína. Los mecanismos no se conocen en el momento.
Palabras clave: biomarcadores, disrupción endocrina, inmunohistoquímica organofosforados, vitelogenina
Resumo
O clorpirifos é um insecticida altamente tóxico para os organismos de água doce. Porém, pouco se sabe acerca de seu potencial efeito no sistema endócrino em concentrações subletais. A indução de vitelogenina hepática (Vtg) é um marcador bastante sensível do efeito de componentes estrogênicos em peixes juvenis. Objetivo: determinar os efeitos da exposição subaguda ao clorpirifos em órgãos alvo de disrupção endócrina em machos juvenis de tilápia. Métodos: o experimento foi realizado em um sistema semi-estático com recambio diário de 50% do volume de água, com manutenção da concentração nominal em cada grupo experimental mediante a adição da metade da dose de clorpirifos até o dia 28. Três grupos de 12 peixes foram tratados com concentrações de clorpirifos de 4, 8 y 12 μg/L, respectivamente, com três réplicas para cada grupo. Um grupo controle não recebeu nenhum tratamento. Realizou-se o estudo anatomopatológico de rotina do fígado, gônadas, brânquias, rins e encéfalo de três animais por grupo nos dias 7, 14, 21 e 28. As amostras de fígado e gônada foram também processadas por inmunoistoquímica usando um anticorpo monoclonal para detectar Vtg (anti-killifish Vtg ND-5F8). Resultados: mediante análise MANOVA encontrou-se diferença significativa (p < 0.05) para lesões no encéfalo (degeneração do tectum óptico), rim (grânulos hialinos) e fígado (cariomegalia), fato que demonstra que estes são os órgãos alvo dos efeitos do clorpirifos a baixas doses. Verificou-se a indução de Vtg no fígado e gônada dos animais expostos, com diferença estatística significativa (p < 0.05) na expressão desta proteína entre o grupo controle e o grupo de 4 μg/L com relação aos grupos de 8 e 12 μg/L. Conclusão: os resultados obtidos sobre a indução de Vtg em machos sugerem um efeito antagonista do clorpirifos sobre os receptores estrogênicos, com uma possível diminuição na síntese desta proteína. Os mecanismos ainda são desconhecidos.
Palavras chave: biomarcadores, disrupcao endócrina, inmunoistoquímica, organosfosforados, vitelogenina
|Abstract = 78 veces | PDF = 22 veces| | HTML = 39 veces|
Downloads
Download data is not yet available.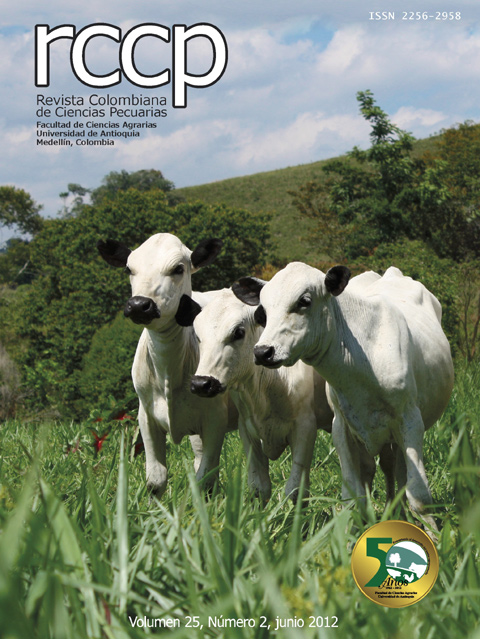 How to Cite
Aranzazu Taborda, D. A., Rodríguez, B. de J., Vieco Durán, B., & Restrepo Betancur, L. F. (2012). Efecto del Clorpirifos 0,0-dietil 0-(3, 5, 6-tricloro-2-piridil fosforotioato) en machos juveniles de tilapia (Oreochromis spp). Revista Colombiana De Ciencias Pecuarias, 25(2), 276–294. https://doi.org/10.17533/udea.rccp.324757
Section
Original research articles
License
The authors enable RCCP to reprint the material published in it.
The journal allows the author(s) to hold the copyright without restrictions, and will allow the author(s) to retain publishing rights without restrictions.