Disrupción edocrina en peces
Abstract
Summary
The exposure ofüving creatures to endocrine disruptors is universal, as they are scattered throughout the world as a resutí of its widespread use. The variety of endocrine disruptors is very broad and growing every day, including chemicals synthesized by humans, additionally to substances found naturaüy in the environment. The endocrine disruptors constitute a threat not only to animal healíh and reproduction, but possibly to humans as welL Biomarkers are used as risk indicators for endocrine disruption. Considered amongst them are plasma steroids levéis, induction of viteüogenin and zone radíate protein, and, histology and immunohistochemistry of the liver, gonads and other organs. The appropriate and combined use of biomarkers has allowed significant advances to understand fish reproductive toxicology in both field and laboratory studies. Given that few reports have been published in Colombia on this área, and considering its global importance, this article scrutinizes the state of the art on problems caused by the DE and points out the need of doing more research on this issue.
Key words: ecotoxicology, estrogens, fish, vitellogenin.
Resumen
La exposición de los seres vivos a los disruptores endocrinos (DE) es global, ya que se encuentran dispersos por todo el mundo como consecuencia de su empleo generalizado. El catálogo de DE es muy amplio y crece día a día, comprendiendo desde productos químicos sintetizados por el hombre, hasta sustancias que se encuentran de manera natural en el medio ambiente. Los DE constituyen una amenaza, no solo para la salud general y reproductiva de los animales, sino posiblemente para la salud humana. Los biomarcadores son utilizados como indicadores de riesgo de la disrupción endocrina y entre ellos se incluyen de manera relevante la determinación de los esteroides en plasma, la inducción de Vitelogenina (Vtg) y proteínas de la zona radiada (Zrp) del oocito, junto con la histología e inmunohistoquímica hepática, gonadal y de otros órganos. El uso integrado y adecuado de estos biomarcadores ha permitido avanzar en el conocimiento y la comprensión de la toxicología reproductiva de peces, tanto en estudios de campo como de laboratorio. Debido a que en Colombia se ha realizado escasas publicaciones sobre este tema de importancia mundial, se elaboró este artículo con el objetivo de hacer un escrutinio del estado del arte sobre los problemas causados por los DE, e identificar necesidades de investigación sobre este tema en Colombia.
Palabras clave: ecotoxicología, estrógenos, peces, vitelogenina
Resumo
A exposição dos seres vivos aos disruptores endócrinos (DE) é global, devido a que se encontram dispersos por todo o planeta como consequência do seu emprego generalizado. O catálogo de DE é muito amplo e cresce dia após dia, compreendendo desde produtos químicos sintetizados pelo homem até substâncias que se encontram de maneira natural no meio ambiente. Os DE constituem uma ameaça, não só para a saúde geral e reprodutiva dos animais, mas também possivelmente para a saúde humana. Os biomarcadores são utilizados como indicadores de risco da disrupção endócrina, dentre eles estão à determinação de esteroides no plasma, a indução de Vitelogenina (Vtg) e as proteínas da zona radiata (Zrp) do oócito, junto com a histologia e a inmunoistoquímica hepática, gonadal e de outros órgãos. O uso integrado destes biomarcadores tem permitido avançar no conhecimento e na compreensão da toxicologia reprodutiva de peixes, tanto em estudos de campo como de laboratório. Devido a que na Colômbia existem escassas publicações sobre este tema de importância mundial, este artigo foi escrito com o objetivo de fazer um escrutínio do estado da arte sobre os problemas causados pelos DE e identificar as necessidades de pesquisa.
Palavras chave: ecotoxicologia, estrogénios, peixes, vitelogenina
|Abstract = 62 veces | PDF = 21 veces| | HTML = 173 veces|
Downloads
Download data is not yet available.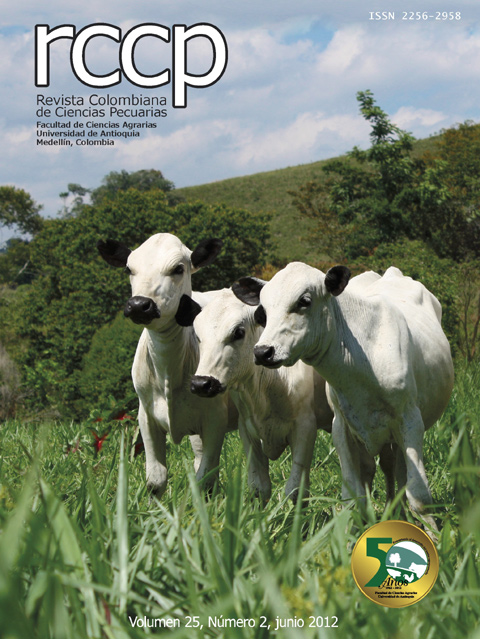 How to Cite
Aranzazu Taborda, D. A., Rodríguez, B. de J., & Duque Agudelo, B. A. (2012). Disrupción edocrina en peces. Revista Colombiana De Ciencias Pecuarias, 25(2), 312–324. https://doi.org/10.17533/udea.rccp.324762
Section
Literature reviews
License
The authors enable RCCP to reprint the material published in it.
The journal allows the author(s) to hold the copyright without restrictions, and will allow the author(s) to retain publishing rights without restrictions.