La evaluación genética de vacunos: una percepción histórica
Abstract
Summary
Mixed model methodology has been the main statistical tool for unbiased genetic animal evaluation and selection of domestic animals, such as bovines, for over thirty years. Since the use of linear mixed models to obtain the best linear unbiased prediction of the breeding value of the individuals in a population was proposed, there have been scientific advances at the statistical and computational level that have led to implement more complex models describing different biological situations and data structures. This work briefly reviews the history of genetic evaluation in cattle emphasizing on the mixed model methodology in which these evaluations are based. The following topics are discussed in this paper: The unibreed animal model, the derivation of the mixed model equations, some extensions of the unibreed animal model (additive direct and maternal effects, random environmental effects, multiple traits model), the mutibreed animal model, models for the genetic evaluation of longitudinal data and, finally, a brief description of genomic evaluation.
Key words: cattle, genetic predictions, mixed models.
Resumen
La metodología de modelos mixtos ha sido la principal herramienta estadística para la evaluación y la selección de animales domésticos tales como el vacuno durante más de 30 años. Desde que se propuso el uso de modelos lineales mixtos para obtener los mejores predictores lineales insesgados de los valores genéticos de los individuos en una población se han dado avances científicos a nivel estadístico y computacional que han permitido implementar modelos más complejos, los cuales describen diferentes situaciones biológicas y estructuras de datos. En el presente trabajo se hace una breve revisión de la historia de las evaluaciones genéticas en vacunos haciendo énfasis en la metodología de modelos mixtos en la cual se han basado dichas evaluaciones. Los siguientes tópicos son descritos en este documento: El modelo animal unirracial, la derivación de las ecuaciones de modelos mixtos, algunas extensiones del modelo animal unirracial (efectos aditivos directos y maternos, efectos ambientales aleatorios, modelo para múltiples caracteres), el modelo animal multirracial, modelos para la evaluación genética de datos longitudinales y finalmente una breve descripción de la evaluación genómica.
Palabras clave: bovinos, modelos mixtos, predicciones genéticas.
Resumo
A metodologia dos modelos mistos tem sido a principal ferramenta estatística para a avaliação e seleção de animais domésticos, como ocorreu em bovinos há mais de trinta anos. Desde sua proposta, o uso de modelos lineares mistos, para obter os melhores preditores lineares imparciais dos valores genéticos de indivíduos de uma população, têm sofrendo avanços científicos a nível estatístico e computacional, tornando-se possível implementar modelos mais complexos que descrevem diferentes situações biológicas e estruturas de dados. No presente trabalho, é feita uma breve revisão histórica sobre as avaliações genéticas em bovinos, com ênfase na metodologia de modelos mistos, na qual estas avaliações são baseadas. Os seguintes tópicos são descritos neste documento: o modelo animal unirracial, a derivação das equações de modelos mistos, algumas extensões do modelo animal unirracial (efeitos aditivos direto e materno, efeitos aleatórios ambientais, modelos multicaracterísticas), o modelo animal multirracial, modelos para a avaliação genética de dados longitudinais e, finalmente, uma breve descrição da avaliação genômica.
Palavras chave: bovinos, predições genéticas, modelos mistos.
|Abstract = 404 veces | PDF = 282 veces| | HTML = 369 veces|
Downloads
Download data is not yet available.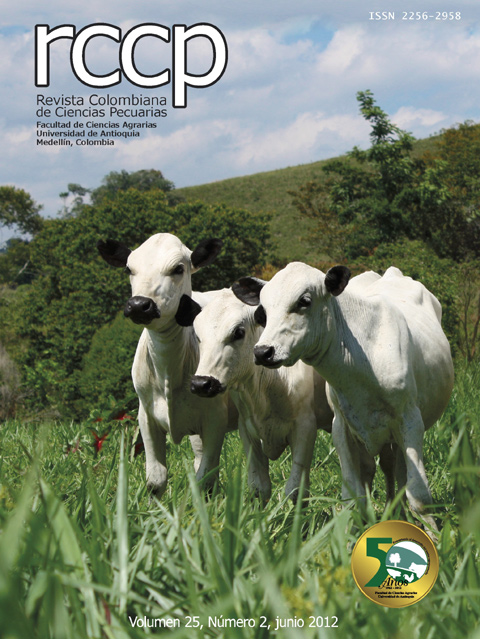 How to Cite
Martínez Niño, C. A., Manrique Perdomo, C., & Elzo, M. A. (2012). La evaluación genética de vacunos: una percepción histórica. Revista Colombiana De Ciencias Pecuarias, 25(2), 293–311. https://doi.org/10.17533/udea.rccp.324760
Section
Literature reviews
License
The authors enable RCCP to reprint the material published in it.
The journal allows the author(s) to hold the copyright without restrictions, and will allow the author(s) to retain publishing rights without restrictions.