Characterization and genetic evaluation of Holstein cattle in Nariño, Colombia
Carlos E. Solarte Portilla

Breeding Program University of Nariño, Animal Production and Health Research Group, Faculty of Animal Science

Gema L. Zambrano Burbano

Breeding Program University of Nariño, Animal Production and Health Research Group, Faculty of Animal Science
Abstract
Summary
Objective: to characterize and genetically evaluate the Holstein population located in the high tropics of Nariño province, Colombia, in order to propose an improvement program that meets the region's needs and conditions. Methods: first, values of heritability (h2), repeatability (R), and genetic correlations (T) between milk production (PL), milk fat percentage (PG), milk protein percentaje (PP), open days (DIAB), number of services per conception (SPC), calving interval (IEP), and several shape or phenotypic variables were estimated. Historical information was collected from 296 farms between 1999 and 2006. Subsequently, the milk production control was conducted until 2010. An Animal Model was used to estimate the genetic parameters and genetic value. Results: a group of 22 males and 350 females was identified for the highest genetic values for productive and reproductive traits as well as anatomical conformation. Conclusion: intensive dissemination of this animal group to initiate the Holstein breeding improvement process in the dairy areas of Nariño was recommended.
Key words: animal model, BLUP, genetic improvement, milk production.
Resumen
Objetivo: caracterizar y evaluar genéticamente la población Holstein en el Trópico Alto de Nariño, para proponer un programa de mejoramiento acorde con las necesidades y condiciones de esta región. Métodos: primero se estimaron los valores de heredabilidad (h2), repetibilidad (R), y correlaciones genéticas (T) entre las variables producción de leche (PL), porcentaje de grasa en leche (PG), porcentaje de proteína en leche (PP), días abiertos (DIAB), numero de servicios por concepción (SPC), intervalo entre partos (IEP), y algunas variables de conformación o tipo. La información histórica se recolectó en 296 fincas entre los años 1999 y 2006. Posteriormente se efectuó el control de producción hasta el año 2010. Para la estimación de los parámetros y del valor genético se utilizó un Modelo Animal. Resultados: se identificó un grupo de 22 machos y 350 hembras con los valores genéticos más altos para los rasgos productivos, reproductivos, y de conformación anatómica. Conclusión: se recomendó la difusión intensiva de este grupo de animales con el fin de iniciar el proceso de mejoramiento genético del ganado Holstein en la cuenca lechera de Nariño.
Palabras clave: BLUP, mejoramiento genético, modelo animal, producción de leche.
Resumo
Objetivo: caracterizar e avaliar geneticamente o gado Holandés no Trópico Alto de Nariño (Colombia), com o intuito de propor um programa de melhoramento que esteja de acordo com as necessidades e condicoes da regiao. Métodos: estimaram-se os valores de herdabilidade (h2), repetibilidade (R) e correlacoes genéticas (r) entre as variáveis: producao de leite (PL), percentagem de gordura (PG), percentagem de proteína (PP), dias abertos (DIAB), servicos por concepcao (SPC), intervalo entre partos (IEP) e algumas características de avaliacao lineal ou tipo. As informacoes históricas foram coletadas em 296 fazendas entre 1999 e 2006; após o controle de producao realizado até 2010. Para estimar os parámetros e os valores genéticos, foi utilizado um modelo animal. Resultados: foi identificado um grupo composto por 22 machos e 350 fémeas com maiores valores genéticos para as características de producao, reproducao e conformacao anatómica. Conclusao: recomendou-se a divulgacao intensiva desse grupo de animais com o objetivo de fazer um programa de melhoramento genético do gado Holandés na regiao leiteira de Nariño.
Palavras chave: BLUP, melhoramento genético, modelo animal, produqáo de leite.
|Abstract = 190 veces | PDF = 84 veces| HTML = 175 veces|
Downloads
Download data is not yet available.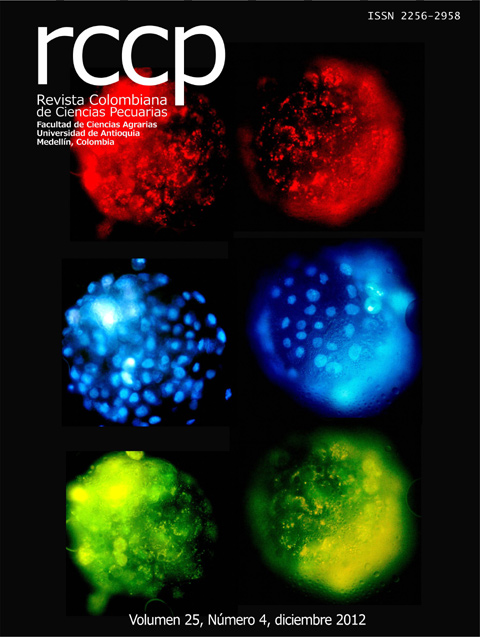 Section
Original research articles
The authors enable RCCP to reprint the material published in it.
The journal allows the author(s) to hold the copyright without restrictions, and will allow the author(s) to retain publishing rights without restrictions.