Vocalization and behavior of Holstein cows and calves after partial and complete separation
Abstract
Summary
Background: a potential negative impact on the welfare and growth of the calf occurs when it is separated from its mother. Objective: this study was conducted in order to understand how the vocal and behavioral characteristics of cows and calves differ between partial and complete separations. Methods: 30 cows and their calves (60 study participants in total) housed in different barns were observed for 10 consecutive hours using video technology on days 1, 6, and 11 after partial and complete separations. Results: vocalization frequency was higher (p  <  0.05) following partial separation for both cows and calves. After complete separation, cows exhibited significantly more (p  <  0.05) lying behavior as well as fewer (p  <  0.05) standing and sniffing behaviors. Conclusions: the study revealed higher intensity and occurrence of vocalization levels and behavioral changes in cows and calves following partial separation. It is concluded that partial separation could imply higher interaction between cows and calves and also greater animal welfare challenges in comparison with complete separation.
Key words: animal welfare, behavior, cattle, video technology, vocal characteristics.
Resumen
Antecedentes: un posible impacto negativo sobre el bienestar y el crecimiento del ternero se produce cuando este se separa de su madre. Objetivo: este estudio tuvo como objetivo comprender como las características vocales y de comportamiento de vacas y terneros difieren luego de la separación parcial o completa entre ambos. Métodos: 30 vacas y sus terneros (60 animales en total) alojados en establos separados fueron observados durante 10 horas consecutivas utilizando tecnología de vídeo durante los días 1, 6, y 11 después de separacion parcial o completa. Resultados: la frecuencia de vocalización fue mayor (p  <  0,05) tras la separación parcial de vacas y ternero. Después de la separación completa, las vacas yacían más en el piso (p  <  0,05), permanecían menos tiempo de pie y tenían menos comportamiento de olfateo (p  <  0,05). Conclusiones: el estudio reveló una mayor intensidad y frecuencia de vocalizaciones y cambios de comportamiento en las vacas y los terneros tras la separación parcial. Se concluye que la separación parcial podría implicar una mayor interacción entre las vacas y los terneros y también mayores desafíos de bienestar animal en comparación con la separación completa.
Palabras clave: bienestar animal, características vocales, comportamiento, ganado, tecnología de video.
Resumo
Antecedentes: um possível impacto negativo no bem-estar e crescimento ocorre quando o bezerro é separado de sua mae. Objetivo: descrever as características comportamentais e emissoes vocais de bezerros e vacas Holandesas após separacao parcial e completa. Métodos: 30 vacas e seus bezerros (para um total de 60 amostras no estudo) localizados em diferentes lugares foram observados consecutivamente usando a tecnologia do vídeo por 10 h nos dias 1, 6 e 11 em separacoes completas e parciais. Resultados: a frequéncia de emissoes vocais foi maior tanto nas vacas quanto nos bezerros (p  <  0,05) após uma separacao parcial. Após uma separacao completa, as vacas exibiram com uma frequéncia significativamente maior o comportamiento de estar deitadas (p  <  0,05), tanto quanto significativamente menor (p  <  0,05) o comportamiento de estar paradas e de cheirar. Conclusoes: a pesquisa revelou maiores níveis de vocalizacao e comportamiento nas vacas e bezerros após a separacao parcial. Conclui-se com estes resultados que a separacao parcial permite uma maior interacao entre a vaca e o ternero, fato que implica um maior desafio em relacao ao bem-estar animal comparado com a separacao completa.
Palavras chave: bem-estar animal, comportamento, gado de leite, tecnologia de vídeo, vocalizaqáo.
|Abstract = 49 veces | PDF = 34 veces| | HTML = 11 veces|
Downloads
Download data is not yet available.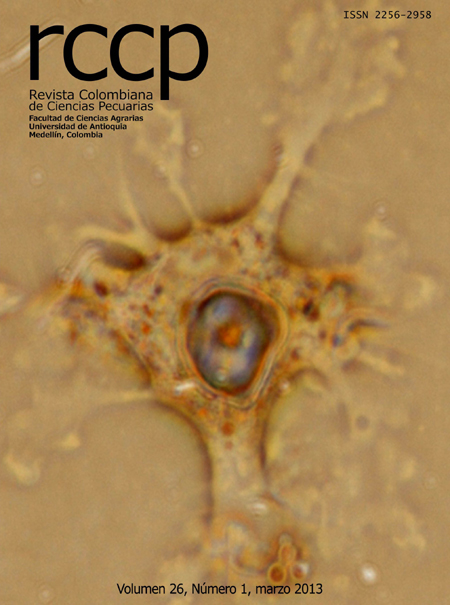 How to Cite
Rhim, S.-J. (2013). Vocalization and behavior of Holstein cows and calves after partial and complete separation. Revista Colombiana De Ciencias Pecuarias, 26(1), 24–29. Retrieved from https://revistas.udea.edu.co/index.php/rccp/article/view/324811
Section
Original research articles
License
The authors enable RCCP to reprint the material published in it.
The journal allows the author(s) to hold the copyright without restrictions, and will allow the author(s) to retain publishing rights without restrictions.