Buffering capacity of common feedstuffs used in ruminant diets
Abstract
Summary
Background: buffer substances are commonly used in cattle nutrition. However, factors such as buffer type and amount added do not take into account the intrinsic buffering capacity of other dietary ingredients. Objective: to determine the buffering capacity (BC) of 25 commonly used energy and protein feedstuffs as well as additives, silages, and forage ingredients. Methods: BC was measured using the technique described by Jasaitis et al. (1988). Results are expressed in milliequivalents of hydrochloric acid required to generate a unit change in pH in the original feed sample. Results: the results of this study are in agreement with those reported by other authors. Conclusion: protein feedstuffs resulted in the highest BC values, followed by forages, while energy ingredients showed the lowest results.
Key words: buffering value index, cattle, nutrition.
Resumen
Antecedentes: la utilización de sustancias amortiguadoras es común en nutrición bovina, sin embargo, factores como la cantidad y tipo de amortiguador utilizado no tienen en cuenta la capacidad amortiguadora intrínseca de los ingredientes utilizados en la dieta. Objetivo: evaluar la capacidad amortiguadora (CA) de 25 ingredientes de tipo energético, proteico, ensilados, aditivos y forrajes comúnmente utilizados en dietas para rumiantes. Métodos: la CA se determinò mediante la técnica descrita por Jasaitis et al. (1988) expresando los resultados en miliequivalentes de ácido clorhídrico requerido para producir un cambio en una unidad de pH de la muestra original de alimento. Resultados: los resultados obtenidos son similares a los reportados por otros autores. Conclusiones: los ingredientes que fueron clasificados como proteicos presentan una CA elevada, los forrajes presentan una CA intermedia, en comparación con los energéticos que presentan una CA baja.
Palabras clave: índice de capacidad tampón, ganado, nutrición.
Resumo
Antecedentes: a utilizacào de substancias tampào em gado é comum, no entanto, fatores como a quantidade e o tipo de tampào utilizado nào ter em conta a capacidade tampào intrínseca dos ingredientes utilizados na dieta. Objetivo: avaliar a capacidade tampào (CA) de 25 ingredientes de tipo energético, proteico, silagem, aditivos e pastagens comunmente utilizados em dietas para ruminantes. Métodos: o CT é determinado pela técnica descrita por Jasaitis et al. (1988) apresentando os resultados em miliequivalentes de ácido clorídrico necessário para produzir uma mudanca em uma unidade de pH da amostra original do alimento. Resultados: os resultados obtidos foram similares com outros estudos anteriormente reportados por outros autores. Conclusoes: os ingredientes que foram classificados como proteicos apresentam um alto CT, aqueles que sua origen é o forragem tém uma CT intermediària, e os ingredientes energéticos tém um baixo CT.
Palavras chave: índice de capacidade tampào, gado, nutriqáo.
|Abstract = 38 veces | PDF = 13 veces| | HTML = 11 veces|
Downloads
Download data is not yet available.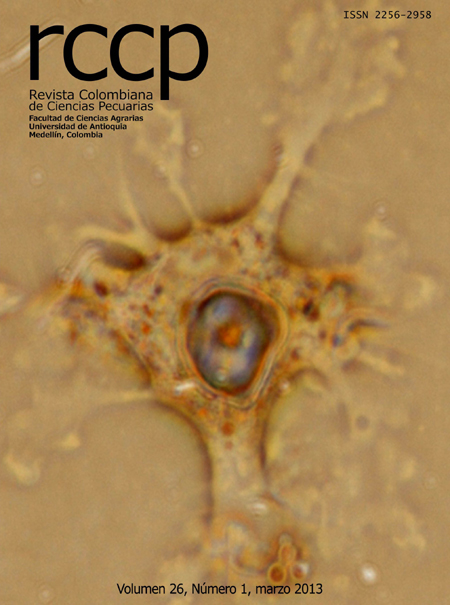 How to Cite
Montañez-Valdez, O. D., Solano-Gama, J. de J., Martínez-Tinajero, J. J., Guerra-Medina, C. E., Ley de Coss, A., & Orozco-Hernandez, R. (2013). Buffering capacity of common feedstuffs used in ruminant diets. Revista Colombiana De Ciencias Pecuarias, 26(1), 37–41. Retrieved from https://revistas.udea.edu.co/index.php/rccp/article/view/324813
Section
Brief communications
License
The authors enable RCCP to reprint the material published in it.
The journal allows the author(s) to hold the copyright without restrictions, and will allow the author(s) to retain publishing rights without restrictions.