Effects of heat stress on reproductive efficiency of high yielding Holstein cows in a hot-arid environment
Abstract
Summary
Background: high environmental temperature coupled with high humidity can result in reproductive failure in dairy cattle, with a drastic reduction in reproductive efficiency of dairy herds. Objective: to study the effect of high environmental temperature on reproduction performance of Holstein cows treated with recombinant bovine somatotropin (rbST) throughout lactation in an arid environment. Methods: reproductive variables (n = 18,037 services) from a large dairy herd were evaluated with respect to the maximum temperature-humidity index (THI) prior to breeding, on the breeding day, and after breeding. The GENMOD procedure of SAS was used to assess the effect of THI and month of breeding on pregnancy by artificial insemination (P/AI). Results: increased THI from  ≤  70 to  ≥  95 units was associated with a decrease in P/AI from 47% to 26%. P/AI for cows inseminated on extremely hot days (THI= 85 to 90) preceded by cooler temperatures was six percent points higher than cows subjected to high temperatures before breeding. P/AI was higher (p < 0.05) from January to March (39% to 41%) compared with the rest of the year (27% to 35%). The average number of inseminations per pregnancy was higher (p < 0.05) from May to July (3.0 to 3.4) compared to other months (2.1 to 3.0). Conclusions: in this particular hot-arid environment (maximum temperature > 38 ºC most of the year, and 230 mm mean annual rainfall), heat stress shortly before or after breeding severely compromises the breeding success of high yielding Holstein cows.
Key words: days open, fertility, rbST, services per pregnancy.
Resumen
Antecedentes: la asociación entre temperaturas ambientales elevadas y alta humedad conduce a fallas reproductivas, disminuyendo la fertilidad de hatos lecheros. Objetivo: determinar el efecto de temperaturas ambientales elevadas sobre el comportamiento reproductivo de vacas Holstein mantenidas en un ambiente árido y cálido y tratadas con hormona del crecimiento (rbST) durante toda la lactancia. Métodos: las variables reproductivas (n = 18037 servicios) de una explotación comercial fueron evaluadas con respecto al máximo índice temperatura humedad (THI) antes, durante y después de la inseminación de las vacas. El procedimiento GENMOD de SAS se utilizó para determinar el efecto del THI y el mes de inseminación sobre las tasas de preñez (P/AI). Resultados: el incremento del THI de ≤ 70 a ≥ 95 unidades se asoció con una disminución en el P/AI de 47% a 26%. El P/AI para las vacas inseminadas en días con un ITH de 85 a 90, pero con temperaturas menos cálidas antes de la inseminación, fue de seis puntos porcentuales más altos (30% vs. 36%) que en las vacas expuestas a ITH más altos antes de la inseminación. El P/AI fue mayor (p < 0,05) de enero a marzo (39% a 41%) comparado con el resto de los meses del año (27-35%).  El número de servicios por preñez fue mayor (p < 0,05) de mayo a julio (3,0 a 3,4) que en los otros meses del año (2,1 a 3,0). Conclusiones: en este ambiente extremadamente caliente (temperaturas máximas > 38 °C la mayor parte del año) y árido (promedio de precipitación anual de 230 mm), el estrés calórico poco antes o después de la inseminación disminuye drásticamente las probabilidades de establecer una gestación en vacas de alta producción de leche.
Palabras clave: días abiertos, fertilidad, rbST, servicios por preñez.
Resumo
Antecedentes: a associação entre alta temperatura e umidade no ambiente pode originar problemas reprodutivos, diminuindo o índice de fertilidade dos rebanhos leiteiros. Objetivo: avaliar o efeito da elevada temperatura ambiente sobre o desempenho reprodutivo de vacas da raça Holandês mantidas num ambiente quente e árido, as quais foram tratadas com somatotropina bovina recombinante (rBST) durante toda a lactação. Métodos: As variáveis reprodutivas (n = 18037 serviços) de um rebanho leiteiro foram avaliadas em relação ao máximo índice de temperatura-umidade (THI), antes, durante e depois da inseminação artificial das vacas. O procedimento GENMOD do SAS foi usado para avaliar o efeito do THI e do mês de reprodução sobre as taxas de gestação por inseminação artificial (P/AI). Resultados: o aumento do THI de ≤ 70 para ≥ 95 unidades foi associado com a diminuição no índice P/AI, de 47% a 26%. Em dias com THI de 85 - 90, mas com menor temperatura ambiental antes da inseminação, o índice P/AI foi 6% maior do que nas vacas expostas a superior THI. O índice P/AI foi maior (p < 0,05) de janeiro a março (39% a 41%), em comparação aos outros meses do ano (27 a 35%). O número médio de inseminações por prenhez foi superior (p < 0,05) de maio a julho (3,0 a 3,4) quando comparado aos outros meses do ano (2,1 a 3,0). Conclusões: em ambiente quente e seco (temperaturas máximas  > 38°C a maior parte do ano, média de precipitação anual de 230 mm) o estresse térmico antes e depois da inseminação reduz drasticamente a possibilidade de estabelecer uma gestação em vacas de alta produção de leite.
Palavras chave: dias abertos, fertilidade, rbST, serviços por prenhez.
|Abstract = 39 veces | PDF = 22 veces| | HTML = 19 veces|
Downloads
Download data is not yet available.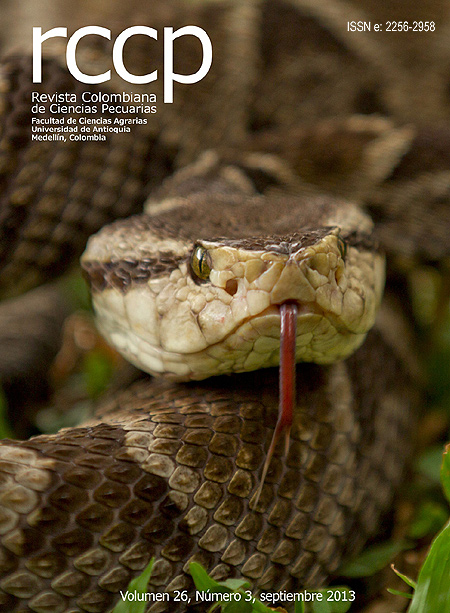 How to Cite
Mellado, M., Sepúlveda, E., Mesa-Herrera, C., Veliz, F. G., Arevalo, J. R., Mellado, J., & De Santiago, A. (2013). Effects of heat stress on reproductive efficiency of high yielding Holstein cows in a hot-arid environment. Revista Colombiana De Ciencias Pecuarias, 26(3), 193–200. Retrieved from https://revistas.udea.edu.co/index.php/rccp/article/view/324829
Section
Original research articles
License
The authors enable RCCP to reprint the material published in it.
The journal allows the author(s) to hold the copyright without restrictions, and will allow the author(s) to retain publishing rights without restrictions.