Production of extracellular α-galactosidase by Bacillus sp. LX-1 in solid state fermentation for application as a potential feed additive
Abstract
Summary
Background: a-galacto-oligosaccharides, including raffinose and stachyose, are present in soybean meal and used widely as a protein source in poultry diets. These compounds have anti-nutritive effects that ultimately reduce performance and value of birds. Thus, the addition of exogenous a-galactosidase to poultry diets -which can initiate the digestion of these non-digestible sugars- can be an effective strategy to solve the nutritional disorders associated with consumption of these oligosacharides. Solid state fermentation (SSF) has drawn attention for the production of microbial enzymes, due to the possibility of using cheap and abundant agro-industrial residues as substrates. Objective: to present information on a-galactosidase production under SSF conditions by an Antarctic bacterial isolate, Bacillus LX-1. Methods: initially, wheat bran, soybean meal, corn flour and the combinations of these individual substrates with nutritive supplements containing 1% galactose, 0.5% yeast extract, 1% tryptone, and 0.001% MnSO44H2O were evaluated to select an optimal medium in SSF to produce extracellular a-galactosidase. Certain fermentation parameters involving incubation time, moisture content, and initial pH were investigated separately. Additional studies were conducted to evaluate the influence on enzyme production of different carbon sources (glucose, sucrose, galactose, lactose, and maltose) and nitrogen sources (peptone, tryptone, sodium nitrate and ammonium sulfate). Results: a medium containing soybean meal resulted in best a-galactosidase synthesis and was used for further SSF explorations with Bacillus sp. LX-1. Maximum enzyme production was observed at a growth period of 72 h, 75% moisture content and pH 8.0. Enzyme activity was enhanced in the presence of galactose or lactose as the carbon source, and tryptone or peptone as the nitrogen source. Conclusion: this SSF technique could be potentially used to produce a-galactosidase for poultry feed.
Key words: a-galacto-oligosaccharides, enzyme, poultry feeds, soybean meal.
Resumen
Antecedentes: los α-galacto-oligosacáridos, incluyendo rafinosa y estaquiosa, están presentes en la harina de soja, la cual es utilizada ampliamente como fuente de proteína en dietas de aves. Estos compuestos tienen efectos anti-nutricionales que reducen el rendimiento de las aves. La adición de α-galactosidasa exógena a dietas de aves puede iniciar la digestión de esos azucares, resultando en una estrategia eficaz para resolver los desórdenes nutricionales asociados con el consumo de dichos oligosacáridos. La fermentación en estado sólido (SSF) se puede usar para producir enzimas microbianas, debido a la posibilidad de utilizar residuos agro-industriales abundantes y baratos como sustrato. Objetivo: informar sobre la producción de α-galactosidasas por una bacteria antártica (Bacillus LX-1) bajo condiciones de SSF. Métodos: se evaluaron salvado de trigo, harina de soja, harina de maíz y las combinaciones individuales de estos sustratos con suplementos nutritivos conteniendo 1% de galactosa, 0,5% de extracto de levadura, 1% de triptona y 0,001% de MnSO44H2O para seleccionar un medio óptimo de SSF para producir α-galactosidasa extracelular. Ciertos parámetros de fermentación incluyendo tiempo de incubación, contenido de humedad, y pH inicial se evaluaron por separado. Se realizaron estudios adicionales para evaluar la influencia de diferentes fuentes de carbono (glucosa, sucrosa, galactosa, lactosa y maltosa) y de nitrógeno (peptona, triptona, nitrato de sodio y sulfato de amonio) sobre la producción enzimatica. Resultados: un medio con harina de soja resultó ser el mejor para la síntesis de  α-galactosidasa y se utilizó para nuevas exploraciones de SSF con Bacillus sp. LX-1. La producción máxima de la enzima se observó en un periodo de crecimiento de 72 h, a 75% de humedad y pH 8,0. La actividad enzimática mejoró en presencia de galactosa o lactosa como fuente de carbono, y triptona o peptona como fuente de nitrógeno. Conclusión: la técnica de SSF podría ser utilizada para producir α-galactosidasa destinada a la alimentación de aves de corral.
Palabras clave: α-galacto-ologisacáridos, alimentación en aves de corral, enzima, harina de soja.
Resumo
Antecedentes: os α-galacto-oligossacarídeos, incluindo rafinose e estaquiose, estão presentes na farinha de soja, que é amplamente utilizado como uma fonte de proteína em dietas de aves domésticas. Estes compostos têm efeitos anti-nutricionais que reduzem o desempenho das aves. A adição de α-galactosidase exógena em dietas de aves pode começar a digerir estes açúcares, resultando em uma estratégia eficaz para resolver os problemas nutricionais associados com o consumo desses oligossacarídeos. A fermentação em estado sólido (SSF) pode ser usada para produzir enzimas microbianas, devido à possibilidade de utilização de resíduos agroindustriais como substrato abundante e barato. Objetivo: relatar a produção de α-galactosidase por uma bactéria da Antártida (Bacillus LX- 1) em SSF. Métodos: foram avaliados o farelo de trigo, farelo de soja, farelo de milho e combinações específicas destes substratos com suplementos nutricionais contendo 1% de galactose, 0,5% de extrato de levedura, 1% de triptona e 0,001% de MnSO44H2O para selecionar um meio ideal de SSF para produzir extracelular α-galactosidase. Certos parâmetros de fermentação, incluindo tempo de incubação, teor de umidade e pH inicial foram avaliados separadamente. Estudos adicionais foram conduzidos para avaliar a influência de diferentes fontes de carbono (glucose, sacarose, galactose, lactose e maltose) e de azoto (peptona, triptona, nitrato de sódio e sulfato de amónio) na produção da enzima. Resultados: um meio com farelo de soja acabou por ser o melhor para a síntese de α-galactosidase e foi usado para uma maior exploração de SSF com Bacillus sp. LX - 1. A produção máxima da enzima foi observada em um período de crescimento de 72 h, 75% de humidade e pH 8,0. Melhoria da atividade enzimática na presença de galactose ou lactose como fonte de carbono e de triptona e peptona como fonte de azoto. Conclusão: A técnica da SSF poderia ser usada para produzir α-galactosidase para a alimentação de aves domésticas.
Palavras chave: α-galacto-olígosacarídeos, ração para aves, enzima, farelo de soja.
|Abstract = 37 veces | PDF = 21 veces| | HTML = 15 veces|
Downloads
Download data is not yet available.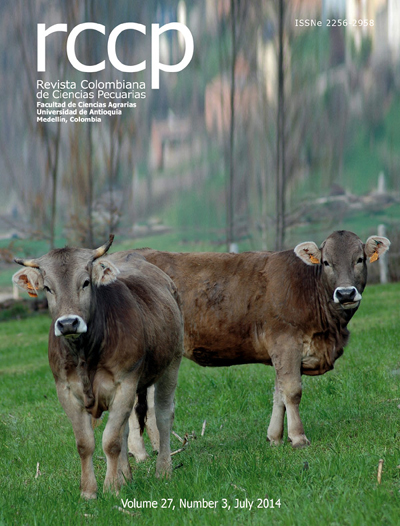 How to Cite
Lee, J., Park, I., & Cho, J. (2014). Production of extracellular α-galactosidase by Bacillus sp. LX-1 in solid state fermentation for application as a potential feed additive. Revista Colombiana De Ciencias Pecuarias, 27(3), 194–201. Retrieved from https://revistas.udea.edu.co/index.php/rccp/article/view/324892
Section
Original research articles
License
The authors enable RCCP to reprint the material published in it.
The journal allows the author(s) to hold the copyright without restrictions, and will allow the author(s) to retain publishing rights without restrictions.