Escherichia coli lipopolysaccharides decrease molecular expression and activity of disaccharidases and aminopeptidases in weaned pigs
Abstract
Summary
Background: Escherichia coli populations in the gut increase after weaning, releasing cell wall lipopolysaccharides (LPS), which are potent pro-inflammatory substances. Objective: this study evaluated LPS intake effects on protein expression and activity of intestinal disaccharidases and aminopetidases. Methods: sixty-four pigs (weaning age: 21 d) were fed a basal diet with added LPS (0.0, 0.3, 0.5, and 1.0 μg LPS/mg feed) during 10 days post-weaning. Pigs were slaughtered on days 1, 5, 7, and 10 post-weaning to assess small intestine molecular expression and enzyme activity. A randomized block design in a 4x4 factorial arrangement was used. Results: intestinal enzyme expression and activity was lower in pigs fed the highest LPS level (p < 0.01). Enzyme values were lowest at day 10 (p < 0.01). The highest gene expression and enzyme activity was observed in duodenum (p < 0.01). Conclusions: data from this study suggest that LPS from E. coli decreases intestinal enzyme expression and activity.
Keywords: digestive enzymes, intestinal villi, RT-PCR, swine.
Resumen
Antecedentes: la población de Escherichia coli incrementa luego del destete, liberando desde su pared celular lipopolisacáridos (LPS) los cuales son potentes productos pro-inflamatorios. Objetivo: este aminopeptidasas intestinales. Métodos: sesenta y cuatro cerdos (destetados a los 21 de edad) fueron alimentados (durante los 10 días posteriores al destete) con una dieta basal a la cual se le adicionó diferentes niveles de LPS (0,0, 0,3, 0,5 y 1,0 μg LPS/mg alimento). Los cerdos fueron sacrificados los días 1, 5, 7 y 10 posdestete para determinar la expresión molecular y actividad enzimática en el intestino delgado. Se utilizó un diseño de bloques al azar en un arreglo factorial 4x4. Resultados: la expresión y actividad enzimática intestinal fue menor en los cerdos alimentados con el nivel máximo de LPS (p < 0,01). En el día 10 posdestete se observaron las menores expresiones y actividades enzimáticas (p < 0,01), mientras que en el duodeno se observaron los mayores valores (p < 0,01). Conclusión: la información obtenida en este estudio sugiere que el LPS de E. coli disminuye la expresión y actividad enzimática intestinal.
Palabras clave: cerdos, enzimas digestivas, RT-PCR, vellosidad intestinal.
Resumo
Antecedentes: a população de Escherichia coli se aumenta após do desmame, que libera desde sua parede celular lipopolissacarídeo (LPS), que são potentes productos pró-inflamatórios. Objetivo: este estudo avaliou o consumo de LPS sobre a expressão e atividade de dissacaridases e as aminopeptidases intestinais. Métodos: sessenta e quatro porcos (desmamados aos 21 días de edade) foram alimentados (durante 10 días após desmame) com uma dieta de base ao qual foi adicionada diferentes níveis de LPS (0,0, 0,3, 0,5 y 1,0 μg LPS/mg alimento). Os leitões foram abatidos os días 1, 5, 7 e 10 após desmame para determinar a expressão molecular e a atividade enzimática no intestino delgado. Foi usado delineamento em blocos casualizados num fatorial 4x4. Resultados: expressão intestinal e atividade enzimática foi menor nos animais que receberam o maior nível de LPS (p < 0,01). No día 10 após desmame foram observadas as menores expressões e atividades enzimáticas (p < 0,01), en quanto que no duodeno foram observados os valores mais elevados (p < 0,01). Conclusão: as informações obtidas neste estudo sugerem que o LPS de E. coli diminui a expressão e atividade enzimática intestinal.
Palavras chave: enzimas digestivas, RT-PCR, suinos, vilosidade intestinal.
|Abstract = 36 veces | PDF = 15 veces| | HTML = 13 veces|
Downloads
Download data is not yet available.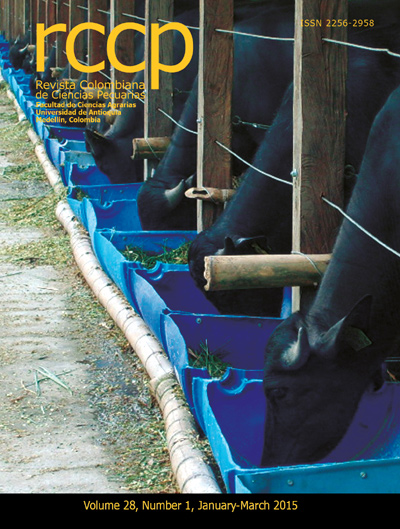 How to Cite
Parra-Suescún, J., Agudelo Trujillo, J. H., & López-Herrera, A. (2015). Escherichia coli lipopolysaccharides decrease molecular expression and activity of disaccharidases and aminopeptidases in weaned pigs. Revista Colombiana De Ciencias Pecuarias, 28(1), 64–73. Retrieved from https://revistas.udea.edu.co/index.php/rccp/article/view/324912
Section
Original research articles
License
The authors enable RCCP to reprint the material published in it.
The journal allows the author(s) to hold the copyright without restrictions, and will allow the author(s) to retain publishing rights without restrictions.