Presence of IgG antibodies against reproductive infections in breeding bulls of Magdalena Medio, Colombia
Keywords:
bovine viral diarrhea, nzyme-linked immunosorbent assay, nfectious bovine rhinotracheitis, leptospirosis, Neospora caninum
Abstract
Background: cattle farming is an important economic activity in several regions of Colombia. However, farmers are unaware of their cattle health status, and particularly of bacterial, parasitic, and viral diseases, which affect reproduction and profitability. Objective: to assess the presence of IgG antibodies against infectious bovine rhinotracheitis (IBR), bovine viral diarrhea (BVD), bovine leukosis, leptospirosis, brucellosis, and Neospora caninum in breeding bulls in the Magdalena Medio of Colombia, according to age, breed, and origin. Methods: a descriptive, cross-sectional study was conducted with 174 male breeding cattle from severalsubspecies. Animals were above 18 months of age and belonged to dual-purpose farms in the Magdalena Medio region. Presence of IgG anti-IBR, BVD, brucellosis, neosporosis, and leukosis antibodies were determinedwith an enzyme-linked immunosorbent assay (ELISA). A sample of 156 males was assessed for leptospirosis using a microscopic agglutination test (MAT) in a dark field. Results: IgG anti-IBR antibodies were found in92.5% of the animals, anti-BVD in 62.6%, anti-Neospora caninum in 79.3%, anti-Brucella abortus in 4.02%, anti-Leptospira pomona in 8.33%, and anti-L. hardjo in 15.38%, with >1:100 titres. Besides, 64.94% prevalence was observed for bovine leukosis. Conclusions: a high prevalence of IgG anti-IBR, IgG anti-BVD, IgG anti-Neospora caninum, IgG anti-leukosis, and IgG anti-lepstospirosis antibodies were observed in Magdalena Medio bulls. With respect to B. abortus, confirmatory and competitive ELISA test should be performed and sanitary standards need to be established. Detection of IgG antibodies among bulls reveals poor sanitary conditions, absent of protective-vaccination antibodies and an urgent need for health control measurements.
|Abstract = 182 veces | PDF = 116 veces| | HTML = 25 veces|
Downloads
Download data is not yet available.
References
Benavides BB, Laverde LMT. Virus de leucosis bovina: un enemigo silencioso. J Agric Anim Sci 2012; 1:52-61. Betancur C, González M, Reza L. Seroepidemiología de la rinotraqueitis infecciosa bovina en el Municipio de Montería, Colombia. MVZ Córdoba 2006; 11(2):0122-0268.Betancur CH, Rodas GJ. Seroprevalencia del virus de la leucosis viral bovina en animales con trastornos reproductivos de Montería. MVZ Córdoba 2008; 13(1):1197-1204. Cárdenas C, Rivera HG, Araínga MR, Ramírez MV, De Paz JM. Prevalencia del virus de la diarrea viral bovina y de animales portadores del virus en bovinos en la provincia de Espinar, Cusco. Rev Inv Vet Perú 2011; 22(3):261-267.Carrizales BH. Seroprevalencia de la rinotraqueitis infecciosa bovina. Universidad Autónoma "Gabriel Rene Moreno", Facultad de Medicina Veterinaria y Zootécnia. Santa Cruz de la sierra-Bolivia. 2002.Chamizo E. Enzootic bovine leukosis: a review. Revista electrónica Veterinaria, REDVET. VI. 2005. [Access date: November, 2006] URL: http://www.veterinaria.org/revistas/redvet/n070505.htmlCedeño D, Benavides B, Castro J, Tulcán J. Factores de riesgo asociados con la seroprevalencia de Neospora caninum en 2010 en el municipio de Pasto, Nariño. Rev Colomb Cienc Pecu 2010; 24:406-419.Clerc K. Estudio Retrospectivo de la leucosis bovina en la Estación Experimental "Santa María", FCV-UCV. Trabajo de ascenso para optar a la categoría de profesor agregado, Facultad de Ciencias Veterinarias, Universidad Central de Venezuela, Maracay, Aragua, Venezuela: 2008. p. 75.Coromoto A, Aranguren Y, Clavijo A, Díaz C. Prevalencia serológica de leptospirosis en ganado doble propósito del noreste de Monagas, Venezuela. Zoot Trop 2004; 22(2):117-124.Delgado I, Alfonso A, Martínez N, Abeledo MA, Rodríguez M, Barrera M. Presencia de Anticuerpos al virus de la leucosis bovina en rebaños pertenecientes a las provincias occidentales y centrales de cuba. Rev Salud Anim 2009; 31(1): 24-28.Dubey J, Lindsay D. A review of Neospora caninum and neosporosis, Vet Parasitol 1996; 67:1-59.Gómez J, Rueda R. Productividad del sector ganadero bovino en Colombia durante los años 2000 a 2009, Trabajo de Grado, Colegio Mayor Nuestra Señora del Rosario, Bogotá DC, 2011.Hungerford TG. Enzootic bovine leucosis (EBL). In: Diseases of livestock. Editorial Mc Graw Hill, USA: 1990. p. 474-484.Johnson R, Kaneene JB. Bovine leukemia virus and enzootic bovine leukosis. Vet Bulletin 1992; 62:287-312.Marín C, De López N, Lozano O, Palencia L, España W, Castaños H, León A. Epidemiology of bovine leukemia in Venezuela. Ann Rech Vet 1978; 9:743-746.Organización mundial de sanidad animal (OIE). Manual de la OIE sobre animales terrestres 2004. Sección1.1, Capítulos introductorios, Métodos de muestreo. Capítulo actualizado. 2005. [Access date: November, 2014] URL: http://www.oie.int/doc/ged/d6508.pdfOrganización Mundial de Sanidad Animal (OIE). Manual de la OIE sobre animales terrestres. Capitulo 2.1.9, Leptospirosis. 2008. [Access date: November, 2014] URL: http://www.oie.int/doc/ged/d6515.pdfOrganización Mundial De Sanidad Animal (OIE). Enfermedades, infecciones e infestaciones de la lista de la OIE en vigor en 2014. [Access date: November, 2014] URL: http://www.oie.int/es/sanidad-animal-en-el-mundo/enfermedades-de-la-lista-de-la-oie-2014/Peralta DP. Determinación de la prevalencia e incidencia de la Diarrea Viral Bovina en individuos entre 6-24 meses de cinco predios lecheros de la provincia de Ñuble, mediante la pesquisa de anticuerpos séricos utilizando la técnica de ELISA. Chillán-Chile. 2009.Quispe QR, Cama SA, Rivera GH, Araínga RM. El virus de la diarrea viral en bovinos criollos de la provincia de Melgar, Puno. RIVEP2008; 19(2):176-182.
Rev Colomb Cienc Pecu 2015; 28:323-330Camacho R et al. IgG antibodies against reproduction infections in bullsSánchez-Castilleja YM, Rodríguez JG, Pedroso M, Cuello S. Simultaneidad serológica de Neospora caninum con Brucella abortus y los virus de la rinotraqueitis infecciosa bovina y diarrea viral bovina en bovinos pertenecientes al Estado de Hidalgo, México. Rev Salud Anim 2012; 34(2):95-100.Sánchez F, Morales E, Martínez J, Trigo J. Determination and correlation of anti-Neospora caninum antibodies in dogs and cattle from Mexico. Can J Vet Res 2003; 67:142-145.Seleem MN, Boyle SM, Sriranganathan N. Brucellosis: a reemerging zoonosis. Vet Microbiol 2010; 140:392-398.Stöber M. The clinical picture of the enzootic and sporadic forms of bovine leukosis. Bovine Pr 1981; 16:119-129.Van Balen J, Hoet A, Dpool G, Gil M, Escalona F, Díaz D. Análisis retrospectivo de las pruebas diagnósticas de Leptospirosis bovina procesadas en la Unidad de Investigación y Diagnóstico de Leptospirosis de la Universidad del Zulia, 1998-2001. Rev. Científica, FCV-LUZ/Vol.XIX, Nº6, 598-606, 2009. Zambrano J. Conozca la neosporosis y prevéngala, Federación Colombiana de Ganaderos (FEDEGAN), salud animal, carta FEDEGAN N° 122, 2012.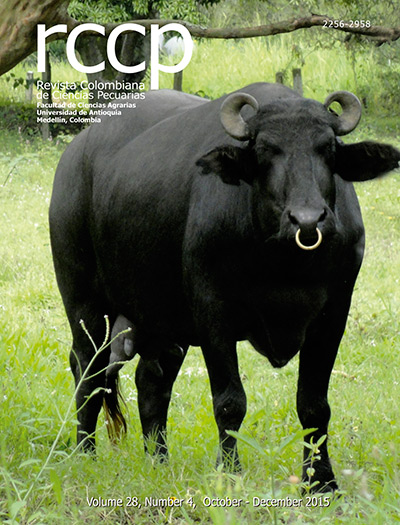 How to Cite
Camacho M, R., Carvajal, L. Y., Castellanos Dominguez, Y. Z., Díaz, W. F., & Vásquez, M. C. (2015). Presence of IgG antibodies against reproductive infections in breeding bulls of Magdalena Medio, Colombia. Revista Colombiana De Ciencias Pecuarias, 28(4), 323–330. https://doi.org/10.17533/udea.rccp.324938
Section
Original research articles
License
The authors enable RCCP to reprint the material published in it.
The journal allows the author(s) to hold the copyright without restrictions, and will allow the author(s) to retain publishing rights without restrictions.