Ultrasonographic tools used in the evaluation of the canine spleen: A review
Marjury C Maronezi

Department of Surgery Veterinary, UNESP Univ Estadual Paulista, Jaboticabal, São Paulo, Brazil

Marcus A R Feliciano

Ana Paula R Simões

Michelle Lopes Avante

Ricardo A R Uscategui
Abstract
The spleen is one of the most susceptible organs to primary tumours, metastasis, and a wide range of diseases of the hematopoietic system. Therefore, detailed assessment of the spleen is of great importance in veterinary medicine, especially in dogs, due to their economic and sentimental value, and as an experimental model in human medicine. Considering the recent advances in diagnostic imaging in companion animals, this review aims to describe the applicability of acoustic radiation force impulse (ARFI) elastography (qualitative and quantitative), Doppler, and contrast-enhanced ultrasonography for evaluating the spleen in dogs. The ARFI elastography is a recent ultrasound method that can provide reference values and aid in the diagnosis and evaluation of splenic abnormalities routinely encountered in veterinary practice. Conventional ultrasonographyof the spleen combined with haemodynamic analysis by Doppler and contrast enhanced ultrasonography is an important tool in diagnosis and triage.Keywords: B-mode, contrast enhanced ultrasonography, dog spleen, Doppler, elastography. ResumenEl bazo es uno de los órganos más propensos a desarrollar tumores, tanto primarios como metastásicos, y varias enfermedades que afectan el sistema hematopoyético. Es por eso que la evaluación clínica del mismo es de gran importancia en medicina veterinaria, principalmente en perros, debido a su valor económico, afectivo, y como modelo experimental en medicina humana. Considerando los recientes avances en imagenología diagnóstica, esta revisión tiene como objetivo describir el examen ecográfico del bazo en perros, utilizando la técnica de elastografía por impulso de fuerza de radiación acústica (ARFI) cuantitativa y cualitativa, Doppler y ultrasonido contrastado. La elastografía ARFI es un método reciente que puede proveer información básica sobre la conformación normal del órgano y, en un futuro próximo, ayudar en el diagnóstico de las enfermedades esplénicas. De modo similar, la ecografía convencional, Doppler y el ultrasonido contrastado son importantes herramientas en el diagnóstico y en el triaje.Palabras clave: bazo canino, Doppler, elastografía, modo-B, ultrasonografía contrastada. ResumoO baço é um dos órgãos mais propensos a desenvolver tumores primários, metastáticos e afecções do sistema hematopoiético. Por isso, realizar uma avalição apurada neste órgão é de suma importância em medicina veterinária, particularmente em cães, devido à importância econômica, afetiva e de similaridade científica com o homem. Considerando os recentes avanços em diagnóstico por imagem, esta revisão visou descrever a aplicabilidade das novas técnicas ultrassonográficas para avaliação esplênica de caninos, utilizando a elastografia por impulso de força de radiação acústica (ARFI) qualitativa e quantitativa, Doppler e ultrassonografia por contraste com microbolhas. A elastografia ARFI é um método recente que pode fornecer dados de base para o baço e permitir a utilização futura desta técnica na avaliação de cães com doença esplênica. Similarmente, a ultrassonografia convencional, o método Doppler e a ultrassonografia contrastada são importantes ferramentas no diagnóstico e triagem.Palavras chave: baço canino, Doppler, elastografia, modo-B, ultrassonografia contrastada.
Downloads
Download data is not yet available.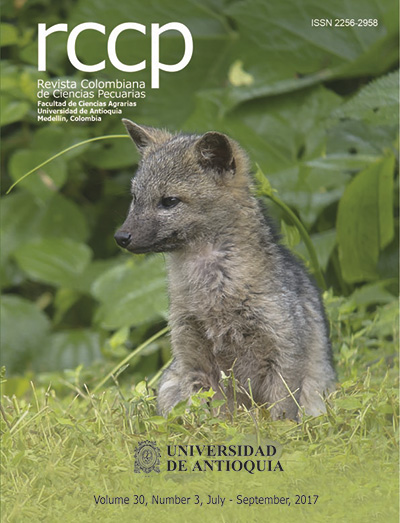 Section
Literature reviews
The authors enable RCCP to reprint the material published in it.
The journal allows the author(s) to hold the copyright without restrictions, and will allow the author(s) to retain publishing rights without restrictions.