First report of Lernaea cyprinacea (Crustacea: Lernaeidae), ectoparasite of Rhamdia quelen (Pisces: Heptapteridae), in Santa Fe (Argentina) under hatchery conditions
Silvia H Gervasoni

Universidad Nacional del Litoral, Departamento de Ciencias Morfológicas, Santa Fe, Argentina.

Silvina B Chemes

María Cristina Scaglione

Raúlk D Cerutti
Abstract
Background: Lernaea cyprinacea was introduced in South America with cyprinids. To the best of our knowledge, this ectoparasite has not been reported in Santa Fe province (Argentina). Objective: To report Lernaea cyprinacea presence in Rhamdia quelen under hatchery conditions in Santa Fe province (Argentina). Methods: In May 2014, samples of L. cyprinacea attached to the fins and flanks of R. quelen were obtained in the Chronobiology Laboratory of the Veterinary Sciences School at Esperanza (Santa Fe, Argentina) where they were collected and identified. Results: A description of L. cyprinacea is presented along with detailed records previously reported in this and other regions. Conclusions: Presence of this parasite constitutes evidence of the introduction of exotic species through commercialization of their natural hosts and the potential pathogen colonization of natural environments, which constitutes a threat to the integrity of aquatic ecosystems.Keywords: Fish diseases, freshwater catfish, host parasite relations, introduced species, neotropical region. ResumenAntecedentes: la Lernaea cyprinacea fue introducida en América del Sur a través de los ciprínidos, no habiendo siendo previamente registrada en la provincia de Santa Fe (Argentina). Objetivo: reportar la presencia de Lernaea cyprinacea en Rhamdia quelen en condiciones de acuicultivo. Método: en mayo de 2014, se obtuvieron ejemplares de L. cyprinacea, parasitando aletas y flancos de R. quelen en el laboratorio de Cronobiología de la Facultad de Ciencias Veterinarias, en Esperanza (Santa Fe, Argentina), donde fueron colectados e identificados. Resultados: se brinda una descripción de L. cyprinacea y se detallan antecedentes del ectoparasito en ésta y otras regiones. Conclusiones: la presencia de este parásito constituye evidencia de introducción de una especie exótica mediante la comercialización de sus hospedadores naturales y de la potencial colonización por patógenos introducidos en ambientes naturales, lo cual amenaza la integridad de estos ecosistemas.Palabras clave: bagre de agua dulce, enfermedades de los peces, especies exóticas, región neotropical, relaciones huésped-parásito. ResumoAntecedentes: Lernaea cyprinacea foi introduzido na América do Sul através de ciprinídeos, não sendo registrado na província de Santa Fe. Objetivo: relatar a sua presença no Rhamdia quelen, em condições de crescimento. Método: em maio de 2014, foram obtidas individuos de L. cyprinacea, parasitando nadadeiras e flancos em R. quelen, no Cronobiologia Laboratório da Faculdade de Ciências Veterinárias, Esperanza (Santa Fe, Argentina), que foram coletados e identificados. Resultados: uma descrição de L. cyprinacea é relatada, e detalhes prévios da presença deste parasito na região. Conclusões: a presença neste parasito é evidencia de introdução de espécies exóticas através da comercialização de seus hospedeiros naturais. O potencial de colonização de patógenos introduzidos em ambientes naturais é uma ameaça à integridade dos ecossistemas.Palavras-chave: doença dos peixes, parasita hospedeiro, peixe-gato (agua doce), região neotropical, relação espécies introduzidas.
Downloads
Download data is not yet available.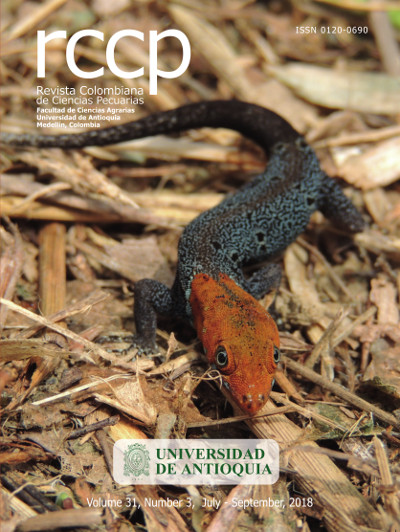 Section
Short communications
The authors enable RCCP to reprint the material published in it.
The journal allows the author(s) to hold the copyright without restrictions, and will allow the author(s) to retain publishing rights without restrictions.