Informação virtual no processo da formação profissional
Mariza Inês da Silva Pinheiro

Pesquisadora Doutoranda em Documentação na Universidad Carlos III de Madrid – Espanha. Professora da Universidade Federal de Mato Grosso, Campus Rondonópolis, Mato Grosso, Brasil

Ademar de Lima Carvalho

Pesquisador. Doutor em Educação Brasileira pela UNESP, Brasil. Professor do Depto de Educação e do PPGE da Universidade Federal de Mato Grosso, Campus Rondonópolis. Mato Grosso Brasil

Edileusa Regina Pena da Silva

Pesquisadora. Doutoranda em Ciências Sociais na PUC, São Paulo, Brasil. Professora Universidade Federal de Mato Grosso Campus Rondonópolis, Mato Grosso, Brasil

Sandra Maria da Silva

Pesquisadora. Bibliotecária da FACER-CRB-1/1488
Palabras clave:
Pesquisa na Internet, mecanismo de busca, operadores booleanos, bibliotecário
Resumen
Trata-se de um estudo sobre a utilização da pesquisa na Internet pelos discentes formandos daUniversidade Federal de Mato Grosso, do Campus de Rondonópolis, com o objetivo de verificarse os mesmos encontram dificuldade na realização da busca de dados e informações pela Internet.Apresentam-se considerações sobre a pesquisa em geral, a pesquisa na Web, os mecanismos debusca, as formas de refinamento da pesquisa e o papel do bibliotecário. Foi aplicado aos alunos dareferida universidade um questionário acerca do acesso e uso de informações disponíveis na Internet.Constatou-se, então, que os formandos utilizam a Internet para trabalhos acadêmicos, porém têmdificuldades na recuperação das informações, devido a certas informações inconsistentes existentesna rede, bem como à falta de mecanismos de filtragem e um apoio e uma orientação adequada àpesquisa. Palavras-chave: pesquisa na Internet, mecanismo de busca, operadores booleanos, bibliotecário. Abstract This paper portrays a study about the use of the Internet research by graduate students at Universidade Federal de Mato Grosso/Campus Universitário de Rondonópolis. It aims to verify whether the  students present any kind of difficulties during their research. In order to develop this research, it is necessary that the research be efficient when it comes to search strategies. There are several ways to develop a relevant research; among them there is the use of booleans, which filter important information about the desired topic. There are several explanations about research in general, web research, search mechanisms, research filters, and librarian role. A questionnaire about access and use of available information on the Internet was applied to the students as a way to get data. It was concluded that graduate students use the Internet to do their academic papers, although they have difficulties with the back up of information, since some pieces of information found on the web are not consistent, or because there is a lack of support and orientation to get information through filters.  Keywords: Internet research, search mechanism, booleans operators, librarian

|Resumen = 610 veces | PDF = 246 veces| PDF = 141 veces|
Descargas
La descarga de datos todavía no está disponible.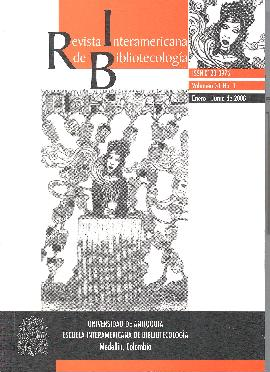 Cómo citar
Silva Pinheiro, M. I. da, Lima Carvalho, A. de, Pena da Silva, E. R., & Silva, S. M. da. (2009). Informação virtual no processo da formação profissional. Revista Interamericana De Bibliotecología, 31(1), 111-133. Recuperado a partir de https://revistas.udea.edu.co/index.php/RIB/article/view/1921