Evaluación in vitro del potencial probiótico de bacterias ácido lácticas aisladas de suero costeño
María C. Cueto-Vigil

Universidad de La Sabana

Yudtanduly Acuña-Monsalve

Universidad de La Sabana

Jacqueline Valenzuela-Riaño

Universidad de La Sabana
Palabras clave:
ácido láctico, bacterias ácido lácticas, probiótico, resistencia a pH, sales biliares, suero costeño
Resumen
Un grupo de 53 bacterias ácido lácticas (BAL) aisladas del suero costeño, fueron sometidas a estudios preliminares in vitro simulando las condiciones del tracto digestivo, para determinar sus características como potenciales probióticos: se evaluó la tolerancia a pH ácido (MRS pH: 2,0) y sales biliares (MRS con sales biliares al 0,3%) y posteriormente se determinó la población sobreviviente como log UFC/ml. A las cepas tolerantes a las condiciones mencionadas, se les determinó la resistencia a 14 antibióticos de uso comercial, se evaluó la adhesión a mucus intestinal y la producción de ácido láctico por cromatografía líquida de alta precisión (HPLC). Se encontró que 54,7% de las BAL evaluadas son tolerantes a las condiciones de pH ácido y 49,1 a 0,3% de sales biliares con una población de 106 log UFC/ml en promedio. Siete cepas fueron seleccionadas por presentar sensibilidad a vancomicina antibiótico de importancia epidemiológica y se adhirieron a mucus intestinal, reuniendo las condiciones requeridas para considerarse como potencialmente probióticas. Adicionalmente la cuantificación de ácido láctico para las cepas seleccionadas presentó un rango entre 0,13 ± 0,05 y 1,0 ± 0,08 g/l.
|Resumen = 121 veces | PDF = 84 veces|
Descargas
La descarga de datos todavía no está disponible.
Citas
Adesokan Y, Odetoyinbo B, Okanlawon B. 2009. Optimization of lactic acid production by lactic acid bacteria isolater from some traditional fermented food in Nigeria. Pakistan Journal of Nutrition, 8 (5): 611-615.
Bao Y, Zhang Y, Zhang Y, Liu Y, Wanga Y, Dong X, Wang Y, Zhang H. 2010. Screening of potential probiotic properties of Lactobacillus fermentum isolated from traditional dairy products. Food Control, 21 (5): 695-712.
Canžek A, Bogovic B. 2001. Antibiotics influence on lactic acid bacteria inhabiting gastrointestinal tract. Mljekarstvo, 51 (2): 119-134.
Cebeci A, Gürakan C. 2003. Properties of potential probiotic Lactobacillus plantarum strains. Food Microbiology, 20 (5): 511-518.
Chou L, Weimer B. 1999. Isolation and characterization of acid- and bile-tolerant isolates from strains of Lactobacillus acidophilus. Journal of Dairy Science, 82 (1): 23-31.
Conway PL, Gorbach SL, Goldin BR. 1987. Survival of lactic acid bacteria in the human stomach and adhesion to intestinal cells. Journal of Dairy Science, 70 (1): 1-12.
Cueto C, García D, Garcés F, Cruz J. 2007. Preliminary studies on the microbiological characterization of lactic acid bacteria in suero costeño, a Colombian traditional fermented milk product. Revista Latinoamericana de Microbiología, 49 (1-2): 12-18.
Dubey U, Mistry V. 1996. Growth characteristics of bifidobacteria in infant formulas. Journal of Dairy Science, 79 (7): 1146-1155.
Erkkilä S, Petäjä E. 2000. Screening of commercial meat starter cultures at low pH and in the presence of bile salts for potential probiotic use. Meat Science, 55 (3): 297-300.
Gilliland S, Staley T, Bush L. 1984. Importance of bile toler-ance of Lactobacillus acidophilus used as dietary adjunct. Journal of Dairy Science, 67 (12): 3045-3051.
Kaufmann D, Fairchild K. 2004. Clinical microbiology of bacterial and fungal sepsis in very-low-birth-weight infants. Clinical Microbiology, 17 (3): 638-680.
Macfarlane S, Dillon JF. 2007. Review, microbial biofilms in the human gastrointestinal tract. Journal of Applied Microbiology, 102 (5): 1177-1436.
Maragkoudakis A, Zoumpopouloua G, Miarisa C, Kalantzopoulosa G, Potb B, Tsakalidoua F. 2006. Probiotic potential of Lactobacillus strains isolated from dairy products. International Dairy Journal, 16
(3): 189-199.
Marciňáková M, Klingberg T, Lauková T, Budde B. 2010. The effect of pH, bile and calcium on the adhesion ability of probiotic enterococci of animal origin to the porcine jejunal epithelial cell line IPEC-J2. Anaerobe, 16 (2): 120-124.
Mathur S, Singh R. 2005. Antibiotic resistance in food lactic acid bacteria —a review. International Journal of Food Microbiology, 105 (3): 281-295.
Naoko KM, Kenji O. 1996. Gastrointestinal colonization by methicillin-resistant Staphylococcus aureus in immunosuppressed mice. Infection and Immunity, 64 (10): 4231-4235.
Noriega L, Gueimonde M, Sánchez B, Margolles A, de los Reyes-Gavilán CG. 2004. Effect of the adaptation to high bile salts concentrations on glucosydic activity, survival at low pH and cross-resistance to bile salts in Bifidobacterium. International Journal of Food Microbiology, 94 (1): 79-86.
Ouwehand A, Suomalainen T, Tölkkö S, Salminen S. 2002. In vitro adhesion of propionic acid bacteria to human intestinal mucus. Lait 82 (1): 123-130.
Park S, Hwang Y, Kim Y, KIM J, Song J, Lee K, Jeong K, Rhee M, Kim K, Kim T. 2006. Comparison of pH and bile resistance of Lactobacillus acidophilus strains isolated from rat, pig, chicken, and human sources. Journal of Microbiology and Biotechnology, 22 (1): 35-37.
Pultz N, Vesterlund S, Ouwehand AC, Donskey CJ. 2006. Adhesion of vancomycin-resistant Enterococcus to human intestinal mucus. Current Microbiology, 52 (3): 221-224.
Ray A, Pultz N, Bhalla A, Aron D, Donskey C. 2003. Coexistence of vancomycin-resistant enterococci and Staphylococcus aureus in the intestinal tracts of hospitalized patients. Clinical Infectious Diseases, 37 (7): 875-881.
Savadogo A, Ouattara C, Bassole I, Traore SA. 2006. Bacteriocins and lactic acid bacteria —minireview. African Journal of Biotechnology, 5 (9): 678-683.
Shah N. 2000. Probiotic bacteria: selective enumeration and survival in dairy foods. Journal of Dairy Science, 83 (4): 894-907.
Sherr B, Sherr E, Fallon R. 1987. Use of monodispersed, fluorescently labeled bacteria to estimate in situ protozoan bacterivory. Applied and Environmental Microbiology, 53 (5): 958-965.
Strompfová V, Lauková A. 2004. Antibiotic resistance of acid lactic bacteria from canine faeces. Bulletin of Veterinary Institute in Pulawy, 48: 215-218.
Strompfová V, Lauková A, Ouwehand A. 2004. Selection of enterococci for potential canine probiotic additives. Veterinary Microbiology, 100 (1-2): 107-114.
WHO (World Health Organization) [Internet]. 2002. Guidelines for the evaluation of probiotics in food. Report of a joint FAO/WHO working group on drafting guidelines for the evaluation of probiotics in food. Food and Agriculture Organization. Fecha de acceso: 17 de diciembre de 2010. Disponible en: <http://www.who.int/foodsafety/
fs_management/en/probiotic_guidelines.pdf>.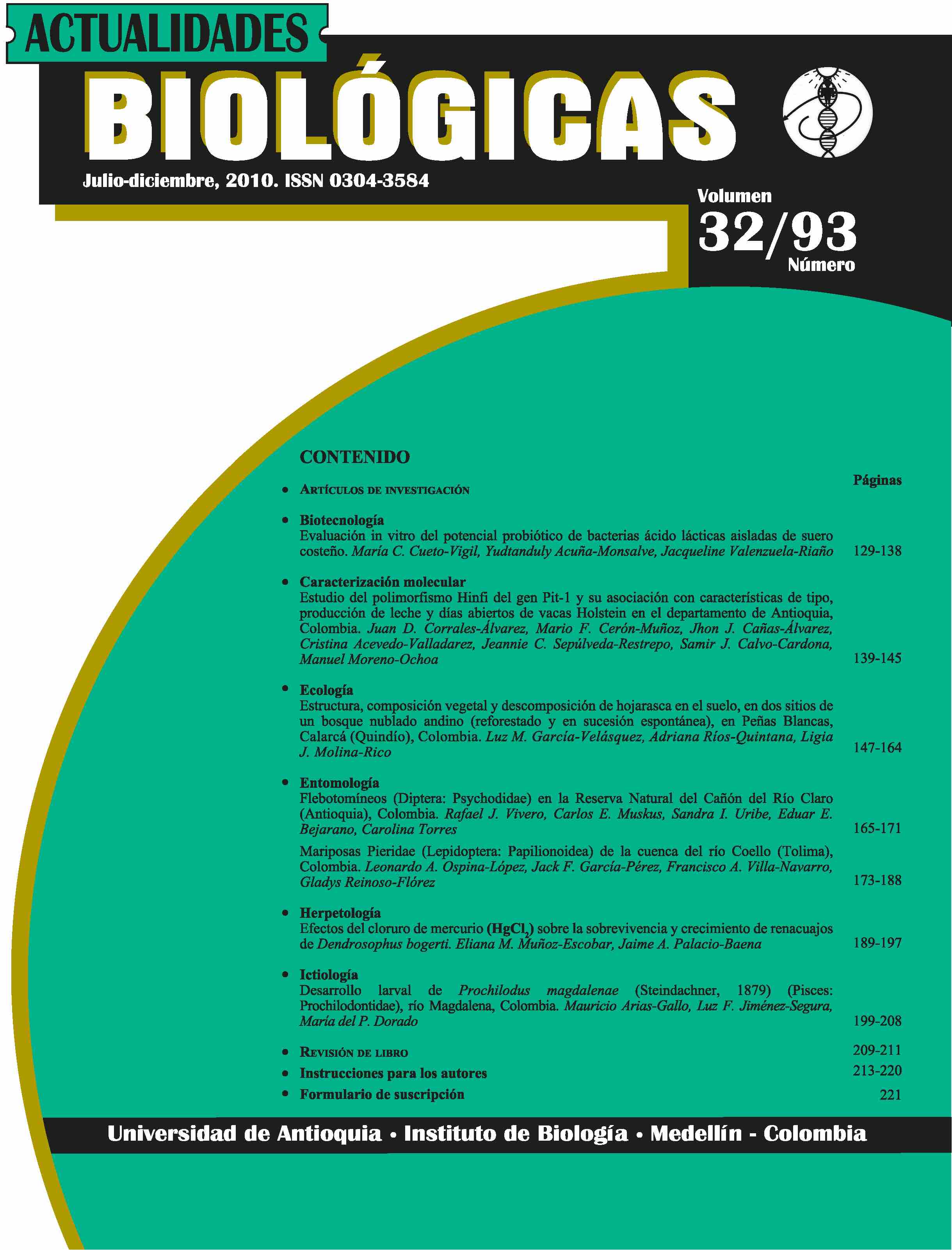 Cómo citar
Cueto-Vigil M. C., Acuña-Monsalve Y., & Valenzuela-Riaño J. (2012). Evaluación in vitro del potencial probiótico de bacterias ácido lácticas aisladas de suero costeño. Actualidades Biológicas, 32(93), 129-138. Recuperado a partir de https://revistas.udea.edu.co/index.php/actbio/article/view/13809
Sección
Artículos completos
Derechos de autor 2012 Actualidades Biologicas
Esta obra está bajo licencia internacional
Creative Commons Reconocimiento-NoComercial-CompartirIgual 4.0
.
Los autores autorizan de forma exclusiva, a la revista Actualidades Biológicas a editar y publicar el manuscrito sometido en caso de ser recomendada y aceptada su publicación, sin que esto represente costo alguno para la Revista o para la Universidad de Antioquia.
Todas las ideas y opiniones contenidas en los artículos son de entera responsabilidad de los autores. El contenido total de los números o suplementos de la revista, está protegido bajo Licencia Creative Commons Reconocimiento-NoComercial-CompartirIgual 4.0 Internacional, por lo que no pueden ser empleados para usos comerciales, pero sí para fines educativos. Sin embargo, por favor, mencionar como fuente a la revista Actualidades Biológicas y enviar una copia de la publicación en que fue reproducido el contenido.