Dependencia micorrícica de barcino (Clusiaceae: Calophyllum brasiliense Cambers)
Jorge A. Sierra-Escobar

Grupo de estudios florísticos. Universidad Católica de Oriente. A. A. 050956 Rionegro. Rionegro (Antioquia)

Dagoberto Castro-Restrepo

Grupo de estudios florísticos. Universidad Católica de Oriente. A. A. 050956 Rionegro. Rionegro (Antioquia)

Walter Osório-Vega

Grupo de Microbiología de suelos. Universidad Nacional de Colombia sede Medellín. Medellín (Antioquia)
Palabras clave:
dependencia micorrizal, fósforo, Calophyllum brasiliense, Glomus agreggatum
Resumen
Se realizó un experimento en invernadero, cuyo objetivo fue determinar la dependencia micorrícica de barcino (Calophyllum brasiliense Cambers). Para lo cual se utilizó un diseño experimental completamente al azar. Los tratamientos tuvieron un arreglo factorial 3 x 2 con cinco repeticiones, que consistieron en la combinación de tres concentraciones de fósforo (P) en la solución del suelo (0,002, 0,02 y 0,2 mg l-1) con 2 niveles de inoculación micorrizal de Glomus agreggatum Schenck y Smith, modificado por Koske (inoculado y no inoculado). Se emplearon como variables respuesta el contenido de P foliar en función del tiempo. Al momento de la cosecha, se determinaron la masa seca aérea (MSA), el P total absorbido (PTA) en la parte aérea, la colonización micorrizal y la dependencia micorrizal (DM). Los resultados indican que el contenido de P foliar no tuvo variaciones significativas en relación a la inoculación micorrizal. El contenido de P total absorbido no varió al igual que la masa seca aérea. No se presentó colonización micorrizal en ninguno de los tratamientos. Finalmente, no hubo dependencia micorrizal con G. agreggatum de barcino, ubicando a esta especie dentro de la categoría independiente, al menos en las condiciones del estudio.

|Resumen = 29 veces | PDF = 63 veces|
Descargas
La descarga de datos todavía no está disponible.
Citas
Aziz T, Habte M. 1987. Determining vesicular-arbuscular micorrizal effectiveness by monitoring P status of leaf disk. Canadian Journal of Botany, 33: 1097-1101.
Barea JM, Azcón R, Azcón-Aguilar C. 2002. Mycorrhizosphere interactions to improve plant fitness and soil quality. Antonie Van Leewenhoek, 81: 343-351.
Bolan NS. 1991. A critical review on the role of mycorrhizal fungi in the uptake of phosphorus by plants. Plant and Soil, 134: 189-293.
Brundrett MC. 2002.Coevolution of root and mycorrhizas of land plants. New Phytologist, 154: 275-304.
Elsen A, Baimey H, Swennen R, De Waele D. 2003. Relative mycorrhizal dependency and mycorrhiza nemato de interaction in banana cultivars (Musa spp.) differing in nematode susceptibility. Plant and Soil, 256: 303-313.
Fox R, Kamprath E. 1970. Phosphate sorption isotherms for evaluating the phosphate requirements of soils. Soil Science Society of America Proceedings, 34: 902-907.
Giovannetti M, Mosse B. 1980. An evaluation of techniques for measuring vesicular-arbuscular mycorrhizal infection in roots. New Phytologist, 84: 489-500.
González O, NW Osorio. 2008. Determinación de la dependencia micorrizal del lulo. Acta Biológica Colombiana, 13 (2): 163-174.
Habte M, Fox R, Huang R. 1987. Determining vesicular arbuscular micorrizal effectiveness by monitoring P status of subleaflets of indicator plants. Communications in Soil Science and Plant Analysis, 18: 1403-1420.
Habte M, Manjunath A. 1991. Categories of vesicular arbuscular mycorrhizal dependency of host species. Mycorrhiza, 1: 3-12.
Habte M, Osorio NW. 2001. Arbuscular Mycorrhizas: Producing and applying Arbuscular Mycorrhizal Inoculum. Honolulu: University of Hawaii. p. 47.
Haselwandter K, Bowen GD. 1996. Mycorrhizal relations in trees for agroforestry and land rehabilitation. Forest Ecology and Management, 81: 1-17.
Holdridge LR. 1979. Ecología en zonas de vida. San José (Costa Rica): Instituto Interamericano de Ciencias Agrícolas (IICA). Organización de Estados Americanos (OEA). p. 216.
Jakobsen I, Abbott LK, Robson AD. 1992. External hyphae of vesicular-arbuscular mycorrhizal fungi associated with Trifolium subterraneum L. 2. Hyphal transport of 32P over defined distances. New Phytologist, 120: 509-516.
Johansen A, Jakobsen I, Jensen ES. 1993. External hyphae of vesicular-arbuscular mycorrhizal fungi associated with Trifolium subterraneum L. 3. Hyphal transport of 32P and 15N. New Phytologist, 1993: 61-68.
Jaramillo SP, Osorio NW. 2009. Mycorrhizal dependency of coffee seedling at different levels of soil solution phosphorus. Revista Suelos Ecuatoriales, 39 (1): 100-106.
Jaramillo SP, Silva M, Osorio NW. 2004. Potencial simbiótico y efectividad de hongos micorrízico arbusculares de tres suelos sometidos a diferentes usos. Revista de la Facultad Nacional de Agronomía Medellín. 57 (1): 2203-2214.
Kageyama P, Viana VM. 1989. Tecnologia de sementes e grupos ecologicos de especies tropicales. Sao Paulo. Simpósio Brasileiro sobre Tecnología de Semillas Florestais. Kormanik PP, McGraw AC, Schultz RC. 1980. Procedure and equipment for staining a large number of plant samples for endomycorrhizal assay. Canadian Journal of Botany, 26: 536-538.
Mansfeld-Giese K, Karsen J, Bodker L. 2002. Bacterial populations associated with mycelium of the arbuscular mycorrhizal fungus Glomus intrarradices. FEMS Microbiology Ecology, 41: 133-140.
Montoya B, Osorio NW. 2009. Mycorrhizal dependency of avocado at different levels of soil solution phosphorus. Revista Suelos Ecuatoriales, 39 (2): 143-147.
Murphy J, Riley JP. 1962. A modified single solution method for the determination of phosphate in natural waters. Analytica Chimica Acta, 27: 31-35.
Osorio, NW, Díez MC, Sierra JA, Paternina L. 2008. Consideraciones ecológicas sobre la asociación micorrizal en suelos de la region altoandina. En: León JD, editor. Ecología de bosques andinos. Experiencias de investigación. Medellín (Colombia): La Carreta Editores. p. 181-200.
Phillips JM, Hayman DS. 1970. Improved procedures for clearing and staining parasitic and vesicular-arbuscular mycorrhizal fungi for rapid assessment of infection. Transactions of the British Mycological Society, 55: 158-161.
Plenchette C, Fortin A, Furlan V. 1983. Growth responses of several plant species to mycorrhizae in a soil of moderate P-fertility. Mycorrhizal dependency under field conditions. Plant and Soil, 70: 191-209.
Sánchez M. 1999. Endomicorrizas en agroecosistemas colombianos. Palmira (Colombia): Universidad Nacional de Colombia, sede Palmira. p. 210
Schubler A, Scwarzott D, Walker C. 2001. A new fungal phylum, the Glomeromycota: phylogeny and evolution. Mycological Research, 105: 1413-1421.
Sierra JA, Castro D, Osorio NW. 2009. Dependencia micorrizal de laurel (Ocotea sp.) Revista Colombia Forestal, 12: 21-30.
Sieverding E. 1991. Vesicular-Arbuscular mycorrhiza management. Eschbor (Hesse, Alemania): Editorial GTZ. p. 72.
Silvia DM, Fuhrmann JJ, Hartel PG, Zuberer YD. 2005. Principles and applications of soil microbiology. 2nd ed. New Jersey (U. S. A.): Pearson Prentice Hall. p. 450.
Siqueira JO, Saggin-Junior O. 2001. Dependency on arbuscular mycorrhizal fungi and resposiveness of some Brazilian native woody species. Mycorrhiza, 11: 245-255.
Uchida R, Hue NV. 2000. Plant nutrient management in Hawaii ́s soils, approaches for tropical and subtropical agriculture. Manoa (U. S. A.): College off Tropical Agriculture and Human Resources, University of Hawaii at Manoa. p. 158.
Vargas WG. 2002. Guía Ilustrada de las Plantas de las Montañas del Quindío y los Andes Centrales. Manizales (Colombia): Centro editorial, Universidad de Caldas. p. 814.
Zangaro W, Bononi V, Trufen S. 2000. Mycorrhizal dependency, inoculum potential And habitat preference of native woody species in South Brazil. En: Journal of Tropical Ecology, 16: 603-622.
Zangaro W, Nisizaki SMA, Domingos JCB, Nakano EM. 2003. Mycorrhizal response and succesional status in 80 woody species from south Brazil. Journal of Tropical Ecology, 315-324.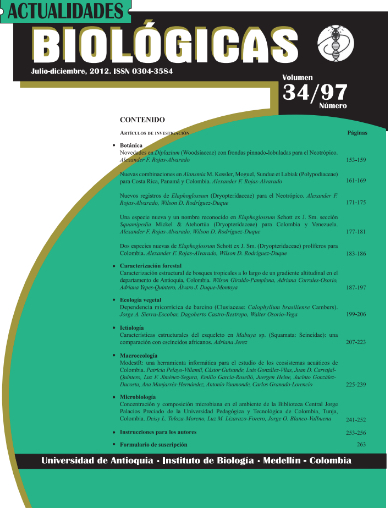 Sección
Artículos completos
Los autores autorizan de forma exclusiva, a la revista Actualidades Biológicas a editar y publicar el manuscrito sometido en caso de ser recomendada y aceptada su publicación, sin que esto represente costo alguno para la Revista o para la Universidad de Antioquia.
Todas las ideas y opiniones contenidas en los artículos son de entera responsabilidad de los autores. El contenido total de los números o suplementos de la revista, está protegido bajo Licencia Creative Commons Reconocimiento-NoComercial-CompartirIgual 4.0 Internacional, por lo que no pueden ser empleados para usos comerciales, pero sí para fines educativos. Sin embargo, por favor, mencionar como fuente a la revista Actualidades Biológicas y enviar una copia de la publicación en que fue reproducido el contenido.