Métodos de ADN Barcode revelan diversidad de especies de Astroblepus en la cuenca del río Porce, Colombia
Marcela Hernández-Zapata

Universidad de Antioquia

Luz E. Ochoa-Orrego

Universidad Estadual Paulista-UNESP

Luz F. Jiménez-Segura

Universidad de Antioquia

https://orcid.org/0000-0003-0784-0355
Palabras clave:
ADN mitocondrial, gen COI, GMYC, ictiofauna neotropical, distancias genéticas, proporciones
Resumen
El género Astroblepus es endémico de la región Andina y está representado por
aproximadamente 81 especies válidas que habitan ríos de alta montaña desde Panamá hasta Bolivia. Para Colombia, se han registrado 32 especies, de las cuales 23 fueron registradas en monitoreos recientes en la cuenca del río Porce, indicando que cerca del 71% de la diversidad de especies se encuentra en esta área. Morfológicamente, las especies de Astroblepus son muy similares y los caracteres empleados tradicionalmente para su determinación son poco resolutivos, lo que dificulta su identificación taxonómica. Con el objetivo de determinar la diversidad de Astroblepus en la cuenca del río Porce, se analizaron 129 individuos empleando herramientas de identificación genética mediante la secuenciación del gen Citrocromo Oxidasa sub-unidad I (COI) de 580pb y un análisis morfométrico basado en proporciones corporales, usando 12 hitos morfológicos. Los análisis genéticos y el método de delimitación de especies "General mixed Yulecoalescent", indicaron la presencia de 12 entidades taxonómicas, las cuales fueron soportadas por sus distancias genéticas y por 13 medidas corporales basadas en proporciones. Los resultados indican que la diversidad de especies en el área ha sido sobreestimada, por lo que es necesario integrar diferentes metodologías para una correcta delimitación de especies.
|Resumen = 877 veces | PDF = 362 veces| HTML = 131 veces| XHTML = 6 veces|
Descargas
La descarga de datos todavía no está disponible.
Citas
Acinas SG, Klepac-Ceraj V, Hunt DE, Pharino C, Ceraj I, Distel DL, Polz MF. 2004. Fine-scale phylogenetic architecture of a complex bacterial community. Nature, 430(6999): 551-554. DOI:10.1038/nature02649
Barraclough TG, Herniou E. 2003. Why do species exist? Insights from sexuals and asexuals, Zoology (Jena), 106(4): 275–282. DOI:10.1078/0944-2006-00130.
Boulenger, GA. 1887. On new siluroid fishes from the Andes of Columbia. Annals and magazine of natural history, 19(113): 348-350.
https://doi.org/10.1080/00222938709460255.
Drummond A, Suchard M, Xie D, Rambaut A. 2012. Bayesian phylogenetics with BEAUti and the BEAST 1.7., Molecular Biology and Evolution, 29(8): 1969-1973. doi:10.1093/molbev/mss075
Empresas Públicas de Medellín E.S.P. 2004. Análisis físico-químicos de las aguas del embalse Porce II años 2001-2003, Área Hidrometría e Instrumentación. Medellín (Colombia): Empresas Públicas de Medellín.
Eigenmann CH. 1912. Some results from an ichthyological reconnaissance of Colombia, South America. Part II. Bloomington (USA): Indiana University studies, 16(8): 1- 27. http://www.scielo.org.co/scielo.php script=sci_arttext&pid=S0123-30682013000200009.
Eigenmann CH. 1918. Eighteen new species of fishes from northwestern South America. Proceedings of the American Philosophical Society, 56(7): 673-689.
Eschmeyer WNR, Fong JD. 2017. Catalog of fishes. San Francisco (CA): California Academy of Sciences; [fecha de acceso mayo 1, 2017]. http://researcharchive.calacademy.org/research/ichthyology/catalog/speciesbyfamily.asp
Fujisawa T, Barraclough TG. 2013. Delimiting species using single-locus data and the generalized mixed Yule coalescent approach: a revised method and evaluation on simulated data sets. Systematic Biology, 62(5): 707-24. doi:10.1093/sysbio/syt033
Gerard T, Vlad D, Vila R.2013. Factors affecting species delimitation with the GMYC model: insight from a butterfly survey. Methods in Ecology and Evolution, 4(12): 1101-1110. https://doi.org/10.1111/2041-210X.12107.
Hall T. 1999. BioEdit: a user-friendly biological sequence alignment editor and analysis program for Windows 95/98/NT. Nucleic Acids Symposium, 41: 95-98.
Hammer Ø, Harper DAT, Ryan PD. 2001 PAST: Paleontological statistics software package for education and data analysis. Paleontologia electronica, [fecha de acceso noviembre 20, 2016]; 4(1): 9. https://palaeo-electronica.org/2001_1/past/past.pdf
Hebert PD, Cywinska A, Ball SL, deWaard JR. 2003. Biological identifications through DNA barcodes. Biological Science, 270(1512): 313–321. DOI: 10.1098/rspb.2002.2218.
Hernández M, Ochoa L, Jiménez LF. 2016. Integración de métodos de DNA barcode y morfometría geométrica revelan diversidad de especies del género Astroblepus en la cuenca del río Porce, Colombia [Trabajo de pregrado]. [Medellín (Colombia)]: Instituto de Biología, Universidad de Antioquia.
Humboldt F. 1805. Mémoire sur une nouvelle espèce de pimelode, jetée par les volcans du Royaume de Quito. En: Voyage de Humboldt et Bonpland, Deuxième partie. Observations de Zoologie et d'Anatomie comparée. Paris: F. Schoell. 3(7): 21-25.
Jacobsen D. 2008. Tropical high-altitude streams. En: D Dudgeon editor. Tropical Stream Ecology. Netherlands: Elsevier. p. 219–256.
Jiménez LF, Álvarez J, Ochoa LE, Loaiza A, Londoño JP, Restrepo D, Aguirre K, Hernández A, Correa JD, Jaramillo U. 2014. Guía Ilustrada Peces Cañón del río Porce, Antioquia. Medellín (Colombia): Empresas Públicas de Medellín.
Johnson RD. 1912. Notes on the habits of a climbing catfish (Arges marmoratus) from the Republic of Colombia. Annals of the New York Academy of Sciences, [fecha de acceso junio 15, 2016]; 22(1): 327-333. https://nyaspubs.onlinelibrary.wiley.com/doi/pdf/10.1111/j.1749-
1912.tb55167.x
Lo PC, Liu SH, Nor SAM, Chen WJ. 2017. Molecular exploration of hidden diversity in the Indo-West Pacific sciaenid clade. PloS one, [fecha de acceso mayo 29, 2017]; 12(7). DOI:10.1371/journal. pone.0176623.
Miles C. 1971. Los peces del río Magdalena. ("A field book of Magdalena fishes"). 2a edición. Ibagué (Colombia): Universidad del Tolima ediciones.
Miranda-Chumacero G. 2006. Distribución altitudinal, abundancia relativa y densidad de peces en el río Huarinilla y sus tributarios (Cotapata, Bolivia). Ecología en Bolivia, [fecha de acceso marzo 15, 2016]; 41(1): 79-93. http://www.scielo.org.bo/scielo.php?script=sci_arttext&pid=S160525282006000700006&lng=es&nrm=iso
Pearson N. 1937. The fishes of the Atlantic and Pacific slopes near Cajamarca, Peru. Proceedings of the California Academy of Sciences, 23(4): 87-98. https://www.biodiversitylibrary.org/page/3188251#page/113/mode/1up
Regan CT. 1904. A monography of the family Loricariidae. Transactions of the Zoological Society of London, 17(3): 191-350. https://doi.org/10.1111/j.10963642.1904.tb00040.x
Reis E, Sven O, Ferraris C, editores. 2003. Check List of the Freshwater Fishes of South and Central America. Porto Alegre (Brasil): Edipucrs.
Rosso J, Mabragaña E, González C, Astarloa D. 2012. DNA barcoding Neotropical fishes: recent advances from the Pampa Plain, Argentina. Molecular Ecology Resources. [fecha de acceso febrero 15, 2016]; 12(6): 999-1011. https://doi.org/10.1111/17550998.12010.
Schaefer S, Arroyave J. 2010. Rivers as islands: determinants of the distribution of Andean astroblepid catfishes. Journal of Fish Biology, [fecha de acceso mayo 21, 2015]; 77(10). DOI: 10.1111/j.1095-8649.2010.02822.x.
Schaefer S, Chakrabarty P, Geneva A, Sabaj M. 2011. Nucleotide sequence data confirm diagnosis and local endemism of variable morphospecies of andean astroblepid catfishes (siluriformes: Astroblepidae). Zoological Journal of the Linnean Society,
(1): 90-102. https://doi.org/10.1111/j.1096-3642.2010.00673.x
Steindachner F. 1882. Beiträge zur Kenntniss der Flussfische Südamerika's (IV). Anzeiger der Akademie für Wissenschaftlichen, Wien 19(19): 175-180.
Talavera G, Dinca V, Vila R. 2013. Factors affecting species delimitations with the GMYC
model: insight from a butterfly survey. Methods in Ecology and Evolution, 4(12): 1101-1110. https://doi.org/10.1111/2041-210X.12107
Tapan KB, Surya NS, Bijayalaxmi S, Bibarani T, Usha R. 2017 Morphological and genetic analyses of the first record of longrakered trevally, Ulua mentalis (Perciformes: Carangidae) and of the pinjalo snapper, Pinjalo pinjalo (Perciformes: Lutjanidae) in the Odisha coast, Bay of Bengal. Mitochondrial DNA Part A, DNA mapping,
sequencing and analysis, 29(4): 552-560. https://doi.org/10.1080/24701394.2017.1320993
Tamura K, Peterson D, Peterson N, Stecher G, Nei M, Kumar S. 2011. MEGA5: molecular evolutionary genetics analysis using maximum likelihood, evolutionary distance, and maximum parsimony methods. Molecular Biology and Evolution, 28(10): 2731-2739. DOI: 10.1093/molbev/msr121
Thompson JD, Higgins DG, Gibson TJ. 1994. CLUSTAL W: improving the sensitivity of progressive multiple sequence alignment through sequence weighting, position-specific gap penalties and weight matrix choice. Nucleic Acids Research, 22(22): 4876-4880.
Valdez M, Ivanova V, Gutiérrez M, Contreras S, Hebert PD. 2009. Probing diversity in freshwater fishes from Mexico and Guatemala with DNA barcodes. Journal of Fish Biology, 74(2): 377-402. https://doi.org/10.1111/j.1095-8649.2008.02077.x
Ward RD, Zemlak TS, Innes BH, Last PR, Hebert PD. 2005. DNA barcoding Australia's fish species. Philosophical Transactions of the Royal Society B, 360(1462): 1847-1857. DOI:10.1098/rstb.2005.1716
Ward RD. 2009. DNA barcode divergence among species and genera of birds and fishes. Molecular Ecology Resource, 9(4): 1077–1085. DOI: 10.1111/j.17550998.2009.02541.x
Waugh J. 2007. DNA barcoding in animal species: progress, potential and pitfalls. BioEssays, 29(2): 188-197. DOI: 10.1002/bies.20529
Wilson G. 1998. A description of the early juvenile colour patterns of eleven Lethrinus species (Pisces: Lethrinidae) from the Great Barrier Reef, Australia. Records of the Australian Museum, 50(1): 55-83. DOI:10.3853/j.0067-1975.50.1998.1274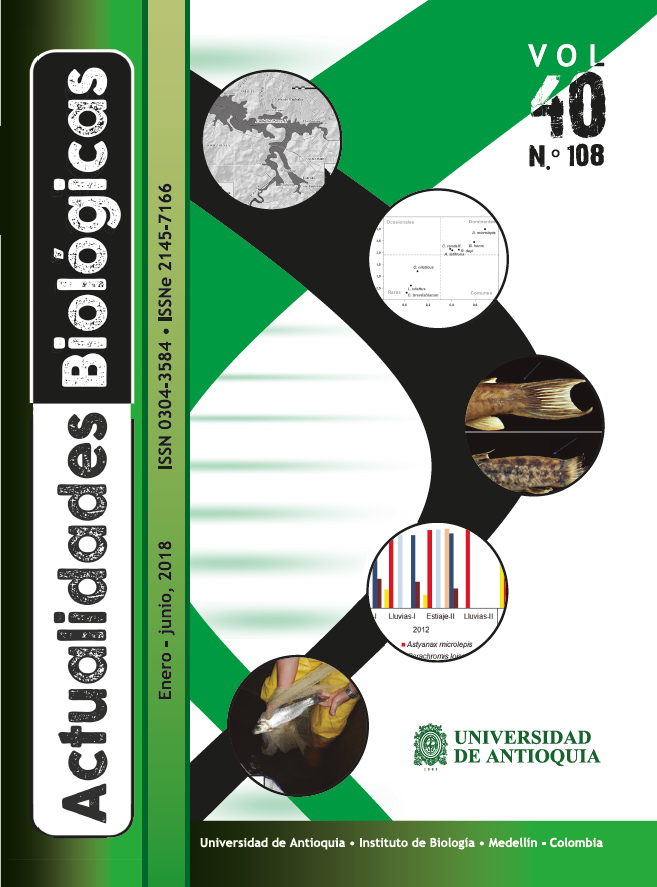 Sección
Sección especial: Los peces de la cuenca del río Porce, Antioquia, Colombia.
Los autores autorizan de forma exclusiva, a la revista Actualidades Biológicas a editar y publicar el manuscrito sometido en caso de ser recomendada y aceptada su publicación, sin que esto represente costo alguno para la Revista o para la Universidad de Antioquia.
Todas las ideas y opiniones contenidas en los artículos son de entera responsabilidad de los autores. El contenido total de los números o suplementos de la revista, está protegido bajo Licencia Creative Commons Reconocimiento-NoComercial-CompartirIgual 4.0 Internacional, por lo que no pueden ser empleados para usos comerciales, pero sí para fines educativos. Sin embargo, por favor, mencionar como fuente a la revista Actualidades Biológicas y enviar una copia de la publicación en que fue reproducido el contenido.