Characteristics of patients hospitalized at an ICU due to drug abuse.
Keywords:
Intensive care units; drug users; hospitalization.
Abstract
Objective. To characterize the clinical and demographic profile of patients hospitalized due to drug intoxication at an intensive care unit (ICU) of a teaching hospital between 2004 and 2010.
Methodology. In this descriptive study, information was collected from the hospitalized patients, as informed by a Toxicology Care Center (CAT) in Paraná (Brazil). The clinical files were checked and information was collected about age, gender, toxic agents and intoxication circumstances, comorbidities and clinical outcomes.
Results: Sixty-two patients were included in the study, with a mean age of 58 years and 77% male. Alcohol was the substance related to most hospitalizations (77%), followed by psychoactive drugs (14%) and marihuana and crack (5% each). The main comorbidities were bronchopneumonia due to aspiration (37%), alcohol-related liver cirrhosis (24%) and traumatic brain injury (19%). The most frequent intoxication circumstances were chronic abuse (79%), attemptive suicide (19%) and acute abuse (4.9%). Thirty-nine percent of the patients died during hospitalization.
Conclusion. The results show a concerning reality, as most of the patients are men of economically active age, who were intoxicated by a legal substance like alcohol, with a relevant number of deaths. Nurses need to pay particular attention to this health problem, in the context of which they play a fundamental role as educators with a view to the encouragement of healthy lifestyles.
|Abstract = 193 veces | RESUMEN | RESUMO = 11 veces| | PDF (ENGLISH) = 21 veces| | HTML (ENGLISH) = 7 veces| | HTML (PORTUGUÊS) = 47 veces| | MCORREAHOYOS, DECLARACIÓN AUTORES.PDF = 0 veces| | MCORREAHOYOS, CURRICULO PARA SUBMETER.DOC = 0 veces| | MCORREAHOYOS, COPEP ARTIGO UTI.PDF = 0 veces|
Downloads
Download data is not yet available.
References
(1) Chalub M, Telles LEB. Álcool, drogas e crime. Rev Bras Psiquiatr. 2006; 28(Supl II):69-73.
(2) Oliveira MLF, Arnauts I. Intoxicação alcoólica em crianças a adolescentes: dados de um centro de assistência toxicológica. Esc Anna Nery. 2011; 15(1):83-9.
(3) Pechansky F, Szabot CM, Scivolleto S. Uso de álcool entre adolescentes: conceitos, características epidemiológicas e fatores etiopatogênicos. Rev Bras Psiquiatr. 2004; 26(1):14-7.
(4) Souza DPO, Areco KN, Silveira Filho DX. Álcool e alcoolismo entre adolescentes da rede estadual de ensino de Cuiabá, Mato Grosso. Rev Saúde Pública. 2005; 39(4):585-92.
(5) CEBRID, Centro Brasileiro de Informações sobre Drogas Psicotrópicas. Departamento de Psicobiologia. Universidade Federal de São Paulo - UNIFESP. Drogas Psicotrópicas. São Paulo; 2003.
(6) Bau, CHD. Estado atual e perspectivas da genética e epidemiologia do alcoolismo. Ciênc Saúde Coletiva. 2002; 7(1):183-90.
(7) Sousa FSP, Oliveira EN. Caracterização das internações de dependentes químicos em Unidade de Internação Psiquiátrica do Hospital Geral. Ciênc Saúde Coletiva. 2010; 15(3):671-7.
(8) Gallassi AD, Alvarenga PG, Andrade AG, Couttolenc BF. Custos dos problemas causados pelo abuso do álcool. Rev Psiquiatria Clínica. 2008; 35(1):25-30.
(9) Rosa CMR, Fontana RT. A percepção de técnicos em enfermagem de uma unidade de terapia intensiva sobre a humanização no seu trabalho. Rev Ciênc Cuid e Saúde. 2010; 9(4):752-9.
(10) Elias ACGP, Tiemi M, Cardoso LTQ, Grion CMC. Aplicação do sistema de pontuação de intervenções terapêuticas (TISS 28) em unidade de terapia intensiva para avaliação da gravidade do paciente. Rev Latino Am Enfermagem. 2006; 14(3): 324-9.
(11) Gois CFL, Aguillar OM, Santos V, Rodríguez EOL. Stress factors for patients undergoing cardiac surgery. Invest Educ Enferm. 2012; 30(3):312-9.
(12) Silva ND, Contrin L.M. Orientações do enfermeiro dirigidas aos familiares dos pacientes internados na UTI no momento da visita. Rev Arq Ciênc Saúde. 2007; 14(3):148-52.
(13) Ministério da Saúde (BR), Secretaria de Atenção à Saúde. A política do Ministério da Saúde para atenção a usuários de álcool e outras drogas. 2nd ed. Brasília (DF): MS; 2004.
(14) Ballani TSL, Oliveira MLF. Uso de drogas de abuso e evento sentinela: construindo uma proposta para avaliação de políticas públicas. Texto Contexto Enferm, Florianópolis, 2007; jul-set; 16(3): 488-94.
(15) Marques F. Caminhos da prevenção: estudos de CEBRID ajudam a distinguir mito e realidade no panorama do uso de drogas no Brasil. [Internet]. São Paulo: FAPESP; julho 2005 [cited 2011 Apr 15]. Available from: http://www.antidrogas.com.br/mostraartigo.php?c=416.
(16) World Health Organization. Global Status Report on Alcohol and Health. Geneva: WHO; 2011. [cited 2013 Feb 1]. Available from: http://www.who.int/substance_abuse/publications/global_alcohol_report/en/index.html.
(17) Pillon SC, Luis MAV. Modelos explicativos para o uso de álcool e drogas e a prática da enfermagem. Rev Latino Am Enfermagem. 2004; 12(4):676-82.
(18) Gonçalves A. Álcool é a droga que mais mata [Internet]. Maringá: Gazeta de Maringá; 2012 Feb 5. [cited 2012 Feb 20]. Available from: http://www.gazetadopovo.com.br/vidaecidadania/conteudo.phtml?tl=1&id=1220239&tit=lcool-e-a-droga-que-mais-mata.
(19) Scheffer M, Pasa GG, Almeida RMM. Dependência de álcool, cocaína e crack e transtornos psiquiátricos. Psic: Teor e Pesq. 2010; 26(3):533-41.
(20) Duailibi S, Laranjeira R. Políticas públicas relacionadas às bebidas alcoólicas. Rev Saúde Pública. 2007; 41(5): 839-48.
(21) Secoli SR. Polifarmácia: interações e reações adversas no uso de medicamentos por idosos. Rev Bras Enferm. 2010; 63(1):136-40.
(22) Alves HNP, Surjan JC, Nogueira-Martins LA, Marques ACPR, Ramos SP, Laranjeira RR. Perfil clínico e demográfico de médicos com dependência química. Rev Assoc Med Bras. 2005; 51(3):139-43.
(23) Hulse GK. Álcool, drogas e muito mais entre os idosos. Rev Bras Psiquiatr. 2002; 24(1):34-41.
(24) Amaral RA, Malbergier A, Andrade AG. Manejo do paciente com transtornos relacionados ao uso de substância psicoativa na emergência psiquiátrica. Rev Bras Psiquiatr. 2010; 32(2): S104-11.
(25) Babor TF, Caetano R. Evidence-based alcohol policy in the Americas: strengths, weaknesses, and future challenges. Rev Panam Salud Publica. 2005; 18(4-5):327-37.
(26) Galperim B, Tovo CV, Volpato R, Rodrigues C, Almeida PRL, Stein A, et al. Análise dos escores de gravidade como preditores na mortalidade em cirróticos hospitalizados. Rev Assoc Med Rio Grande Do Sul, Porto Alegre. 2009; 53(3): 221-5.
(27) Schmidt MI, Bartholow B, Gulnar G, Menezes AM, Monteiro CA, Barreto SM, et al. Chronic non-communicable diseases in Brazil: burden and current challenges. The Lancet. 2011; 377(9781):1949-61.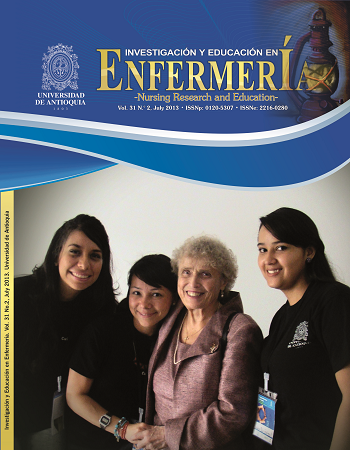 Additional Files
How to Cite
Antunes, F., & Oliveira, M. L. F. de. (2013). Characteristics of patients hospitalized at an ICU due to drug abuse . Investigación Y Educación En Enfermería, 31(2). https://doi.org/10.17533/udea.iee.11647
Section
ORIGINAL ARTICLES / ARTÍCULOS ORIGINALES / ARTIGOS ORIGINAIS
License
Derechos de propiedad / Direitos de Propriedade
English: If the article is accepted for publication, all copyright will be of exclusive property of Investigación y Educación en Enfermería. The text and the graphics included in the publication are exclusive responsibility of the authors and not necessarily reflect the thought of the Editorial Committee.
Español: Si el artículo es aprobado para publicación, todos los derechos son de propiedad de Investigación y Educación en Enfermería. El texto y las gráficas incluidas en la publicación son de exclusiva responsabilidad de los autores y no necesariamente refleja el pensamiento del Comité Editorial.
Português: Se o artigo for aceito para publicação, todos os direitos autorais serão de propriedade exclusiva de Investigación y Educación en Enfermería. O texto e os gráficos incluídos na publicação são de responsabilidade exclusiva dos autores e não refletem necessariamente o pensamento do Comitê Editorial.