Health profile of freedom-deprived men in the prison system
Keywords:
Vulnerable populations, delivery of health care, prisons, morbidity.
Abstract
Objective. To understand the needs and health profile of men incarcerated in the Pau dos Ferros Regional Criminal Complex (Rio Grande do Norte, Brazil).
Methodology. Quanti-qualitative research conducted with 30 men incarcerated in November 2012.  Semi-structured interviews were the primary data collection method. Descriptive statistics and thematic analysis of the speeches were used for data analysis.
Results. The participants' health profile, resulting from deficits in living conditions prior to their imprisonment, is heightened by the degrading conditions of their prison stay, and plays a role in their exclusion and lack of care when admitted as prisoners. The disorders and symptoms most often self-reported by participants were: headache (86.6%), respiratory infections (66.6%), diarrhea (60.0%), stress (60.0%), and depression or deep sadness (56.6%). The responses showed that there is a social gap, especially related to health care, in the prison complex.
Conclusion. We recognize a need to ensure the physical and moral integrity of inmates, which is compromised by life in prison; the inmates' health problems and needs differ from those of the general population, and require solutions; the inmates' health-disease process deteriorates due to the mere situation of entering the prison system; the inmates' health problems and health needs are treated with palliative and / or no assistance by those legally responsible for their protection; few human and financial resources exist to ensure health actions for the inmates; and there are no interventions or actions of disease prevention and health promotion.
How to cite this article Pinheiro MC, Araújo JL, VasconcelosRB, Nascimento EGC. Health profile of freedom-deprived men in the prison system. Invest Educ Enferm. 2015; 33(2):
|Abstract = 1348 veces | PDF = 269 veces| | HTML RESUMEN = 3 veces| | HTML ENGLISH = 1 veces| | HTML PORTUGUES = 0 veces|
Downloads
Download data is not yet available.
References
(1) Sturza JM, Schimitt F. As políticas públicas locais de concretização do direito constitucional à saúde no sistema prisional [Internet]. Manaus; 2008. [cited 3 Jul 2011]. Available from: http://www.conpedi.org.br/manaus/arquivos/anais/salvador/janaina_machado_sturza.pdf
(2) Kawaguti L. Brasil tem a 4° população carcerária e um déficit de 200 mil vagas [Internet] 2012. [cited 2 Aug 2013]. Available from: http://www.bbc.co.uk/portuguese/noticia/2012/05/120529 presos onulk.shtmll
(3) Brasil. Plano Nacional de Saúde do Sistema Penitenciário [Internet]. 3. ed. Brasília; 2010 [cited 20 Jun 2011]. Available from: http://bvms.saude.gov.br/bvs/publicações/cartilha_pnssp.pdf
(4) Brasil. Plano Nacional de Saúde do Sistema Penitenciário [Internet]. Brasília; 2004. [cited 29 jun 2011]. Available from: http://bvsms.saude.gov.br/bvs/publicacoes/plano_nacional _saude_sistema_penitenciario_2ed.pdf
(5) Pinto G, Hirdes A. O processo de institucionalização de detentos: perspectivas de reabilitação e reinserção social. Esc Anna Nery. 2006; 10(4): 678-83].
(6) Pinheiro R, Mattos RA, Barros MEB (Editors). Trabalho em equipe sob o eixo da integralidade: valores, saberes e práticas. Rio de Janeiro: Abrasco/Cepesc; 2007.
(7) Gameiro N. Agência Fiocruz de Notícias [Internet]. Rio de Janeiro: MS; 2013 [cited 1 Dec 2013]. Saúde no Sistema Prisional será tema de política pública; [2 screens]. Available from: https://www.agencia.fiocruz.br/sa%C3%BAde-no-sistema-prisional-ser%C3%A1-tema-de-pol%C3%ADtica-p%C3%BAblica
(8) Brasil, Ministério da Justiça. Ministério da Saúde. Portaria Interministerial Nº 1, de 2 de Janeiro de 2014. Dispõe sobre a Política Nacional de Atenção Integral à Saúde das Pessoas Privadas de Liberdade no Sistema Prisional (PNAISP) no âmbito do Sistema Único de Saúde (SUS). Diário Oficial da União [Internet]. 3 Jan 2014 [cited 15 Jan 2014]. Available from: http://sintse.tse.jus.br/documentos/2014/Jan/3/portaria-interministerial-no-1-de-2-de-janeiro-de
(9) Minayo MCS. O desafio do conhecimento: pesquisa qualitativa em saúde. 10. ed. São Paulo: Hucitec; 2007.
(10) Ketefian S. Ethical considerations in research. Focus on vulnerable groups. Invest Educ Enferm. 2015; 33(1): 164-172.
(11) Assis RD. A realidade atual do sistema penitenciário brasileiro. Revista CEJ. 2007; (39):74-8.
(12) Diuana V, Lhuilier D, Sánchez AR, Amado G, Araújo L, Duarte AM et al. Saúde em prisões: representação e práticas dos agentes de segurança penitenciária no Rio de Janeiro, Brasil. Cad Saúde Pública. 2008; 24(8):1887-96.
(13) Polak YNS, Kalegari DRG, Domingues DE, Yamasaki IS. A compreensão de doença dos adultos da Grande Curitiba. Cogitare Enferm. 1996; 1(2):11-8.
(14) Brasil. Congresso Nacional. Câmara dos Deputados. Comissão Parlamentar de Inquérito (CPI) do Sistema Carcerário [Internet]. Brasília: Edições Câmara; 2009 [cited12 dez 2013]. Available from: http://bd.camara.leg.br/bd/bitstream/handle/bdcamara/2701/cpi_sistema_carcerario.pdf?sequence=1
(15) Gomes R, Nascimento EF, Araújo FC. Por que os homens buscam menos os serviços de saúde do que as mulheres? As explicações de homens com baixa escolaridade e homens com ensino superior. Cad Saúde Pública] 2007; 23(3):565-74.
(16) Brasil. Lei 2.848 de 07 de dezembro de 1940. Código Penal Brasileiro. São Paulo (SP): Saraiva; 2002.
(17) Souza MOS, Passos JP. A prática da enfermagem no sistema penal: limites e possibilidades. Esc Anna Nery. 2008; 12(3):417-23.
(18) Alves VS. Um modelo de educação em saúde para o Programa Saúde da Família: pela integralidade da atenção e reorientação do modelo assistencial. Interface – Cumunic Saúde Educ. 2004; 9(16):39-52.
(19) Alves GG, Aerts D. As práticas educativas em saúde e a estratégia saúde da família. Ciênc Saúde Colet. 2011; 16(1):319-75.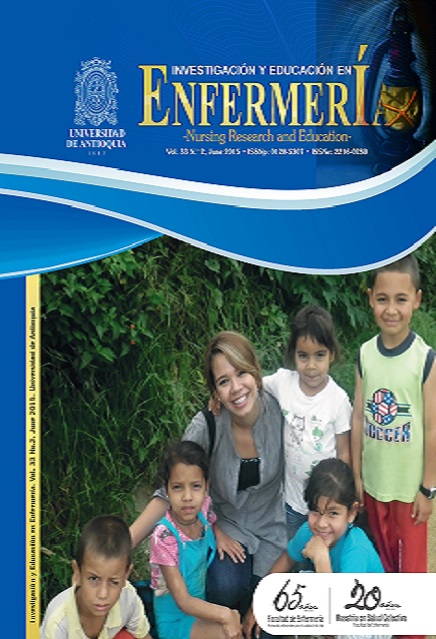 Downloads
How to Cite
Cléssia Pinheiro, M., Lima de Araújo, J., Borges de Vasconcelos, R., & Cosme do Nascimento, E. G. (2015). Health profile of freedom-deprived men in the prison system. Investigación Y Educación En Enfermería, 33(2). https://doi.org/10.17533/udea.iee.23007
Section
ORIGINAL ARTICLES / ARTÍCULOS ORIGINALES / ARTIGOS ORIGINAIS
License
Derechos de propiedad / Direitos de Propriedade
English: If the article is accepted for publication, all copyright will be of exclusive property of Investigación y Educación en Enfermería. The text and the graphics included in the publication are exclusive responsibility of the authors and not necessarily reflect the thought of the Editorial Committee.
Español: Si el artículo es aprobado para publicación, todos los derechos son de propiedad de Investigación y Educación en Enfermería. El texto y las gráficas incluidas en la publicación son de exclusiva responsabilidad de los autores y no necesariamente refleja el pensamiento del Comité Editorial.
Português: Se o artigo for aceito para publicação, todos os direitos autorais serão de propriedade exclusiva de Investigación y Educación en Enfermería. O texto e os gráficos incluídos na publicação são de responsabilidade exclusiva dos autores e não refletem necessariamente o pensamento do Comitê Editorial.