Functional disability and morbidities among the elderly people, according to socio-demographic conditions and indicative of depression
Bárbara Ferreira Agreli

Phisyotherapy student. Federal University of Triângulo Mineiro -UFTM, Brazil. E-mail: bazinhaf@hotmail.com

Flavia Aparecida Dias

Nurse, Master. PhD student, UFTM, Brazil. E-mail: flaviadias_ura@yahoo.com.br

Pollyana Cristina dos Santos Ferreira

Nurse, Master. PhD student, UFTM, Brazil. E-mail: pollycris21@bol.com.br

Nayara Cândida Gomes

Nurse, Master. PhD student. UFTM, Brazil. E-mail: nayarinha_gomes@hotmail.com

Darlene Mara dos Santos Tavares

Nurse, Ph.D. UFTM, Brazil. E-mail: darlenetavares@enfermagem.uftm.edu.br
Keywords:
Aged, activities of daily living, chronic disease, health care.
Abstract
Objectives. To investigate the association of functional incapacity and the number of morbidities with sociodemographic, economic and health variables.
Methods. This is a household survey, quantitative and transversal approach, conducted with 1,693 elderly in Uberaba-MG in 2012. We used the Mini-Mental State Examination, Katz Scale, Lawton and Brody Scale; Geriatric Depression Scale abbreviated and semi-structured instrument for evaluation of demographic data, economic and morbidities.
Results. Functional incapacity in basic activities of daily living was associated with older age, a greater number of morbidities and presence of indicative of depression. Regarding the instrumental activities of daily living, functional incapacity was related to age, lower education and income, the greater number of morbidities and have indicative of depression. The largest number of comorbidities was associated with female sex, older age, lower income and indicative of depression.
Conclusion. This study highlights the need for health actions directed to the oldest old, with less education and income, and indicative of depression to minimize the dependency on the performance of functional capacity and impact on morbidities.
How to cite this article: Agreli BF, Dias FA, Ferreira PCS, Gomes NC, Tavares DMS. Disability and morbidity among the elderly, according to sociodemographic conditions and indicative of depression. Invest. Educ. Enferm. 2017; 35(1):
|Abstract = 784 veces | PDF = 960 veces| HTML ENGLISH = 167 veces| VÍDEO = 0 veces| HTML PORTUGUÊS = 711 veces|
Downloads
Download data is not yet available.
References
(1) Santos SSC, Gautério DP, Vidal DAS, Rosa BM, Zortea B, Urquia BS. (In)dependência na realização de atividades básicas da vida diária em pessoas idosas domiciliadas. Rev. RENE. 2013; 4(3):579-87.
(2) Kagawa CA, Corrente JE. Análise da capacidade funcional em idosos do município de Avaré-SP: fatores associados. Rev. Bras. Geriatr. Gerontol. 2015; 18(3):577-86 .
(3) Pereira GN, Bastos GAN, Duca GFD, Bós AJG. Indicadores demográficos e socioeconômicos associados à incapacidade funcional em idosos. Cad. Saúde Pública, Rio de Janeiro. 2012; 28(11):2035-42.
(4) Fialho CB, Lima-Costa MF, Filho AIL. Capacidade funcional e uso de serviços de saúde por idosos da Região Metropolitana de Belo Horizonte, Minas Gerais, Brasil: um estudo de base populacional. Cad. Saúde Pública, Rio de Janeiro. 2014; 30(3):599-610.
(5) Barbosa BR, Almeida JM, Barbosa MR, RossiBarbosa LAR. Avaliação da capacidade funcional dos idosos e fatores associados à incapacidade. Cien. Saude Colet. 2014; 19(8):3317-25.
(6) Hu YN, Hu GC, Hsu CY, Hsieh SF, Li CC. Assessment of individual activities of daily living and its association with self-rated health in elderly people of Taiwan. Int. J. Gerontol. 2012; 6(2):117-21.
(7) Saito E, Ueki S, Yasuda N, Yamazaki S, Yasumura S. Risk factors of functional disability among community-dwelling elderly people by household in Japan: a prospective cohort study. BMC Geriatrics. 2014; 14:93.
(8) Reis LA, Reis LA, Torres GV. Impacto das variáveis sociodemográficas e de saúde na capacidade funcional de idosos de baixa renda. Ciênc. Cuid. Saúde. 2015;14(1):847-54.
(9) Nunes DP, Nakatani AYK, Silveira EA, Bachion MM, Souza MR. Capacidade funcional, condições socioeconômicas e de saúde de idosos atendidos por equipes de Saúde da Família de Goiânia (GO, Brasil). Cienc. Saude Colet. 2010; 15(6): 2887-98.
(10) Millán-Calenti JC, Tubío J, Pita-Fernández S, González-Abraldes I, Lorenzo T, Fernández-Arruty T et al. Prevalence of functional disability in activities of daily living (ADL), instrumental activities of daily living (IADL) and associated factors, as predictors of morbidity and mortality. Arch. Gerontol. Geriatr. 2010; 50(3):306–10.
(11) Pinto JM, Neri AL. Doenças crônicas, capacidade funcional, envolvimento social e satisfação em idosos comunitários: Estudo Fibra. Cienc. Saude Colet. 2013; 18(12):3449-60.
(12) Phaswana-Mafuya N, Peltzer K, Chirinda W, Musekiwa A, Kose Z, Hoosain E. et al. Self-reported prevalence of chronic non-communicable diseases and associated factors among older adults in South Africa. Glob Health Action. 2013; 6:20936.
(13) Pimenta FB, Pinho L, Silveira MF, Botelho ACC. Fatores associados a doenças crônicas em idosos atendidos pela Estratégia de Saúde da Família. Ciência & Saúde Coletiva. 2015; 20(8):2489-98.
(14) Jerliu N, Toçi E, Burazeri G, Ramadani N, Brand H. Prevalence and socioeconomic correlates of chronic morbidity among elderly people in Kosovo: a population-based survey. BMC Geriatr. 2013; 13:22.
(15) Bertolucci PHF, Brucki SMD, Campacci SR, Juliano Y. O mini-exame do estado mental em uma população geral: impacto da escolaridade. Arq. Neuropsiquiatr. 1994; 52(1):1-7.
(16) Brucki SMD, Nitrini R, Caramelli P, Bertolucci PHF, Okamoto IH. Sugestões para o uso do mini-exame do estado mental no Brasil. Arq. Neuro-Psiquiatr. 2003; 61(3):777-81.
(17) Lino VTS, Pereira SRM, Camacho LAB, Filho STR, Buksman S. Adaptação transcultural da Escala de Independência em Atividades de Vida Diária (Escala de Katz). Cad. Saude Publica. 2008; 24(1):103-12.
(18) Santos RL, Virtuoso Júnior JS. Confiabilidade da versão brasileira da escala de atividades instrumentais da vida diária. Rev. Bras. Promoc. Saude. 2008; 21(4):290-6.
(19) Almeida OP, Almeida SA. Confiabilidade da versão brasileira da Escala de Depressão em Geriatria (GDS) versão reduzida. Arq. Neuropsiquiatr. 1999; 57(2-B): 421-6.
(20) Dias LD, Brito GEG, Forte FDS, Araújo KMB, Lucena EMF. Perfil sociodemográfico e de saúde de idosos do município de João Pessoa – PB. Rev. Bras. Promoc. Saude. 2012; 25(1):86-96.
(21) Luchesi BM, Brito TRP, Costa RS, Pavarini SCI. Suporte social e contato intergeracional: estudando idosos com alterações cognitivas. Revista Eletrônica de Enfermagem. 2016; 17(3). Available from: https://www.fen.ufg.br/revista/v17/n3/pdf/v17n3a06.pdf
(22) Wu CY, Hu HY, Li CP, Fang YT, Huang N, Chou YJ. The association between functional disability and acute care utilization among the elderly in Taiwan. Arch. Gerontol. Geriatr. 2013; 57(2):177-83.
(23) Lee CT, Yeh CJ, Lee MC, Lin HS, Chen VC, Hsieh MH et al. Leisure activity, mobility limitation and stress as modifiable risk factors for depressive symptoms in the elderly: results of a national longitudinal study. Arch. Gerontol. Geriatr. 2012; 54(2):221-9.
(24) Ozturk A, Simşek TT, Yümin ET, Sertel M, Yümin M. The relationship between physical, functional capacity and quality of life (QoL) among elderly people with a chronic disease. Arch. Gerontol. Geriatr. 2011; 53(3):278-83.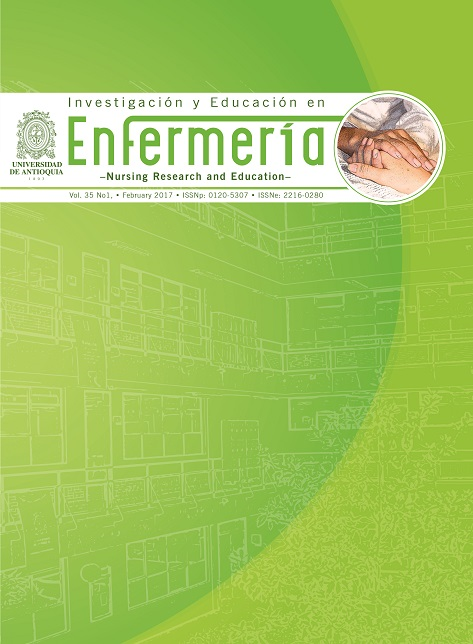 How to Cite
Ferreira Agreli, B., Aparecida Dias, F., dos Santos Ferreira, P. C., Gomes, N. C., & dos Santos Tavares, D. M. (2017). Functional disability and morbidities among the elderly people, according to socio-demographic conditions and indicative of depression. Investigación Y Educación En Enfermería, 35(1). https://doi.org/10.17533/udea.iee.v35n1a06
Section
ORIGINAL ARTICLES / ARTÍCULOS ORIGINALES / ARTIGOS ORIGINAIS
Derechos de propiedad / Direitos de Propriedade
English: If the article is accepted for publication, all copyright will be of exclusive property of Investigación y Educación en Enfermería. The text and the graphics included in the publication are exclusive responsibility of the authors and not necessarily reflect the thought of the Editorial Committee.
Español: Si el artículo es aprobado para publicación, todos los derechos son de propiedad de Investigación y Educación en Enfermería. El texto y las gráficas incluidas en la publicación son de exclusiva responsabilidad de los autores y no necesariamente refleja el pensamiento del Comité Editorial.
Português: Se o artigo for aceito para publicação, todos os direitos autorais serão de propriedade exclusiva de Investigación y Educación en Enfermería. O texto e os gráficos incluídos na publicação são de responsabilidade exclusiva dos autores e não refletem necessariamente o pensamento do Comitê Editorial.