Development of coverage and its evaluation in the treatment of chronic wounds
Keywords:
Diabetic foot, varicose ulcer, cellulose, ibuprofen, wound healing, Gluconacetobacter xylinus.
Abstract
Objective. To describe the development of the bacterial cellulose coating with anti-inflammatory Ibuprofen (BC/ Ibu) and to evaluate the cicatrization process with its use in patients with chronic wounds of venous and diabetic etiology.
Methods. Longitudinal descriptive study. The cellulose membrane, cultivated with bacteria Gluconacetobacter xylinus and with incorporation of Ibuprofen, was used in the treatment of patients with chronic wounds in public health services in a Brazilian municipality. The ideal coverage characteristics were evaluated through physical, chemical and cell proliferation tests.
Results. The sample consisted of 14  patients (10 women and 4 men), 8 with venous ulcer, 5with diabetic foot and one with mixed wound. There was  reduction of area and pain in lesions; total healing of 3 wounds; and debridement of the devitalized tissue in 5 wounds with  increased area. The use of the membrane was important in the reduction of pain, exudation and ease in the accomplishment of the curative.
Conclusion. BC/Ibu favored the cicatrization process of patients with chronic vasculogenic wounds.
How to cite this article: Zanoti MDU, Sonobe HM, Ribeiro SJL, Gaspar AMM. Development of coverage and its evaluation in the treatment of chronic wounds. Invest. Educ. Enferm. 2017; 35(3):330-339.
|Abstract = 433 veces | PDF = 373 veces| | ENGLISH = 19 veces| | PORTUGUESE = 182 veces| | VIDEO = 0 veces|
Downloads
Download data is not yet available.
References
(1) Brito KKG, Sousa MJ, Sousa ATO, Meneses LBA, Oliveira SHS, Soares MJGO. Feridas crônicas: abordagem da enfermagem na produção científica da pós-graduação. Rev. Enferm UFPE Online. 2013; 7(2):414-21.
(2) Da Silva PN, De Almeida OAE, Rocha IC. Terapia tópica no tratamento de feridas crônicas. Enferm. Glob. 2014; 33:46-58.
(3) Silva MAM, Burihan MC, Barros OC, Nasser F, Ingrund JC, Neser A. Resultados do tratamento da insuficiência venosa crônica grave com espuma de polidocanol guiada por ultrassom. J. Vasc. Bras. 2012; 11(3):206-11.
(4) Lima ACB, Guerra DM. Avaliação do custo do tratamento de úlceras por pressão em pacientes hospitalizados usando curativos industrializados. Ciênc. Saúde Colet. 2011;16(1):267-77.
(5) Franco D, Gonçalves LF. Feridas cutâneas: a escolha do curativo adequado. Rev. Col. Bras. Cir. 2008; 35(3):203-6.
(6) Flores MP, Castro APCR, Nascimento JS. Analgésicos tópicos. Rev. Bras. Anestesiol. 2012; (2): 244-52.
(7) Jorgensen BO, Friis GJ, Gottrup F. Dor e qualidade de vida para paciente com úlceras de perna de etiologia venosa: prova do conceito de eficácia do Biatain Ibuprofeno®: um novo curativo redutor de dor de feridas. Wound. Repair Regen. 2006; 14:233-9.
(8) Macedo EB, Torres GV, Oliveira AA, Medeiros RS, Silva DN, Souza AG. Cost-effectiveness of compression therapy in people with venous ulcers. J. Nurs. UFPE Online. 2013; 7(10):6101-7.
(9) Fradique C et al. Ulcera flebostatica-estudo prospectivo de 202 doentes. Acta Med. Port. ; 24(1):71-80.
(10) Dias TYAF, Costa IKF, Melo MDM, Torres SMSGSO, Maia EMC, Torres GV. Avaliação da qualidade de vida de pacientes com e sem úlcera venosa. Rev. Lat. Am. Enfermagem. 2014; 22(4):576-81. 339
(11) Joaquim FL, Camacho ACLF, Silva RMCRA, Louredo DS, Valente GSC, Santos EC. Reflexão acerca do atendimento domiciliar realizado por enfermeiros no tratamento de úlceras venosas. Rev. Enferm. UFPE Online. 2016; 10(2):664-8.
(12) Rossi VEC, Silva AL, Fonseca GSS. Adesão ao tratamento medicamentoso entre pessoas com diabetes mellitus tipo 2. Rev. Enferm. -Oeste Min. 2015; 5(3):1820-30.
(13) Comissão Nacional Sobre os Determinantes Sociais da Saúde. Carta aberta aos candidatos à Presidência da República. Rev. Radis [Internet] 2006 [cited 2016 Dez 27]; (49). Available from:
(14) http://www6.ensp.fiocruz.br/radis/revistaradis/49/reportagens/comissao-nacional-sobredeterminantes-sociais-da-saude
(15) Buss PM, Pelegrini Filho A. A saúde e seus determinantes sociais. Rev. Saúde Colet. 2007; 17(1):77-93.
(16) Instituto Brasileiro de Geografia e Estatística. Índice de desenvolvimento humano [Internet]. Araraquara: IBGE; 2010 [cited 2016 Dez 27]. Available from: http://cidades.ibge.gov.br/v3/cidades/municipio/3503208/pesquisa/37
(17) Vieira-Santos ICR, De Souza WV, De Carvalho EF, De Medeiros MCWC, Nóbrega MGL, Lima PMS. Prevalência de pé diabético e fatores associados nas unidades de saúde da família da cidade do Recife, Pernambuco, Brasil, em 2005. Cad. Saúde Pública. 2008; 24(12):2861-70.
(18) Barbosa G, Campos N. Diretrizes para o tratamento da úlcera venosa. Enferm. Glob [Internet]. 2010 [cited 2017 Aug 30];1(20) https://digitum.um.es/xmlui/bitstream/10201/28791/2/Diretrizes%20para%20o%20tratamento%20da%20%C3%BAlcera%20venosa.pdf
(19) Oliveira JC, Taquary SAS, Barbosa AM, Veronezi RJB. Pé diabético e amputações em pessoas internadas em hospital público: estudo transversal. ABCS Health Sci. 2016;41(1):34-9.
(20) Coelho MS, Silva DMGV, Padilha MIS. Representações sociais do pé diabético para pessoas com diabetes mellitus tipo 2. Rev. Esc. Enferm. USP. 2009; 43(1):65-71.
(21) Salomé GM, Blanes L, Ferreira LM. Assessment of depressive symptoms in people with diabetes mellitus and foot ulcers. Rev. Col. Bras. Cir. 2011; 38(5):327-33.
(22) Santos MA, Marques LAS, Cardoso-Oliveira EA, Mastropietro AP, Teixeira CRS, Zanetti ML. Percepção de pacientes com diabetes mellitus tipo 1 sobre o transplante de células-tronco hematopoéticas. Psic.: Teor. e Pesq. 2012; 28(4):425-33.
(23) Ramos L, Ferreira EAP. Fatores emocionais, qualidade de vida e adesão ao tratamento em adultos com diabetes tipo 2. Rev. Bras. de Crescimento Desenvol. Hum. 2011; 21(3):867-77.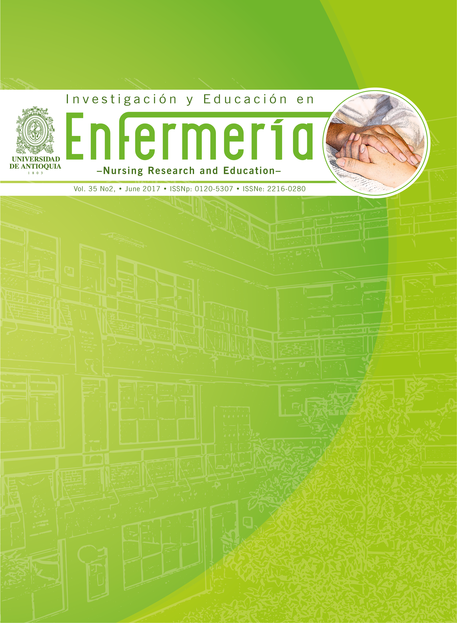 Downloads
How to Cite
Umebayashi Zanoti, M. D., Sonobe, H. M., Lima Ribeiro, S. J., & Minarelli Gaspar, A. M. (2017). Development of coverage and its evaluation in the treatment of chronic wounds. Investigación Y Educación En Enfermería, 35(3). https://doi.org/10.17533/udea.iee.v35n3a09
Section
ORIGINAL ARTICLES / ARTÍCULOS ORIGINALES / ARTIGOS ORIGINAIS
License
Derechos de propiedad / Direitos de Propriedade
English: If the article is accepted for publication, all copyright will be of exclusive property of Investigación y Educación en Enfermería. The text and the graphics included in the publication are exclusive responsibility of the authors and not necessarily reflect the thought of the Editorial Committee.
Español: Si el artículo es aprobado para publicación, todos los derechos son de propiedad de Investigación y Educación en Enfermería. El texto y las gráficas incluidas en la publicación son de exclusiva responsabilidad de los autores y no necesariamente refleja el pensamiento del Comité Editorial.
Português: Se o artigo for aceito para publicação, todos os direitos autorais serão de propriedade exclusiva de Investigación y Educación en Enfermería. O texto e os gráficos incluídos na publicação são de responsabilidade exclusiva dos autores e não refletem necessariamente o pensamento do Comitê Editorial.