Challenges of cooperation between the pre-hospital and in-hospital emergency services in the handover of victims of road traffic accidents: A qualitative study
Keywords:
Ambulances, accidents, traffic, patient handoff, personnel, hospital, health resources, emergency service, hospital resources, qualitative research.
Abstract
Objective. To take a deep look at the challenges of cooperation between the pre-hospital and in-hospital emergency services in the handover of victims of road traffic accidents.
Methods. This is a qualitative study and the method used is of content analysis type. Semi-structured interviews were used to collect the data. Through purposive sampling, fifteen employees from ambulance personnel and hospital emergency staff were selected and interviewed. They expressed their experiences of cooperation between these two teams in the handover of traffic accident casualties. The interviews were transcribed verbatim and content analysis method was used to explain and interpret the content of the interviews.
Results. Three major categories were derived from the analysis of interviews: Shortage of infrastructure resources (Shortage of equipment, Shortage of physical space, and Shortage of manpower); Inefficient and unscientific management (Shaky accountability, Out-of-date information based activities, Poor motivation, and Manpower low productivity); and Non-common language (Difference in understanding and empathy, and Difference in training and experience).
Conclusion. The obtained results of this study suggest that the careful planning of resources, the promotion of managerial practices as well as empowerment program of the staff, healthcare managers and policymakers can take a pace forward in order to enter into a hearty coordination between these two services for the attention of victims of road traffic accidents.
How to cite this article: Tehranineshat B, Rakhshan M. Jamshidi H, Jazani RK, Alibabaei A, Alamdari S, Kalyani MN. Challenges of Cooperation between the Pre-hospital and In-hospital Emergency services in the handover of victims of road traffic accidents:  A Qualitative Study. Invest. Educ. Enferm. 2019; 37(1):e08.
|Abstract = 452 veces | PDF = 354 veces| | HTML ENGLISH = 2 veces| | PMC = 0 veces|
Downloads
Download data is not yet available.
References
(1) Haghparast-Bidgoli H, Hasselberg M, Khankeh H, Khorasani-Zavareh D, Johansson E. Barriers and facilitators to provide effective pre-hospital trauma care for road traffic injury victims in Iran: a grounded theory approach. BMC Emerg. Med. 2010; 10(1):20.
(2) Khorasani-Zavareh D, Khankeh HR, Mohammadi R, Laflamme L, Bikmoradi A, Haglund BJ. Post-crash management of road traffic injury victims in Iran. Stakeholders' views on current barriers and potential facilitators. BMC Emerg. Med. 2009; 9(1):8.
(3) Bahadori M. Prioritization of determinants influencing preparedness of Iranian Pre-Hospital Emergency Services. J. Crit. Care Nurs. 2011; 4(2):73-8.
(4) World Health Organization. Global status report on road safety 2013 [Internet]. Geneva; 2004 [cited 24 Jun 2019]. Available from: https://www.who.int/violence_injury_prevention/road_safety_status/2013/en/
(5) Grogan S, Conner M, Norman P, Willits D, Porter I. Validation of a questionnaire measuring patient satisfaction with general practitioner services. Qual. Health Care. 2000; 9(4):210-5.
(6) Dawson S, King L, Grantham H. Review article: Improving the hospital clinical handover between paramedics and emergency department staff in the deteriorating patient. Emerg. Med. Australas. 2013; 25(5):393-405.
(7) Jenkin A, Abelson-Mitchell N, Cooper S. Patient handover: time for a change? Accid. Emerg. Nurs. 2007; 15(3):141-7.
(8) Slade D, Manidis M, McGregor J, Scheeres H, Chandler E, Stein-Parbury J, et al. Communicating in hospital emergency departments: Springer; 2015.
(9) Mock C, Quansah R, Krishnan R, Arreola-Risa C, Rivara F. Strengthening the prevention and care of injuries worldwide. Lancet. 2004; 363(9427):2172-9.
(10) Ward K, Procter PM, Woolley N. Creating the balance in the nursing curriculum. Nurse Educ. Pract. 2004; 4(4):287-91.
(11) Chiovitti RF, Piran N. Rigour and grounded theory research. J Adv. Nurs. 2003; 44(4):427-35.
(12) Graneheim UH, Lundman B. Qualitative content analysis in nursing research: concepts, procedures and measures to achieve trustworthiness. Nurse Educ. Today. 2004; 24(2):105-12.
(13) Trzeciak S, Rivers E. Emergency department overcrowding in the United States: an emerging threat to patient safety and public health. Emergency Med. J. 2003; 20(5):402-5.
(14) Taylor TB. Position statement on the critical state of emergency care in Arizona. Arizona emergency care crisis meeting summary. Phoenix, AZ: Governor's administrative offices conference; 2000.
(15) Cone DC, Middleton PM, Marashi Pour S. Analysis and impact of delays in ambulance to emergency department handovers. Emerg. Med. Australas. 2012; 24(5):525-33.
(16) Hicks RW, Becker SC, Krenzischeck D, Beyea SC. Medication errors in the PACU: a secondary analysis of MEDMARX findings. J. Perianesthesia Nurs. 2004;19(1):18-28.
(17) Kralewski JE, Dowd BE, Heaton A, Kaissi A. The influence of the structure and culture of medical group practices on prescription drug errors. Med. Care. 2005; 43(8):817-25.
(18) Orthner H, Mishra N, Terndrup T, Acker J, Grimes G, Gemmill J, et al., editors. Information infrastructure for emergency medical services. AMIA Annual Symposium Proceedings: American Medical Informatics Association; 2005.
(19) Reason J, Hollnagel E, Paries J. Revisiting the Swiss cheese model of accidents. J. Clin. Eng. 2006; 27:110-5.
(20) Vaismoradi M, Bondas T, Salsali M, Jasper M, Turunen H. Facilitating safe care: a qualitative study of Iranian nurse leaders. J. Nurs. Manag. 2014; 22(1):106-16.
(21) Evans SM, Murray A, Patrick I, Fitzgerald M, Smith S, Cameron P. Clinical handover in the trauma setting: a qualitative study of paramedics and trauma team members. Qual. Saf. Health Care. 2010: 19(6):e57.
(22) Smith M, Rogers J. Understanding nursing students' perspectives on the grading of group work assessments. Nurse Educ. Pract. 2014; 14(2):112-6.
(23) Bresnen M, Marshall N. Motivation, commitment and the use of incentives in partnerships and alliances. Constr. Manag. Econ. 2000; 18(5):587-98.
(24) Bost N, Crilly J, Wallis M, Patterson E, Chaboyer W. Clinical handover of patients arriving by ambulance to the emergency department–a literature review. Int. Emerg. Nurs. 2010; 18(4):210-20.
(25) Owen C, Hemmings L, Brown T. Lost in translation: maximizing handover effectiveness between paramedics and receiving staff in the emergency department. Emerg. Med. Australas. 2009; 21(2):102-7.
(26) Das TK, Teng B-S. Trust, control, and risk in strategic alliances: An integrated framework. Organ. Stud. 2001; 22(2):251-83.
(27) Behnia O, HosseinPour M, Zare K. The Analysis of the Team Working Facilitating Factors among nurses Working in Training Centers affiliated with the University of Jondi SHapour in Ahvaz. Sci. J. Hamadan Nurs Midwifery Fac. 2016; 24(4):247-55.
(28) Behara R, Wears RL, Perry SJ, Eisenberg E, Murphy L, Vanderhoef M, et al. A conceptual framework for studying the safety of transitions in emergency care. In: Henriksen K, Battles JB, Marks ES, Lewin D. Advances in Patient Safety: From Research to Implementation (Volume 2: Concepts and Methodology). Rockville (MD): Agency for Healthcare Research and Quality (US); 2005.
(29) Jensen S, Lippert A, Østergaard D. Handover of patients: a topical review of ambulance crew to emergency department handover. Acta Anaesthesiol. Scand. 2013; 57(8):964-70.
(30) Bruce K, Suserud BO. The handover process and triage of ambulance‐borne patients: the experiences of emergency nurses. Nurs. Crit. Care. 2005; 10(4):201-9.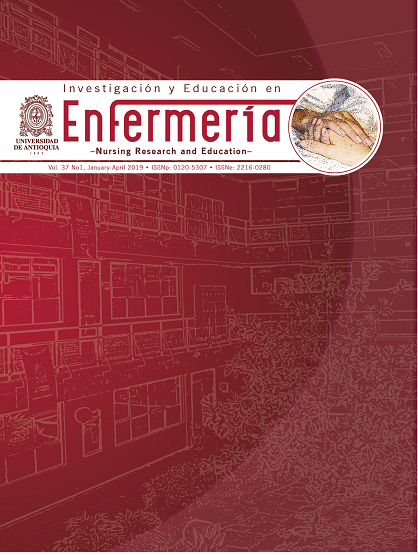 Downloads
How to Cite
Jamshidi, H., Jazani, R. K., Alibabaei, A., Alamdari, S., & Kalyani, M. N. (2019). Challenges of cooperation between the pre-hospital and in-hospital emergency services in the handover of victims of road traffic accidents: A qualitative study. Investigación Y Educación En Enfermería, 37(1). https://doi.org/10.17533/udea.iee.v37n1e08
Section
ORIGINAL ARTICLES / ARTÍCULOS ORIGINALES / ARTIGOS ORIGINAIS
License
Copyright (c) 2019 Investigación y Educación en Enfermería
This work is licensed under a Creative Commons Attribution-NonCommercial-ShareAlike 4.0 International License.
Derechos de propiedad / Direitos de Propriedade
English: If the article is accepted for publication, all copyright will be of exclusive property of Investigación y Educación en Enfermería. The text and the graphics included in the publication are exclusive responsibility of the authors and not necessarily reflect the thought of the Editorial Committee.
Español: Si el artículo es aprobado para publicación, todos los derechos son de propiedad de Investigación y Educación en Enfermería. El texto y las gráficas incluidas en la publicación son de exclusiva responsabilidad de los autores y no necesariamente refleja el pensamiento del Comité Editorial.
Português: Se o artigo for aceito para publicação, todos os direitos autorais serão de propriedade exclusiva de Investigación y Educación en Enfermería. O texto e os gráficos incluídos na publicação são de responsabilidade exclusiva dos autores e não refletem necessariamente o pensamento do Comitê Editorial.