Adherence to Secondary Prevention and Influential Factors in Individuals with Coronary Angioplasty
Keywords:
treatment adherence and compliance, secondary prevention, self care, acute coronary syndrome, angioplasty, estudios transversales
Abstract
Objective. To explore the relation between adherence to secondary prevention and factors that influence on said adherence in people with acute coronary syndrome, who underwent percutaneous coronary angioplasty in a clinic in Medellín.
Methods. Cross-sectional study on a random sample of 128 volunteer patients. A questionnaire was used for sociodemographic variables, the "Scale to measure therapeutic adherence for patients with chronic diseases, based on explicit behaviors" by Trujano, Vega, and Nava and
the "Instrument to evaluate adherence by patients according to influential cardiovascular risk factors" validated by Consuelo Ortiz.
Results. Socioeconomic factors influenced in very low manner on the adherence to secondary prevention; factors related with the therapy did so moderately and patient factors influenced in low manner. No relation was found between the health provider factor and said adherence.
Conclusion. Factors exist that influence in a lesser or higher measure on adherence to secondary prevention and which must be recognized in people with coronary angioplasty to designstrategies to improve this aspect of self-care.
|Abstract = 1692 veces | PDF = 382 veces| | HTML INGLES = 14 veces| | HTML ESPAÑOL = 86 veces| | VIDEO = 0 veces| | PMC = 0 veces|
Downloads
Download data is not yet available.
References
(1) Organización Mundial de la Salud [Internet]. Nota descriptiva [Internet]. Ginebra: Centro de prensa; 2017 [cited 25 August 2020]. Available from: https://www.who.int/es/news-room/fact-sheets/detail/cardiovascular-diseases-(cvds)
(2) Secretaria de Salud de Medellín. Indicadores básicos de salud. Situación de Salud en Medellín [Internet]. Available from: https://www.medellin.gov.co/irj/portalmedellin?NavigationTarget=navurl://3f40db33f42ecd22dc70ed0867e9b309
(3) Ibanez B, James S, Agewall S, Antunes M, Bucciarelli-Ducci C, Bueno H, et al. 2017 ESC Guidelines for the management of acute myocardial infarction in patients presenting with ST-segment elevation of the European Society of Cardiology (ESC). Eur. Heart J. 2018; 39(2):119-77.
(4) De Velasco JA, Cosín J, de Oya M, de Teresa E. Intervention program to improve secondary prevention of myocardial infarction. Results of the PRESENTE (early secondary prevention). Rev. Esp. Cardiol. 2004; 57(2):146-54.
(5) Castellano JM, Penalvo JL, Bansilal S, Fuster V. Promoción de la salud cardiovascular en tres etapas de la vida: Nunca es demasiado pronto, nunca demasiado tarde. Rev. Esp. Cardiol. 2014; 67:731-7
(6) Marriner T, A Raile A, M Modelos y teorías de enfermería. Elservier Mosby 9a ed; 2018
(7) Sabaté E. Adherencia a los tratamientos a largo plazo. (2004). Ginebra: Organización Mundial de la Salud; 2004 [cited 24 August 2020]. Available from: https://www.paho.org/spanish/ad/dpc/nc/nc-adherencia.htm
(8) Soria R, Vega CZ, Nava C. Escala de adherencia terapéutica para pacientes con enfermedades crónicas, basada en comportamientos explícitos. Alternativas Psicol. 2009; 14(20):89-103.
(9) Ortiz C. Instrumento para evaluar la adherencia a tratamientos en pacientes con factores de riesgo cardiovascular. Av. Enferm. 2010; 28(2):73-87.
(10) Bonilla C. Diseño de un instrumento para evaluar los factores que influyen en la adherencia a tratamientos farmacológicos y no farmacológicos en personas que presentan factores de riesgo de enfermedad cardiovascular: validez de contenido y validez aparente del mismo [Internet]. Bogotá: Facultad de Enfermería, Universidad Nacional de Colombia; 2006.
(11) Chavarriaga JC, Beltrán J, Senior JM, Fernández A, Rodríguez A, Toro JM. Características epidemiológicas, clínicas, tratamiento y pronóstico de los pacientes con diagnóstico de síndrome coronario agudo en unidad especializada. Acta Med. Colomb. 2014; 39:21-8.
(12) Ferreira-González I. Epidemiología de la enfermedad coronaria. Rev. Esp. Cardiol. 2014; 67(2):139-44.
(13) American Heart Association (2017). Resumen de estadísticas de 2017 Enfermedad del corazón y ataque cerebral.
(14) Morales R, Flórez M. Agencia de autocuidado y factores de riesgo cardiovascular en adolescentes. Av. Enferm. 2016; 34(2):125-36.
(15) Carreño SP, Sánchez-Herrera B, Carrillo GM, Chaparro-Díaz L, Gómez OJ. Carga de la enfermedad crónica para los sujetos implicados en el cuidado. Rev. Salud Pública (Bogotá). 2016; 34(3):342-9.
(16) Rojas-Reyes J, Flórez-Flórez ML. Adherencia al tratamiento y calidad de vida en personas con infarto agudo de miocardio. Aquichan. 2016; 16(3):328-39.
(17) Naranjo Y, Concepción JA, Rodríguez m. La teoría Déficit de autocuidado: Dorothea Elizabeth Orem. Gac. Méd. Espirit. 2017; 19(3):89-100
(18) Moral De la Rubia J, Cerda MT. Predictores psicosociales de adherencia a la medicación en pacientes con diabetes tipo 2. Rev. Iberoam. Psicol Salud. 2015; 6(1):19-27.
(19) Chacón J, Sandoval D, Muñoz R, Romero T. Evaluación del control de la presión arterial y la adherencia terapéutica en hipertensos seguidos en el Programa de Salud Cardiovascular (PSCV): Asociación con características clínicas, socioeconómicas y psicosociales. Rev. Chil. Cardiol. 2015; 34(1):18-27.
(20) Ortega SI, Vargas E. Grado de adherencia a tratamientos en personas con riesgo cardiovascular. Av. Enferm. 2014; 32(1):25-32.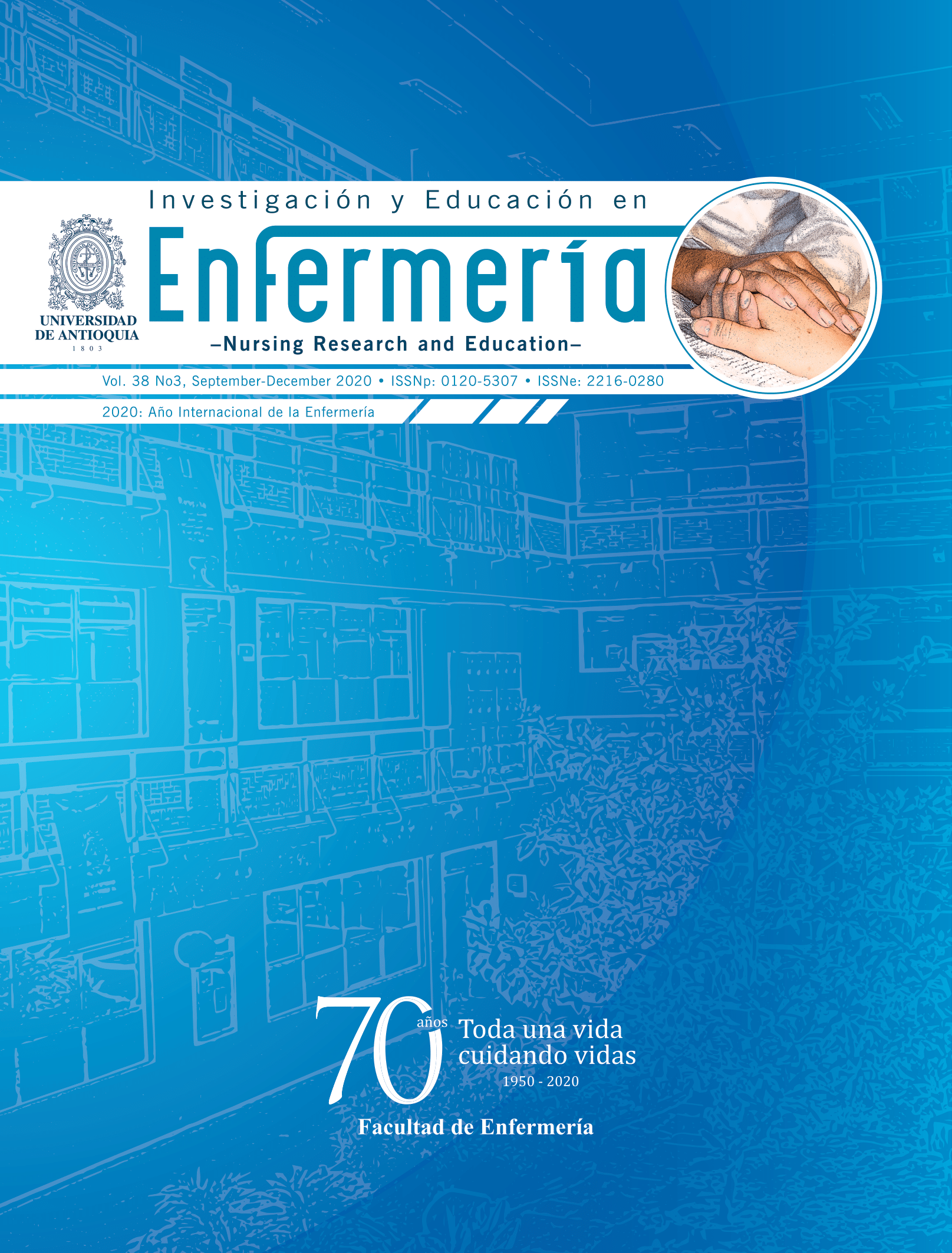 Downloads
How to Cite
Henao López, V., & Triviño Vargas, Z. (2020). Adherence to Secondary Prevention and Influential Factors in Individuals with Coronary Angioplasty. Investigación Y Educación En Enfermería, 38(3). https://doi.org/10.17533/udea.iee.v38n3e05
Section
ORIGINAL ARTICLES / ARTÍCULOS ORIGINALES / ARTIGOS ORIGINAIS
License
Copyright (c) 2020 Investigación y Educación en Enfermería
This work is licensed under a Creative Commons Attribution-NonCommercial-ShareAlike 4.0 International License.
Derechos de propiedad / Direitos de Propriedade
English: If the article is accepted for publication, all copyright will be of exclusive property of Investigación y Educación en Enfermería. The text and the graphics included in the publication are exclusive responsibility of the authors and not necessarily reflect the thought of the Editorial Committee.
Español: Si el artículo es aprobado para publicación, todos los derechos son de propiedad de Investigación y Educación en Enfermería. El texto y las gráficas incluidas en la publicación son de exclusiva responsabilidad de los autores y no necesariamente refleja el pensamiento del Comité Editorial.
Português: Se o artigo for aceito para publicação, todos os direitos autorais serão de propriedade exclusiva de Investigación y Educación en Enfermería. O texto e os gráficos incluídos na publicação são de responsabilidade exclusiva dos autores e não refletem necessariamente o pensamento do Comitê Editorial.