Needs for family caregivers of Cerebrovascular Accident survivors
Keywords:
needs assessment, caregivers, family, stroke, homebound persons, survivors, qualitative research
Abstract
Objective. To know the needs of family caregivers of Cerebrovascular Accident survivors.
Methodology. This is a qualitative, descriptive, and exploratory study. Data were collected from 37 family caregivers of Cerebrovascular Accident survivors from a city in the interior of Bahia, through an interview using a semi-structured form, between September 2017 and March 2018, and submitted to thematic content analysis.
Results. Three categories emerged: the early need for health education on the disease and care for family caregivers; the need to restructure care for family caregivers; 3) family caregivers need free time for social activities and (self)care.
Conclusion. Caregivers have basic needs for health care and social interaction, which can enable by educational health interventions.
|Abstract = 594 veces | PDF = 436 veces| | HTML INGLES = 28 veces| | HTML PORTUGUES = 76 veces| | VIDEO = 0 veces| | PMC = 0 veces|
Downloads
Download data is not yet available.
References
(1) Costa VS, Silveira JCC, Clementino TCA, Borges LRDM, Melo LP. Efeitos da terapia espelho na recuperação motora e funcional do membro superior com paresia pós-AVC: uma revisão sistemática. Fisioter. Pesqui. 2016; 23(4):431-38.
(2) Bensenor IM, Goulart AC, Szwarcwald CL, Vieira MLFP, Malta DC, Lotufo PA. Prevalence of stroke and associated disability in Brazil: National Health Survey - 2013. Arq. Neuropsiquiatr. 2015; 73(9):746-50.
(3) Costa TF, Costa KNFM, Martins KP, Fernandes MGM, Brito SS. Sobrecarga de cuidadores familiares de idosos com acidente vascular encefálico. Esc. Anna Nery Rev. Enferm. 2015; 19(2):350-5.
(4) Cameron JI, Naglie G, Silver FL, Gignac MA. Stroke family caregivers' support needs change across the care continuum: a qualitative study using the timing it right framework. Disabil. Rehabil. 2013; 35(4): 315-24.
(5) Day CB, Bierhals CCBK, Santos NOD, Mocellin D, Predebon ML, Dal Pizzol FLF, et al. Nursing home care educational intervention for family caregivers of older adults post stroke (SHARE): study protocol for a randomised trial. Trials. 2018; 19(1):96.
(6) Fernandes CS, Ângelo M. Cuidadores familiares: o que eles necessitam? Uma revisão integrativa. Rev. Esc. Enferm. USP. 2016; 50(4):675-82.
(7) Tsai PC, Yip PK, Tai JJ, Lou ME. Needs of family caregivers of stroke patients: a longitudinal study of caregivers' perspectives. Patient Prefer. Adherence. 2015; 9:449-57.
(8) Watanabe A, Fukuda M, Suzuk M, Kawaguchi T, Habata T, Akutsu T, et al. Factors Decreasing Caregiver Burden to Allow Patients with Cerebrovascular Disease to Continue in Long-term Home Care. J. Stroke Cerebrovasc. Dis. 2015; 24(2):424-30.
(9) Pesantes MA, Brandt LR, Ipince AI, Miranda J, Diez-Canseco F. An exploration into caring for a stroke-survivor in Lima, Peru: Emotional impact, stress factors, coping mechanisms and unmet needs of informal caregivers. eNeurologicalSci. 2017; 6:33-50.
(10) Lutz BJ, Camicia M. Supporting the Needs of Stroke Caregivers Across the Care Continuum. J. Clin. Outcomes Manag. 2016;23(12):557-66.
(11) Bradshaw JR. A Taxonomy of Social Need. In: Cookson R, Sainsbury R, Gledinning G. Jonathan Bradshaw on Social Policy: Selected Writings 1972 - 2011. York: University of York; 2013.
(12) Bakas T, McCarthy M, Miller ET. Update on the state of the evidence for stroke family caregiver and dyad interventions. Stroke. 2017; 48:122-25.
(13) Silva JK, Anjos KF, Cruz VS, Boery RNSO, Santa Rosa DO, Boery EN. Intervenções para cuidadores de sobreviventes de acidente vascular cerebral: revisão sistemática. Rev. Panam. Salud Pública. 2018; 42: e114.
(14) Minayo MCS. Amostragem e saturação em pesquisa qualitativa: consensos e controvérsias. Rev. Pesq. Qualitativa. 2017; 5(7):1-12.
(15) Lino VTS, Pereira SRM, Camacho LAB, Ribeiro Filho ST, Buksman S. Adaptação transcultural da Escala de Independência em Atividades da Vida Diária (Escala de Katz). Cad. Saúde Pública. 2008; 24(1): 103-12.
(16) Bardin L. Análise de conteúdo. São Paulo: Edições 70; 2016.
(17) Cameron JL, Naglie G, Green TL, Gignac MA, Bayley M, Huijbregts, et al. A feasibility and pilot randomized controlled trial of the "Timing it Right Stroke Family Support Program". Clin. Rehabil. 2015; 29(11): 1129-40.
(18) Landeiro MJL, Martins TV, Peres HHC. Percepção dos enfermeiros sobre dificuldades e necessidades informacionais dos familiares cuidadores de Pessoa de Pendente. Texto & Contexto Enferm. 2016; 25(1):e0430015
(19) Sevalho G. O conceito de vulnerabilidade e a educação em saúde fundamentada em Paulo Freire. Interface Comun. Saúde Educ. 2018; 22(64):177-88.
(20) Christensen ER, Golden, SL, Gesell, SB. Perceived Benefits of Peer Support Groups for Stroke Survivors and Caregivers in Rural North Carolina. N. C. Med. J. 2019; 80(3):143-8.
(21) Bakas T, Jessup NM, McLennon SM, Habermann B, Weaver MT, Morrison G. Tracking patterns of needs during a telephone follow-up programme for family caregivers of persons with stroke. Disabil. Rehabil. 2016; 38(18):1780-90.
(22) Schulz CH, Godwin KM, Hersh GI, Hyde LK, Irabor JJ, Ostwald SK. Return to work predictors of stroke survivors and their spousal caregivers. Work. 2017; 57(1): 111-24.
(23) Jesus ITS, Orlandi AAS, Zazzetta MS. Sobrecarga, perfil e cuidado: cuidadores de idosos em vulnerabilidade Social. Rev. Bras. Geriatr. Gerontol. 2018; 21(2): 199-209.
(24) Faller JW, Zilly A, Alvarez AM, Marcon SS. Filial care and the relationship with the elderly in families of different nationalities. Rev. Bras. Enferm. 2017; 70(1): 18-25.
(25) Li X, Xia X, Wang P, Zhang S, Liu M, Wang L. Needs and rights awareness of stroke survivors and caregivers: a cross-sectional, single-centre questionnaire survey. BMJ Open. 2017; 7(10):e013210.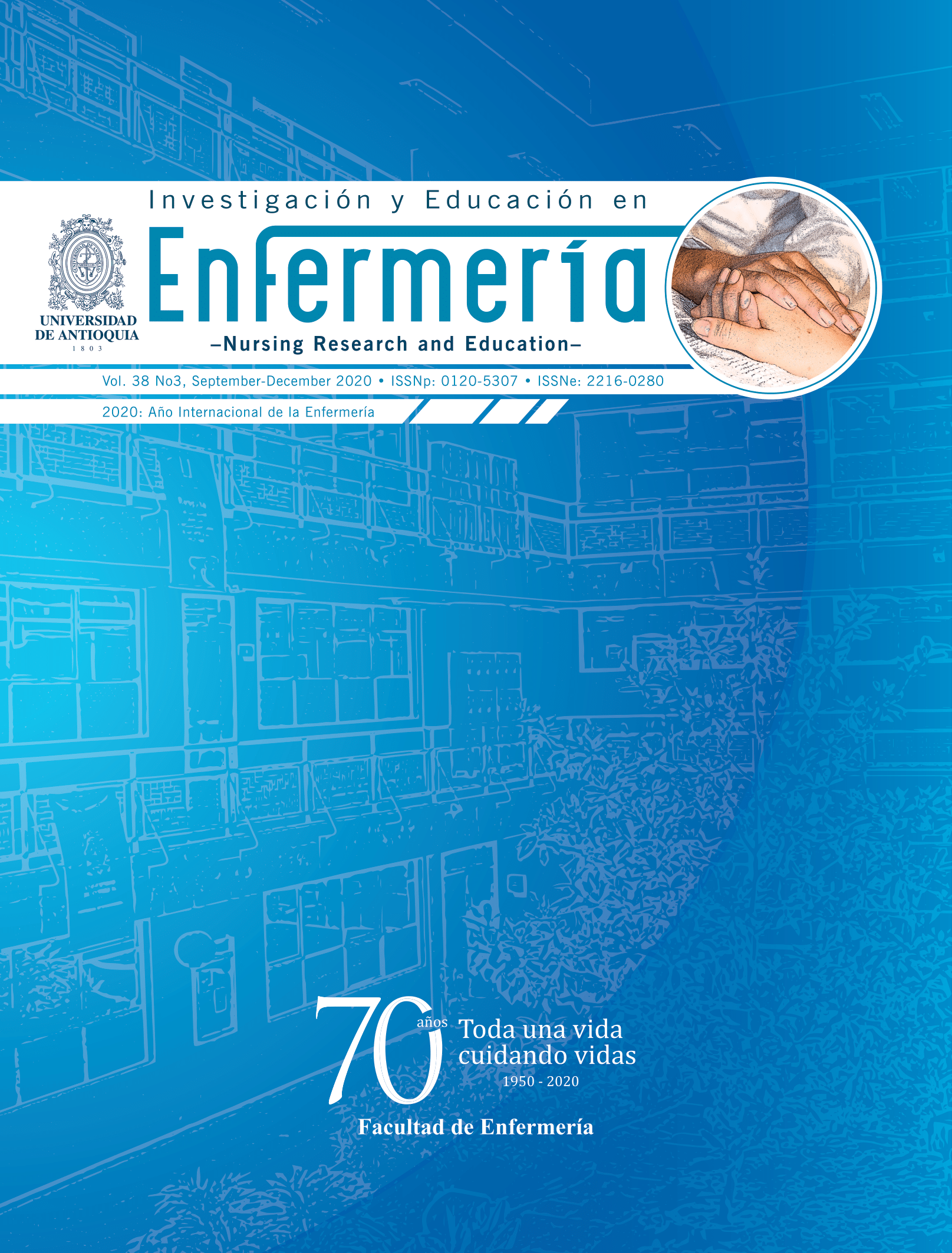 Downloads
How to Cite
da Silva, J. K., Ferraz Anjos, K., Pereira Alves, J., Rosa, D. de O. S. ., & Boery, R. N. S. de O. (2020). Needs for family caregivers of Cerebrovascular Accident survivors. Investigación Y Educación En Enfermería, 38(3). https://doi.org/10.17533/udea.iee.v38n3e06
Section
ORIGINAL ARTICLES / ARTÍCULOS ORIGINALES / ARTIGOS ORIGINAIS
License
Copyright (c) 2020 Investigación y Educación en Enfermería
This work is licensed under a Creative Commons Attribution-NonCommercial-ShareAlike 4.0 International License.
Derechos de propiedad / Direitos de Propriedade
English: If the article is accepted for publication, all copyright will be of exclusive property of Investigación y Educación en Enfermería. The text and the graphics included in the publication are exclusive responsibility of the authors and not necessarily reflect the thought of the Editorial Committee.
Español: Si el artículo es aprobado para publicación, todos los derechos son de propiedad de Investigación y Educación en Enfermería. El texto y las gráficas incluidas en la publicación son de exclusiva responsabilidad de los autores y no necesariamente refleja el pensamiento del Comité Editorial.
Português: Se o artigo for aceito para publicação, todos os direitos autorais serão de propriedade exclusiva de Investigación y Educación en Enfermería. O texto e os gráficos incluídos na publicação são de responsabilidade exclusiva dos autores e não refletem necessariamente o pensamento do Comitê Editorial.