Level and Noise Sources in the Neonatal Intensive Care Unit of a Reference Hospital
Keywords:
intensive care units, neonatal, infant, premature, noise measurement, interior design and furnishings
Abstract
Objective. Determine the level of environmental and periauricular noise in preterm babies and identify the sources generating noise in the Neonatal Intensive Care Unit -NICU- of a reference hospital in San Luis Potosí, Mexico.
Methods. Cross-sectional and analytic study of the measurement of the level of environmental noise in five critical areas of the NICU, according with the method of measurement of noise from fixed sources by the Mexican Official Norm and periauricular at 20 cm from the preterm patient's pinna. The measurements were carried out during three representative days of a week,
morning, evening and nocturnal shifts. A STEREN 400 sound level meter was used with 30 to 130 dB range of measurement and a rate of 0.5 s.
Results. The average level of periauricular noise (64.5±1.91dB) was higher than the environmental noise (63.3±1.74 dB) during the days and shifts evaluated. The principal noise sources were activities carried out by the staff, like the nursing change of shift and conversations by the staff, which raised the level continuously or intermittently, operation of vital support equipment (alarms) and incidences (clashing of baby bottles and moving furnishings) produced
sudden rises of noise.
Conclusions. Environmental and periauricular noise in NICU exceeds by two and almost three times the 45 dB during the day and 35 dB at night from the norm in hospitals. It is necessary to implement permanent noise reduction programs to prevent sequelae in the preterm infant and professional burnout in the nursing staff.
|Abstract = 772 veces | PDF = 467 veces| | HTML INGLES = 28 veces| | HTML ESPAÑOL = 359 veces| | VIDEO = 0 veces| | PMC = 0 veces|
Downloads
Download data is not yet available.
References
(1) World Health Organization. New global estimates on preterm birth published. Geneva: WHO; 2018 [Cited 09 Sept. 2020]. Available from: https://www.who.int/reproductivehealth/global-estimates-preterm-birth/en/.
(2) Instituto Nacional de Estadística, Geografía e Informática. Características de los nacimientos registrados en México durante 2018. Comunicado de prensa Núm. 473/19, 30 de septiembre de 2019 [Cited 06 Sept. 2020]. Available from: https://www.inegi.org.mx/contenidos/saladeprensa/boletines/2019/EstSociodem/NacimientosRegistrados2019_09.pdf.
(3) Esparza-Valencia DM, Toro-Ortíz JC, Hernández-Rodríguez HG, Herrera-Ortega O, De la Maza-Labastida S, Fernández-Lara JA. Tasa de nacimientos y sobrevivencia de neonatos con peso < 1000 g en un hospital de segundo nivel de San Luis Potosí, México. Ginecol. Obstet. Mex. 2016; 84(10):645-51.
(4) NHS South. Guideline for consideration of noise on the Neonatal Unit [Internet]. Thamos Valley & Wessex Operational Delivery Networks; 2019 [cited 09 Sept. 2020]. Available from: https://southodns.nhs.uk/wp-content/uploads/2019/12/Noise-Guideline-Dec-2019-Final.pdf.
(5) Zimmerman E, Lahav A. Ototoxicity in preterm infants: effects of genetics, aminoglycosides and loud environmental noise. J. Perinatol. 2013; 33(1):3-8.
(6) Venegas-Andrade A, Tello-Valdés CA, Iglesias-Leboreiro J, Bernárdez-Zapata I, Cuevas-Rivas AP, Rodríguez-Santaolaya P, et al. Alteraciones auditivas en neonatos pretérmino a su egreso de una unidad de cuidados intensivos neonatales. Acta Pediatr. Mex. 2020; 41(1):1-10.
(7) Sinha KK, Kumar G. The effects of noise on neonates in the NICU. Indian Appl. Res. 2016; 6(11):47-9.
(8) Almadhoob A, Ohlsson A. Sound reduction management in the neonatal intensive care unit for preterm or very low birth weight infants. Cochrane Database of Syste. Rev. 2015; 1:CD010333.
(9) Mendoza-Sánchez RS, Roque-Sánchez RH, Moncada-González B. Nivel de Ruido en una institución hospitalaria de asistencia y docencia. Gac Med Mex. 1996; 132(2):127-33.
(10) Dos Santos BR, Orsi KCSC, Balieiro MMFG, Sato MH, Kakehashi TY, Pinheiro EM. Effect of quiet time to reduce noise at the neonatal intensive care unit. Esc. Anna Nery. 2015; 19(1):102-6.
(11) Santos J, Carvalhais C, Xavier A, Silva M V. Assessment and characterization of sound pressure levels in Portuguese neonatal intensive care units. Arch. Environ. Occup Health. 2018; 73(2):121-7.
(12) Parra J, de Suremain A, Berne F, Ego A, Debillon, T. Sound levels in a neonatal intensive care unit significantly exceeded recommendations, especially inside incubators. Acta Paediatrica. 2017; 106(12):1909–14.
(13) Norma Oficial Mexicana NOM-081-ECOL-1994. Que establece los límites máximos permisibles de emisión de ruido de las fuentes fijas y su método de medición. Available from: http://www.sma.df.gob.mx/tsai/archivos/pdf/12nom-081-ecol-1994.pdf.
(14) American National Standard. Electroacustics-Sound Level Meters-Part 1: Specifications (a Nationally Adopted International Standard) [Internet]. ANSI; 2013 [cited 10 Sept. 2020]. Available from: https://webstore.ansi.org/standards/asa/ansiasas12014partiec616722013.
(15) Diario Oficial de la Federación. Norma Oficial Mexicana NOM-025-SSA3-2013. Para la organización y funcionamiento de las unidades de cuidados intensivos. 17 de septiembre de 2013. Available from: http://www.dof.gob.mx/nota_detalle.php?codigo=5314307&fecha=17/09/2013.
(16) Valdés-de la Torre GE, Lunab MM, Braverman-Bronsteinc A, Iglesias Leboreirod J, Bernárdez-Zapata I. Medición comparativa de la intensidad de ruido dentro y fuera de incubadoras cerradas. Perinatol. Reprod. Hum. 2018;32(2):65-9.
(17) Carvalhais C, Santos J, Vieira M, Xavier A. Is there sufficient training of health care staff on noise reduction in Neonatal Intensive Care Units? A Pilot study from Neonoise Project. J. Toxicol. Environ. Health A. 2015; 78(13-14):897-903.
(18) Smith SW, Ortmann AJ, Clark WW. Noise in the neonatal intensive care unit: a new approach to examining acoustic events. Noise Health. 2018; 20(95):121-30.
(19) Nieto-Sanjuanero A, Quero-Jiménez J, Cantú-Moreno D, Rodríguez-Balderrama I, Montes-Tapia F, Rubio-Pérez N et al. Evaluación de las estrategias enfocadas a disminuir el nivel de ruido en las diferentes áreas de atención neonatal en un hospital de tercer nivel. Gac. Med. Mex. 2015; 151:741-8.
(20) McClure C, Jang SY, Fairchild K. Alarms, oxygen saturations, and SpO2 averaging time in the NICU. J. Neonatal Perinatal Med. 2016; 9(4):357–62.
(21) Bertsch M, Reuter C, Czedik-Eysenberg I, Berger A, Olischar M, Bartha-Doering L, Giordano V. The "Sound of Silence" in a Neonatal Intensive Care Unit—Listening to Speech and Music inside an Incubator. Front. Psychol. 2020: 11:1055.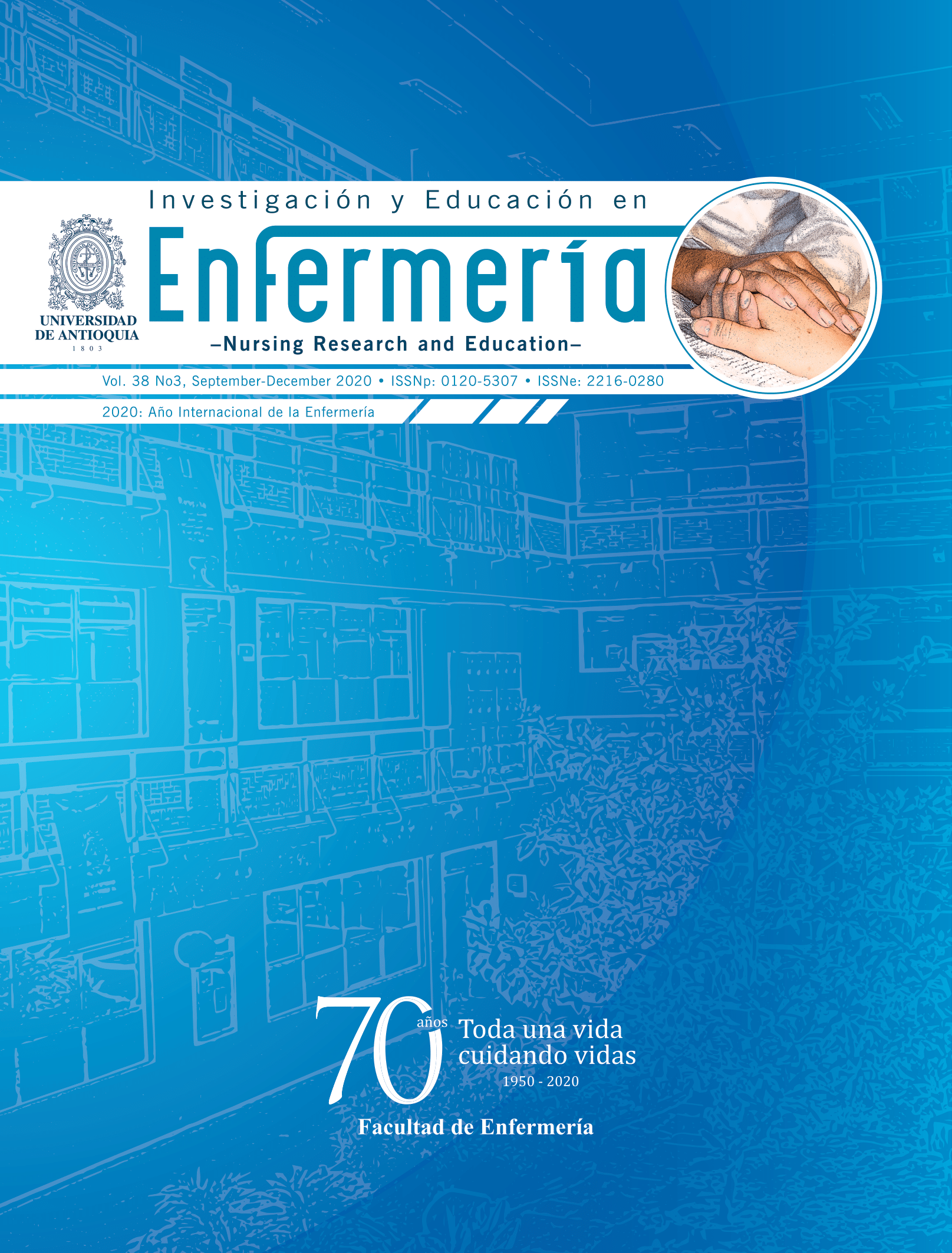 Downloads
How to Cite
Hernández-Salazar, A. D., Gallegos-Martínez, J., & Reyes-Hernández, J. (2020). Level and Noise Sources in the Neonatal Intensive Care Unit of a Reference Hospital. Investigación Y Educación En Enfermería, 38(3). https://doi.org/10.17533/udea.iee.v38n3e13
Section
ORIGINAL ARTICLES / ARTÍCULOS ORIGINALES / ARTIGOS ORIGINAIS
License
Copyright (c) 2020 Investigación y Educación en Enfermería
This work is licensed under a Creative Commons Attribution-NonCommercial-ShareAlike 4.0 International License.
Derechos de propiedad / Direitos de Propriedade
English: If the article is accepted for publication, all copyright will be of exclusive property of Investigación y Educación en Enfermería. The text and the graphics included in the publication are exclusive responsibility of the authors and not necessarily reflect the thought of the Editorial Committee.
Español: Si el artículo es aprobado para publicación, todos los derechos son de propiedad de Investigación y Educación en Enfermería. El texto y las gráficas incluidas en la publicación son de exclusiva responsabilidad de los autores y no necesariamente refleja el pensamiento del Comité Editorial.
Português: Se o artigo for aceito para publicação, todos os direitos autorais serão de propriedade exclusiva de Investigación y Educación en Enfermería. O texto e os gráficos incluídos na publicação são de responsabilidade exclusiva dos autores e não refletem necessariamente o pensamento do Comitê Editorial.