Social Determination of the Health of Families from Two Neighborhoods in Medellín, Colombia
Keywords:
human migration, community health nursing, social determination of health, health-disease process, public health
Abstract
Objective. To understand the health process, from the approach of the social determination of health in two neighborhoods in Medellín - Colombia, to contribute to the care of people, families, and collectives in their multidimensional reality.
Methods. Qualitative research from the ethnographic perspective, approaching the general dimension with documentary analysis of social policies and community documents, the particular dimension through focal groups and interviews to community leaders, and the singular dimension with the family visit.
Results. Families and collectives live within a sociocultural setting of resistance, overshadowed by moments of flight and displacement derived from violence, with scant participation in city plans and programs and with structural problems of economic and political exclusion. They constructed the territory as space and shelter in the weave that protects and violates them, with processes from uprooting to rooting. The families have maintained protective processes, like family participation in decision making, knowledge on health care, among others, and destructive processes, like informal labor and job instability, without spaces for recreation and with limitations in transportation, in access to health programs and in obtaining food.
Conclusion. The health of the families has been determined by historical exclusion to work to obtain resources for a minimum vital subsistence, which is why they suffer social vulnerability due to few opportunities for development; they have lived a transformation process of the territory with resistance, solidarity, and construction of social networks.
|Abstract = 100 veces | PDF = 60 veces| | HTML ESPAÑOL = 51 veces| | VIDEO = 0 veces|
Downloads
Download data is not yet available.
References
1. Arias López BE, Torres Marín BP. Veinte años construyendo la salud colectiva. La experiencia de la Maestría en Salud Colectiva de la Universidad de Antioquia. En: Cuadernos del Doctorado No. 18. Salud colectiva y salud pública. ¿Se está hablando de lo mismo? Bogotá: Universidad Nacional de Colombia (Sede Bogotá); 2016: 71-94.
2. Olaya BL, Gaviria, DL. Cuidado de la salud de la familia. Cien. Cuidad. 2017; 14(1): 79-94.
3. Breilh J. La determinación social de la salud como herramienta de transformación hacia una nueva salud pública (salud colectiva). Rev. Fac. Nac. Salud Pública. 2013; 31:13-27.
4. Breilh J. Ciencia crítica sobre impactos en la salud colectiva y ecosistemas (Guía investigativa pedagógica, evaluación de las 4 "S" de la vida). Quito: Centro de Investigación y Laboratorio para la evaluación del impacto en la salud; 2019.
5. Eslava Castañeda JC. Pensando la determinación social del proceso salud-enfermedad. Rev. Salud Pública. 2017; 19(3): 396-403.
6. RIOCBACH. Diagnóstico comunitario alternativo de las comunidades de los Barrios La Cruz y La Honda de la comuna 3 (Manrique). Medellín: RIOCBACH; 2010.
7. República de Colombia. Unidad para la atención y reparación integral de víctimas [Internet]. [Cited 2021 Oct 27] Available from: https://www.unidadvictimas.gov.co/es/registro-unico-de-victimas-ruv/37394.
8. Lozano Ordoñez E, Salazar Henao M. Evolución histórico-política de la salud indígena en Caldas: aproximación a la determinación social en salud. Hacia Promoc. Salud. 2018; 23(1): 125-40.
9. Ramírez OS, Puerto JS, Rojas MR, Villamizar G, Vargas E, Urrego ZC. El suicidio de indígenas desde la determinación social en salud. Rev. Fac. Nac. Salud Pública. 2018; 36(1):55-65.
10. Carmona Fonseca J, Correa AM. Determinación social de la desnutrición y el retardo sicomotor en preescolares de Urabá (Colombia). Un análisis con la Epidemiología Crítica. Rev. Fac. Nac. Salud Pública. 2014; 32(1): 40-51.
11. Hurtado LR, Arrivillaga M. Determinación social del acceso a servicios de salud de población infantil en situación de discapacidad. Rev. Cub. Salud pública 2018; 44(1):100-9.
12. Breilh J. Una perspectiva emancipadora de la investigación y acción, basada en la determinación social de la salud. En: Asociación Latinoamericana de Medicina Social. Taller Latinoamericano sobre Determinantes Sociales de la Salud: documento para la discusión. México, D.F.: ALAMES; 2008. P.14-29.
13. Walt G. Health Policy: An Introduction to Process and Power. Johannesburg: Witwatersrand University Press; 1996.
14. Carmona Moreno LD. La determinación social, una visión epistemológica para comprender el proceso salud-enfermedad. Rev. Cienc. salud [Internet]. 19 de mayo de 2020 [citado 12 de abril de 2022]; 180:1-17. Available from: https://revistas.urosario.edu.co/index.php/revsalud/article/view/9135
15. Breilh J. Epidemiología crítica: ciencia emancipadora e interculturalidad. Buenos Aires: Lugar Editorial; 2003.
16. Gobernación de Antioquia. Dirección Seccional de Salud y Protección Social de Antioquia. Lineamientos para la promoción de la salud con-sentido humano en el departamento de Antioquia. Primera edición. Medellín: Universidad Antioquia; 2010.
17. Cárdenas Avendaño OM. Diagnóstico comunitario participativo. Barrio La Cruz [Internet]. Medellín; 2018 [cited 2022 May 28] Available from: http://mesainterbarrialdedesconectados.blogspot.com/2012/03/cartilla-cruz.html
18. Alcaldía de Medellín. Informe de Calidad de Vida de Medellín; 2018. Available from: https://bit.ly/3ECwR5M página 18-19
19. Paredes Hernández N. La epidemiologia crítica y el despojo de tierras y territorios: una reflexión teórica. Rev. Cienc. Salud. 2020(18): 1-21.
20. Molano A. Desterrados. Crónicas del desarraigo. Bogotá: Punto de lectura; 2013.
21. Uribe MT. Semana Memoria, Destierro y Reparación. Medellín: Corporación Región, Museo de Antioquia, Instituto de Estudios Regionales; 2008.
22. Ronderos MT. Guerras Recicladas: una historia periodística del paramilitarismo en Colombia. Bogotá: Aguilar; 2014.
23. López C, Larrea ML, Breilh J, Tilleria Y. La determinación social del autismo en población infantil ecuatoriana. Rev. Cienc. Salud. 2020: 18; 1-27. https://doi.org/10.12804/revistas.urosario.edu.co/revsalud/a.8993
24. Louidor WE. Articulaciones del desarraigo en América Latina: el drama de los sin hogar y sin mundo. Bogotá: Editorial Pontificia Universidad Javeriana. Instituto Pensar; 2016.
25. Borde, E., Hernández, M. Una aproximación a la determinación social de la violencia urbana en ciudades latinoamericanas: lecturas desde Río de Janeiro y Bogotá. Med. Soc. 2018; 12(1): 36-47.
26. Fuentes L, Mac-Clure O, Moya C, Olivos C. Santiago de Chile: ¿ciudad de ciudades? Desigualdades sociales en zonas de mercado laboral local. Rev. CEPAL. 2017; 121:93-10.
27. Salazar A, Barranco LA, Jiménez LK, Redondo MP, Rodríguez L. La vulnerabilidad de la mujer en la guerra y su papel en el posconflicto. Ágora USB. 2016; 17(1):290-308.
28. Tuan YF. Space and place. The perspective of experience. Minneapolis: University of Minnesota Press; 2001.
29. Soliz F. La determinación social de la salud: la comprensión de la complejidad de la vida. Rev. Cienc. Salud. 2020; 18 (Especial):1-3.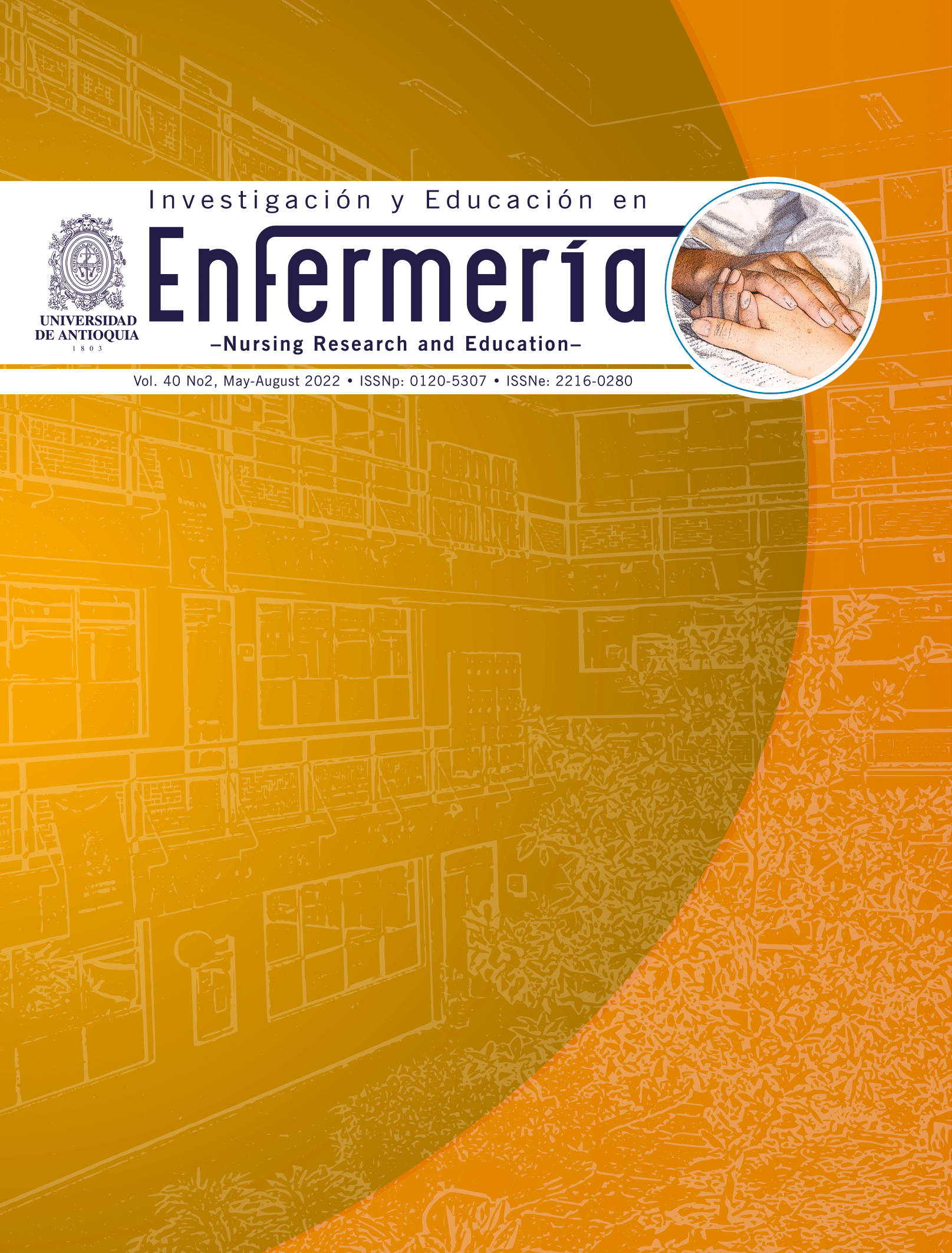 Downloads
Published
2022-06-27 — Updated on 2022-07-14
How to Cite
Gaviria Noreña, D. L. ., Álvarez Del Río, R. F. ., Zapata Gómez, N. E. ., & González Giraldo, M. . (2022). Social Determination of the Health of Families from Two Neighborhoods in Medellín, Colombia. Investigación Y Educación En Enfermería, 40(2). https://doi.org/10.17533/udea.iee.v40n2e14 (Original work published June 27, 2022)
Section
ORIGINAL ARTICLES / ARTÍCULOS ORIGINALES / ARTIGOS ORIGINAIS
License
Copyright (c) 2022 Investigación y Educación en Enfermería
This work is licensed under a Creative Commons Attribution-NonCommercial-ShareAlike 4.0 International License.
Derechos de propiedad / Direitos de Propriedade
English: If the article is accepted for publication, all copyright will be of exclusive property of Investigación y Educación en Enfermería. The text and the graphics included in the publication are exclusive responsibility of the authors and not necessarily reflect the thought of the Editorial Committee.
Español: Si el artículo es aprobado para publicación, todos los derechos son de propiedad de Investigación y Educación en Enfermería. El texto y las gráficas incluidas en la publicación son de exclusiva responsabilidad de los autores y no necesariamente refleja el pensamiento del Comité Editorial.
Português: Se o artigo for aceito para publicação, todos os direitos autorais serão de propriedade exclusiva de Investigación y Educación en Enfermería. O texto e os gráficos incluídos na publicação são de responsabilidade exclusiva dos autores e não refletem necessariamente o pensamento do Comitê Editorial.