Pregnant women fear and insecurity during labor as reasons for demanding early admission
Maria de Lourdes Silva Marques Ferreira

Enfermera, Magíster y Doctora en Enfermería. Profesora del Departamento de Enfermería de la Facultad de Medicina de Botucatu de la Universidade Estadual Paulista Júlio de Mesquita Filho, Brasil. email:malusa@fmb.unesp.br.

Thais Erika Peron Giaxa

Enfermera, Maestra en Enfermería Obstétrica y Urgencias/Emergencias. Profesora del Departamento de Enfermería de la Universidade de Marília; Brasil. email: thaiserika@hotmail.com.
Keywords:
Labor, obstetric; obstetrics and gynecology department, hospital; health services accessibility; qualitative research.
Abstract
Objective. To identify reasons why women look for early health care attention at the end of pregnancy.
Methodology. Qualitative study based in socio-existential phenomenology proposed by Al­fred Schütz. Nine pregnant women who consulted to the maternity service without being in real labor were interviewed.
Results. The following analysis categories emerged: Having different symptoms or signals from the ones they had felt or been informed about, not being able to identify real labor, fear to fetal complications for being close to the probable labor date, feeling calmer when being seen by professionals of the institution, lack of problem solving by other services of the health institution, fearing out of hospital delivery, imitating real labor, looking for tranquility in the idealization of labor and mo­difying behaviors to guarantee attention.
Conclusion. Women are insecure and fear because of a fragmented health care, where they do not perceive themselves linked to the prenatal control program anymore, and at the same time they don't find the health care assistance they want.
|Abstract = 19 veces | PDF (ESPAÑOL) = 12 veces| HTML (ESPAÑOL) = 2 veces|
Downloads
Download data is not yet available.
References
(1) Leal MC, Gama SGN, Campos MR, Cavalini LT, Garbayo LS, Brasil CLP et al. Fatores associados à morbi-mortalidade perinatal em uma amostra de maternidades públicas e privadas do Município do Rio de Janeiro 1999-2001. Cad Saúde Pública. 2004;20(1):520-33.
(2) Pacheco AP, Figueiredo B, Costa RA. Antecipação da experiência de parto: mudanças desenvolvimentais ao longo da gravidez. Rev Port Psicossomat. 2005;7(1/2):7-41.
(3) Merck S, Dohme B. Problemas de saúde da mulher: trabalho de parto e parto [Internet]. Brasil: 2000 [acceso 2008 nov 17]. Disponible en: http://www.manualmerck.com.br
(4) Polden M, Mantle J. Fisioterapia em obstetrícia e ginecologia. 2ª ed. São Paulo: Santos; 2000.
(5) Tratado de Obstetrícia Febrasgo. Rio de Janeiro: Revinter; 2000.
(6) Rezende J, Montenegro CA. Obstetrícia fundamental. 11ª ed. Rio de Janeiro: Guanabara Koogan; 2008.
(7) Brasil. Ministério da Saúde. Parto, aborto e puerpério: assistência humanizada à mulher. Brasília: Ministério de Saúde; 2001.
(8) Bittar RE. Trabalho de parto prematuro. In: Zugaib M, Bittar RE. Protocolos assistenciais da clínica obstétrica. São Paulo: Atheneu; 1999. p. 214.
(9) Brasil. Ministério da Saúde. Política Nacional de Atenção às Urgências. Brasília: El Ministério; 2004.
(10) Minayo MCS. O conceito de metodologia de pesquisa. In: Minayo MCS, Deslandes SF, Cruz NO, Gomes R. Pesquisa social: teoria, método e criatividade. Rio de Janeiro: Vozes; 1998.
(11) Capalbo C. Metodologia das ciências sociais: a fenomenologia de Alfred Schutz. Londrina: UEL; 1998.
(12) Merighi MAB, Gonçalves R, Rodrigues IG. Vivenciando o período puerperal: uma abordagem compreensiva da fenomenologia social. Rev Bras Enferm. 2006;59(6):775-9.
(13) Wagner H. Fenomenologia e relações sociais: textos escolhidos de Alfred Schütz. Rio de Janeiro: Zahar; 1979.
(14) Schutz A. El problema de la realidad social. Buenos Aires: Amorrortu; 2003.
(15) Schutz A, Luckman T. Las estructuras del mundo de la vida. Buenos Aires: Amorrortu; 1977.
(16) Merighi MAB. Trajetória profissional de enfermeiras obstetras egressas da escola de enfermagem da Universidade de São Paulo. Rev Latinoam Enferm. 2002;10(5):644-53.
(17) Bezerra MGA, Cardoso MVLML. Fatores culturais que interferem nas experiências das mulheres durante o trabalho de parto e parto. Rev Latinoam Enferm. 2006;14(3):414-21.
(18) Soifer R. Psicologia da gravidez, parto e puerpério. Porto Alegre: Artes Médicas; 1980.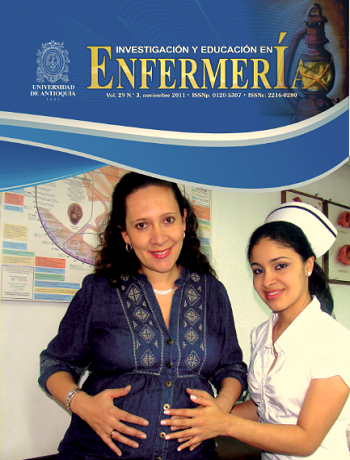 How to Cite
Ferreira M. de L. S. M., & Peron Giaxa T. E. (2011). Pregnant women fear and insecurity during labor as reasons for demanding early admission. Investigación Y Educación En Enfermería, 29(3). Retrieved from https://revistas.udea.edu.co/index.php/iee/article/view/6349
Section
ORIGINAL ARTICLES / ARTÍCULOS ORIGINALES / ARTIGOS ORIGINAIS
Derechos de propiedad / Direitos de Propriedade
English: If the article is accepted for publication, all copyright will be of exclusive property of Investigación y Educación en Enfermería. The text and the graphics included in the publication are exclusive responsibility of the authors and not necessarily reflect the thought of the Editorial Committee.
Español: Si el artículo es aprobado para publicación, todos los derechos son de propiedad de Investigación y Educación en Enfermería. El texto y las gráficas incluidas en la publicación son de exclusiva responsabilidad de los autores y no necesariamente refleja el pensamiento del Comité Editorial.
Português: Se o artigo for aceito para publicação, todos os direitos autorais serão de propriedade exclusiva de Investigación y Educación en Enfermería. O texto e os gráficos incluídos na publicação são de responsabilidade exclusiva dos autores e não refletem necessariamente o pensamento do Comitê Editorial.