Analysis of the quality of the scientific output concerning customer/ patient satisfaction
Keywords:
Patient satisfaction; quality assurance health care; bibliometrics.
Abstract
Objective. To determine if Brazilian publications about patient satisfaction available online meet Hoppen et al. scientific quality criteria.
Methodology. Descriptive-exploratory study. Literature search was made in the electronic databases MEDLINE and LILACS, using the descriptor "patient satisfaction". After the first review of the results and refinement of the search, 14 full papers were selected and were used as the study sample.
Results. Publications were diverse in its structural composition and did not adhere completely to the criteria established in the theoretical framework of this study. The less frequent items in the papers were: Theoretical reference (14.3%), research question (35.7%), assumptions (42.8%) and limits (14.3%). The updated references (92.8%), justification and objectives were present in 100% of the studies.
Conclusion. Brazilian scientific publications about user satisfaction are structurally well articulated, however it is necessary a greater detailing of the methodology and the insertion of some requirements considered optional so the published content is not questioned or discredit.
|Abstract = 125 veces | PDF (PORTUGUÊS) = 30 veces| | HTML (PORTUGUÊS) = 3 veces|
Downloads
Download data is not yet available.
References
(1) Juran JM. Planejando para a qualidade. São Paulo: Pioneira; 1992.
(2) Donabedian A. The Definition of Quality and Approaches to its Assessment. Health Serv Res. 1981 Summer; 16(2): 236–237.
(3) Deming WE. Qualidade: a revolução da administração. Rio de Janeiro: Marques-Saraiva; 1990.
(4) Brasil. Ministério da Saúde. Avaliação para melhoria da qualidade da estratégia Saúde da Família. Brasília: Ministério da Saúde; 2005 [Internet]. [Acesso 2 fev 2008]. Disponível em: http://bvsms. saude.gov.br/bvs/publicacoes/10001019925.pdf
(5) Reis D, Peña L. Linking customer satisfaction, quality, and strategic planning. Rev Adm Empres. 2000; 40(1):42-46.
(6) Oliveira AML, Guirardello EB. Satisfação do Paciente com cuidados de Enfermagem: comparação entre dois hospitais. Rev Esc Enferm USP. 2006; 40(1):71-77.
(7) Krzyzanowski RF, Ferreira MCG. Avaliação de periódicos científicos e técnicos brasileiros. Ci Inf. 1998; 27(2):165-75.
(8) Hoppen N, Lapointe L, Moreau E. Avaliação de artigos de pesquisa em sistemas de informação: proposta de um guia. Rio das Pedras: ANPAD;1997.
(9) Gil AC, Licht RHG, Santos BRM. Porque fazer pesquisa qualitativa em saúde? Cad Saúde. Pública. 2006; 1(2):5-20.
(10) Minayo MCS, Sanches O. Quantitativo-qualitativo: oposição ou complementaridade? Cad Saúde Pública. 1993; 9(3):239-62.
(11) Angerami ELS, Mendes IAC. Marco teórico das investigações em enfermagem sua relação com as teorias de Enfermagem. Rev Gaúcha Enferm. 1989; 10(2):22-24.
(12) Schnitter M. Mejorar la escritura de la investigación cualitativa. Invest Educ Enferm. 2004; 22(2):150-162.
(13) Moscovici S. A representação social da psicanálise. Rio de Janeiro: Zahar; 1978.
(14) Rocha RA, Ceretta CS. Pesquisa Qualitativa: um desafio à Ciência Social. Foz do Iguaçu: ANPAD; 1998.
(15) Gil AC. Como construir hipótese. São Paulo: Atlas; 2002.
(16) Wood GL, Haber J. Pesquisa em enfermagem: métodos, avaliação crítica e utilização. 4a ed. Rio de Janeiro: Guanabara Koogan; 1998.
(17) Echer IC. A revisão de literatura na construção do trabalho científico. Rev Gaúcha Enferm. 2001; 22(2):5-20.
(18) Pompeo DA, Nicolussi AC, Galvão CM, Sawada NO. Intervenções de enfermagem para náusea e vômito no período pós-operatório imediato. Acta Paul Enferm. 2007; 20(2):191-198.
(19) Vieira S. Introdução à Bioestatística. Rio de Janeiro: Campus; 1991.
(20) Martins GA. Sobre confiabilidade e validade. RBGN. 2006;8(20):1-12.
(21) Crato AL, Vidal LF, Bernardinho PA, Ribeira-Junior H de C, Zarzar PMPA, Paiva SM, et al. Como Realizar uma análise crítica de um artigo científico. Arq Odontol. 2004; 40(1):1-110.
(22) Biojone MR. Forma e função dos periódicos científicos na comunicação da ciência. São Paulo: Escola de Comunicações e Artes/USP; 2001.
(23) Trzesniak P. A concepção e a construção da revista científica. Petrópolis: ABEC; 2001. p. 17-23.
(24) Morais AS, Braga AT, Nicole AG, Tronchin DMR, Melleiro MM. Qualidade e avaliação em saúde: publicações em periódicos de enfermagem nas últimas duas décadas. Rev Enferm UERJ. 2008; 16(3):404-409.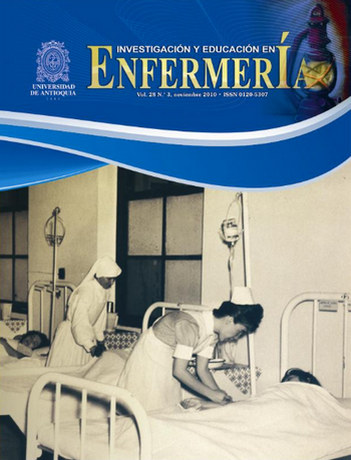 Downloads
How to Cite
Teixeira Santos, J. A., Inoue, K. C., Seleghim, M. R., & Matsuda, L. M. (2010). Analysis of the quality of the scientific output concerning customer/ patient satisfaction. Investigación Y Educación En Enfermería, 28(3). https://doi.org/10.17533/udea.iee.7608
Section
ORIGINAL ARTICLES / ARTÍCULOS ORIGINALES / ARTIGOS ORIGINAIS
License
Derechos de propiedad / Direitos de Propriedade
English: If the article is accepted for publication, all copyright will be of exclusive property of Investigación y Educación en Enfermería. The text and the graphics included in the publication are exclusive responsibility of the authors and not necessarily reflect the thought of the Editorial Committee.
Español: Si el artículo es aprobado para publicación, todos los derechos son de propiedad de Investigación y Educación en Enfermería. El texto y las gráficas incluidas en la publicación son de exclusiva responsabilidad de los autores y no necesariamente refleja el pensamiento del Comité Editorial.
Português: Se o artigo for aceito para publicação, todos os direitos autorais serão de propriedade exclusiva de Investigación y Educación en Enfermería. O texto e os gráficos incluídos na publicação são de responsabilidade exclusiva dos autores e não refletem necessariamente o pensamento do Comitê Editorial.