Interdisciplinarity in palliative care delivery to cancer patients
Keywords:
Nursing; patient care team; hospice care.
Abstract
Objective. To get to know interdisciplinary practice in the Oncology Interdisciplinary Home Hospitalization Program (PIDI) health team.
Methodology. This qualitative research involved nine professionals working in this program, in the South of Brazil, who delivered palliative care to cancer patients. Data were recollected in 2009 through observation and focal groups, and analyzed through the thematic analysis technique.
Results. Two categories emerged: interdisciplinary practice in the PIDI is a permanent construction process and palliative care in interdisciplinary practice. This program was characterized by: workers' interaction in an interdisciplinary focus, integration of actions and knowledge, establishment of dialogue, horizontal power relations in the team, respect for other people's knowledge, colleagues and limits of their performance, collective and continuous learning, and internal motivation to defend a practice based on the quality of patients' life and death.
Conclusion. The integration of interdisciplinary palliative care practice is innovative and can improve care quality and contribute to the satisfaction of professionals working with patients who need this type of care.
|Abstract = 113 veces | PDF (PORTUGUÊS) = 20 veces| | PDF (ENGLISH) = 43 veces| | HTML = 2 veces| | MCORREAHOYOS, CV_ADRIZE.RTF = 0 veces| | MCORREAHOYOS, CV MAIRA.RTF = 0 veces| | MCORREAHOYOS, CURRICULO SIMONE.RTF = 0 veces| | MCORREAHOYOS, CV_ROXANA.RTF = 0 veces| | MCORREAHOYOS, CV LATTES NAIANA.RTF = 0 veces| | MCORREAHOYOS, INVESTIGACIÓN 001.JPG = 0 veces| | MCORREAHOYOS, CEPID 001.JPG = 0 veces|
Downloads
Download data is not yet available.
References
(1) Mendes JMR, Lewgoy AMB, Silveira EC. Saúde e interdisciplinaridade: mundo vasto mundo. Rev Ciência e Saúde. 2008;1(1):24-32.
(2) Matos E, Pires DEP, Campos GWS. Relações de trabalho em equipes interdisciplinares: contribuições para a constituição de novas formas de organização do trabalho em saúde. Rev Bras Enferm. 2009;62(6):863-9.
(3) Taquemori LY, Sera CTN. Interface intrínseca: equipe multiprofissional. In: Ayer R, coordenador. Cuidado Paliativo. São Paulo: Caderno CREMESP; 2008. p. 55-7.
(4) Santos Koerich M, Stein Backes D, Macêdo de Sousa FG, Erdmann AL. La emergencia de la integralidad e interdisciplinaridad en el sistema de cuidado a la salud. Enferm Glob. 2009 Oct [cited 2011 January 18]; 17(3). Available in: http://revistas.um.es/eglobal/article/viewFile/75291/73151.
(5) Brasil. Ministério da Saúde. Conselho Nacional de Saúde. Resolução 196, de 10 de outubro de 1996. Diretrizes e normas regulamentadoras de pesquisa envolvendo seres humanos. Diário Oficial da União, Brasília, (16 Out. 1996).
(6) Minayo MCS. O desafio do conhecimento: pesquisa qualitativa em saúde. 12a. ed. São Paulo: Hucitec; 2010.
(7) World Health Organization. Palliative Care. [Internet]. Geneva: WHO; 2002 [cited 2009 April 11]. Available in: www.who.int/cancer/palliative/en
(8) Ferreira MEMP. Ciência e interdisciplinaridade. In: Fazenda ICA. Práticas interdisciplinares na escola. 2a. ed. São Paulo: Cortez Editora; 1993. p. 19-22.
(9) Peduzzi M. Equipe multiprofissional em saúde: conceito e tipologia. Rev Saúde Pública. 2001;1(35):103-9.
(10) Lickiss JN, Tuner KS, Pollock ML. The interdisciplinary team. In: Doyle D, Hanks G, Cherny N, Calman K. Oxford textbook of palliative medicine. Oxford: Oxford university press; 2005. P.42-6.
(11) Freire P. Pedagogia do oprimido. Rio de Janeiro: Paz e Terra; 2005.
(12) Saupe R, Cutolo LRA, Wendhausen ALP, Benito GAV. Competência dos profissionais de Saúde para o trabalho interdisciplinar. Interface - Comunicação, Saúde e Educação. 2005;9(18):521-36.
(13) Machado MFAS, Monteiro EMLM, Queiroz DT, Vieira NFC, Barroso MGT. Integralidade, formação de saúde, educação em saúde e as propostas do SUS: uma revisão conceitual. Ciênc saúde coletiva. 2007;12(2):335-42.
(14) Brasil. Ministério da Saúde. Clínica Ampliada. Equipe de Referência e Projeto Terapêutico Singular. [Internet]. Brasília: Ministério da Saúde; 2007 [cited 2009 April 11]. Available in: http://bvsms.saude.gov.br/bvs/publicacoes/clinica_ampliada_2ed.pdf
(15) Staudt DT. A interdisciplinaridade em atenção básica à saúde. Bol Saúde. 2008;22(1):75-84.
(16) Irribary IN. Aproximações sobre a Transdisciplinaridade: algumas Linhas Históricas, Fundamentos e Princípios Aplicados ao Trabalho de Equipe. Psicologia: Reflexão e Crítica 2003;16(3):483-90.
(17) Costa RKS, Enders BC, Menezes RMP. Trabalho em equipe de saúde: uma análise contextual. Ciênc, Cuidado Saúde. 2008;7(4):530-6.
(18) Roese A, Souza AC, Porto GB, Colomé ICS, Costa LED. A produção do conhecimento na enfermagem: desafios na busca de reconhecimento no campo interdisciplinar. Rev Gaúcha Enferm. 2005;26(3):302-7.
(19) Scherer MDA, Pires D, Schwartz Y. Trabalho coletivo: um desafio para a gestão em saúde. Rev Saúde Pública. 2009; 43(4):721-5.
(20) Chiba T. Relação dos cuidados paliativos com as diferentes profissões da área da saúde e especialidades. In: Ayer R, Editor. Cuidado Paliativo. São Paulo: Caderno CREMESP; 2008. p.46-54.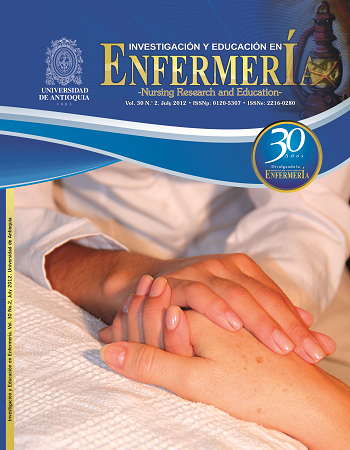 Downloads
How to Cite
Porto, A. R., Thofehrn, M. B., Amestoy, S. C., Cardozo González, R. I., & Oliveira, N. A. (2012). Interdisciplinarity in palliative care delivery to cancer patients. Investigación Y Educación En Enfermería, 30(2). Retrieved from https://revistas.udea.edu.co/index.php/iee/article/view/8362
Section
ORIGINAL ARTICLES / ARTÍCULOS ORIGINALES / ARTIGOS ORIGINAIS
License
Derechos de propiedad / Direitos de Propriedade
English: If the article is accepted for publication, all copyright will be of exclusive property of Investigación y Educación en Enfermería. The text and the graphics included in the publication are exclusive responsibility of the authors and not necessarily reflect the thought of the Editorial Committee.
Español: Si el artículo es aprobado para publicación, todos los derechos son de propiedad de Investigación y Educación en Enfermería. El texto y las gráficas incluidas en la publicación son de exclusiva responsabilidad de los autores y no necesariamente refleja el pensamiento del Comité Editorial.
Português: Se o artigo for aceito para publicação, todos os direitos autorais serão de propriedade exclusiva de Investigación y Educación en Enfermería. O texto e os gráficos incluídos na publicação são de responsabilidade exclusiva dos autores e não refletem necessariamente o pensamento do Comitê Editorial.