Melting ulcer in a colt: clinical management and evolution
Abstract
Summary
Anamnesis: a colt showing a whitish coloration accompanied by abundant secretion on the left eye was examined. Clinical and laboratory findings: at ophthalmological examination, signs of melting ulcer were observed. Culture isolation revealed positive growing of Flavobacterium sp. and Gram-negative rods. Treatment approach: several keratectomies and tarsorrhaphies, as well as exhaustive antiproteinases, anti­inflammatory, and antibiotic treatments, were conducted. Treatment focused on reducing inflammatory response, eliminating infective organisms, and promoting epithelial healing. Colt showed complete recovery of vision after 3 months. Conclusions: clinical management of melting ulcer implies exhaustive, though unexpensive, treatment.
Key words: cornea, keratectomy, keratomalacia, ophthalmology, tarsorrhaphy.
Resumen
Anamnesis: se examinó un potro que presentó una coloración blanquecina acompañada de abundante secreción en el ojo izquierdo. Hallazgos clínicos y de laboratorio: al examen oftalmológico se observaron signos de ulcera fundente. El aislamiento por cultivo mostró crecimiento de Flavobacterium sp. y cocos Gram negativos. Abordaje terapéutico: se realizaron varias queratectomías y tarsorrafias, además de un tratamiento exhaustivo con antiproteinasas, antiinflamatorios y antibióticos enfocado a reducir la respuesta inflamatoria, eliminar los microorganismos infecciosos y promover la cicatrización epitelial. 3 meses después, el potro mostró recuperación completa de la visión. Conclusiones: el manejo clínico de la úlcera fundente es demandante, pero no es un tratamiento costoso.
Palabras Clave: córnea, keratomalacia, oftalmología, queratectomía, tarsorrafia.
Resumo
Antecedentes: foi examinado um potro que apresentava uma coloracào esbranquicada acompanhada por abundante secrecào no olho esquerdo. Achados clínicos e de laboratòrio: ao exame oftalmológico foram encontrados sinais de úlcera colagenolítica. O isolamento por cultura apresentou crescimento de Flavobacterium sp. e cocos Gram negativos. Abordagem terapèutica: foram realizadas várias ceratectomias e tarsorrafias, além da instauracào de um tratamento exaustivo com antiproteinases, anti-inflamatórios e antibióticos voltado para a reducào da resposta inflamatória, a remocào de micro-organismos infecciosos e a estimulacào da cicatrizacào epitelial. 3 meses depois o potro apresentou completa recuperacào da visào. Conclusoes: o manejo clínico da úlcera colagenolítica é exigente, mas nào é um tratamento caro.
Palavras chave: ceratectomia, ceratomalacia, córnea, oftalmologia, tarsorrafia.
|Abstract = 31 veces | PDF = 15 veces| | HTML = 8 veces|
Downloads
Download data is not yet available.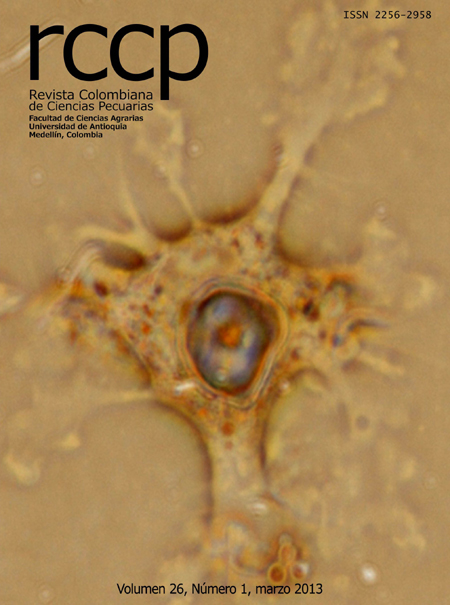 How to Cite
Estrada, R. D., Penagos, S., Viera, E., Angulo, P. A., & Arias, M. P. (2013). Melting ulcer in a colt: clinical management and evolution. Revista Colombiana De Ciencias Pecuarias, 26(1), 31–36. Retrieved from https://revistas.udea.edu.co/index.php/rccp/article/view/324812
License
The authors enable RCCP to reprint the material published in it.
The journal allows the author(s) to hold the copyright without restrictions, and will allow the author(s) to retain publishing rights without restrictions.