Idiopathic stringhalt in a Colombian Creole horse
Abstract
Summary
Anamnesis: an adult horse that showed hind limb hyperflexion was examined. Clinical and laboratory findings: at locomotion examination bilateral hyperflexion was observed; the right hind limb was more severely affected than the left. Electromyographic and histopathological examination revealed neural denervation and muscular atrophy supporting the idiopathic stringhalt diagnosis. Treatment approach: a lateral digital extensor tenectomy and partial myectomy was practiced in both hind limbs, accompanied by medical treatment and implementation of a mild exercise plan. The effectiveness of surgery is still controversial in these cases; however, this patient evidenced slow improvement after surgery and exercise seemed to be instrumental in the recovery of his normal locomotion. Conclusion: to our knowledge, this is the first report of a clinical case compatible with idiopathic stringhalt in Colombian Creole horses, but further studies are necessary to clarify the etiology and pathogenesis of stringhalt in Colombia.
Key words: axonopathy, denervation, electromyography, hyperflexion.
Resumen
Anamnesis: se examinó un caballo adulto que mostraba hiperflexión de ambos miembros posteriores. Hallazgos clínicos y de laboratorio: al examen locomotor se observó hiperflexión de ambos miembros posteriores pero el miembro posterior derecho parecía estar más afectado. El examen histopatológico y la electromiografía revelaron denervación neural y atrofia muscular soportando el diagnóstico de Arpeo Idiopático. Abordaje terapéutico: se practicó tenectomía y miectomía parcial del extensor digital lateral en ambos miembros posteriores, acompañada de tratamiento médico con la implementación de un plan de ejercicio ligero. La eficacia de la cirugía es controversial aún, sin embargo, en este caso, una lenta recuperación fue evidente y el ejercicio pareció ser un factor clave. Conclusión: el presente caso clínico es para nuestro conocimiento el primero compatible con arpeo idiopático en el Caballo Criollo Colombiano, pero se deben realizar más estudios para clarificar la etiología y patogenia del arpeo en Colombia.
Palabras clave: axonopatía, denervación, electromiografía, hiperflexión.
Resumo
Anamnese: foi examinado um cavalo adulto que mostrava hiperflexão dos dois membros posteriores. Achados Clínicos e de laboratorio: o exame foi observado hiperflexão de ambos os membros posteriores, estando mais afectado o membro posterior direito. O exame histopatológico e eletromiografia revelou denervação neural e atrofia muscular levando ao diagnóstico de harpejamento idiopático. Abordagem terapêutica: foi realizada tenectomia e miectomia parcial do músculo extensor digital lateral em ambos os membros posteriores, acompanhada de tratamento médico com a implementação de um plano de exercícios leves. A eficácia da cirurgia é ainda controversa, no entanto, neste caso foi evidente uma recuperação lenta e o exercício pareceu ser um fator fundamental. Conclusão: este relato de caso é, a nosso conhecimento, o primeiro compatível com harpejamento idiopático, mas devem ser realizados mais estudos para esclarecer a etiologia e patogenia do harpejamento no Cavalo Crioulo Colombiano.
Palavras chave: axonopatia, denervação, eletromiografia, hiperflexão.
|Abstract = 93 veces | PDF = 56 veces| | HTML = 34 veces|
Downloads
Download data is not yet available.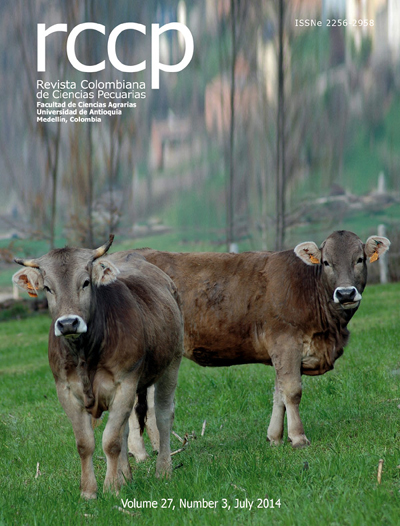 How to Cite
Duque, D., Velasquez, V., Espinosa, L., & Arias, M. P. (2014). Idiopathic stringhalt in a Colombian Creole horse. Revista Colombiana De Ciencias Pecuarias, 27(3), 227–233. Retrieved from https://revistas.udea.edu.co/index.php/rccp/article/view/324896
License
The authors enable RCCP to reprint the material published in it.
The journal allows the author(s) to hold the copyright without restrictions, and will allow the author(s) to retain publishing rights without restrictions.