Equine gastric ulcer syndrome: risk factors and therapeutic aspects
Abstract
Summary
The equine gastric ulcer syndrome (EGUS) involves a complex of diseases associated with ulceration of the esophageal, stomach and duodenum mucosa of horses. EGUS occurs frequently due to multiple and overlapping risk factors (activity, food management, anti-inflammatory therapies, among others) and anatomo-physiological peculiarities of horses. The combination of therapeutic strategies and management and environmental shifts are important in both the preventive and the curative approach to this syndrome. However, further studies on the epidemiological and clinical aspects of EGUS and low-cost therapeutic alternatives are required.
Key words: glandular and nonglandular mucosa, gastroscopy, horse, hydrochloric acid, stomach, treatment.
Resumen
El síndrome de úlcera gástrica equina (EGUS) implica un complejo de enfermedades asociadas con ulceración de la mucosa esofágica, gástrica y duodenal en animales con diferente edad. EGUS es altamente frecuente por la naturaleza multifactorial de los factores de riesgos (tipo de actividad, manejo alimentario, terapias anti-inflamatorias, entre otros) y particularidades anatomo-fisiológicas de estos animales que son sometidos excesivamente en los diferentes sistemas de explotación. La combinación de estrategias terapéuticas, de manejo y de adecuación de ambiente son de importancia en las conductas preventivas y curativas de este síndrome. Sin embargo se requiere más estudios de prevalencia y de caracterización de los factores predisponentes de EGUS; así como también, más investigación para generar alternativas terapéuticas de bajo costo.
Palabras clave: ácido clorhídrico, caballo, estómago, gastroscopia, mucosa glandular y no glandular, tratamiento.
Resumo
A síndrome de úlcera gástrica equina (EGUS) envolve o complexo de doenças associadas com úlcera da mucosa esofágica, gástrica e duodenal em animais de diferentes faixas etárias. EGUS tem elevada frequência pela natureza multifatorial dos fatores de risco (tipo de trabalho, manejo alimentar, terapias anti-inflamatórias, entre outros) e peculiaridades anatomo-fisiológicas destes animais sometidos em excesso nos sistemas de exploração. A combinação de estratégias terapêuticas, de manejo e de adequação de ambiente é de importância nas condutas preventiva e curativa desta síndrome. Porem se requer mais estudos de prevalência e de caraterização dos fatores predisponentes de EGUS, assim como também, mais pesquisas na geração de alternativas terapêuticas de baixo custo.
Palavras chave: ácido clorídrico, cavalo, estômago, gastroscopia, mucosa glandular e não glandular, tratamento.
|Abstract = 38 veces | PDF = 19 veces| | HTML = 19 veces|
Downloads
Download data is not yet available.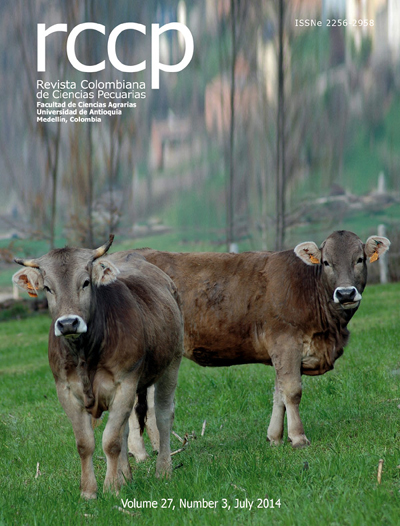 How to Cite
Martinez Aranzalez, J. R., & Silveira Alves, G. E. (2014). Equine gastric ulcer syndrome: risk factors and therapeutic aspects. Revista Colombiana De Ciencias Pecuarias, 27(3), 157–170. Retrieved from https://revistas.udea.edu.co/index.php/rccp/article/view/324889
Section
Literature reviews
License
The authors enable RCCP to reprint the material published in it.
The journal allows the author(s) to hold the copyright without restrictions, and will allow the author(s) to retain publishing rights without restrictions.