Ulcerative gastric lesions in Brasileiro de Hipismo horses
Abstract
Summary
Background: equine gastric ulcer syndrome (EGUS) has a high and variable occurrence in horses of different ages and activity levels. Objective: the aim of this study was to determine the presence and severity of ulcers in Brasileiro de Hipismo (BH) horses owned by the military police. Methods: a group of 80 horses (38 males and 42 females, aged between 3.3 and 29.2 years) performing different activities underwent clinical and gastroscopic evaluation. Descriptive statistics for the presence of ulcers and chi-square (X2) analysis with Fisher exact test were conducted to determine a possible association between EGUS and type of activity, sex or age. Results: occurrence of at least one ulcer was detected in 45% of the horses, and most of them (40%) were located in the squamous mucosa of the Margo plicatus. No significant association (p > 0.05) was observed between any of the factors evaluated and the presence of EGUS. Conclusion: the BH horses owned by cavalry's military have low incidence of EGUS despite being subjected to stress, which confirms a multifactorial nature of gastric lesions in this subpopulation.
Keywords: equine, gastric mucosa, gastroscopy, ulcer.
Resumen
Antecedentes: el Síndrome de Úlcera Gástrica Equina (EGUS) presenta una alta y variable ocurrencia en equinos de diferentes edades y tipo según la actividad que desarrollan. Objetivo: determinar la presencia e intensidad de las lesiones ulcerativas gástricas en caballos de la raza Brasilero de Hipismo (BH) al servicio de la policía militar. Métodos: un grupo de 80 equinos (38 machos y 42 hembras) con edades entre 3,3 y 29,2 años, en actividades de adaptación, entrenamiento, patrullaje e inactivos fueron evaluados por examen físico y gastroscópico. Se realizaron análisis por estadística descriptiva para porcentaje de ocurrencia de úlceras y análisis de Chi-cuadrado (X2) con test exacto de Fisher para verificar posible asociación entre EGUS, actividad, género y edad. Resultados: se determinó una ocurrencia de úlcera del 45%, siendo la mucosa escamosa (40%) la más comprometida en todo el Margo plicatus, sin embargo, no hubo asociación significativa (p > 0,05) entre los factores evaluados y la presencia de EGUS. Conclusión: los caballos estudiados presentaron baja incidencia de EGUS a pesar de estar sometidos a situaciones de estrés, confirmando la naturaleza multifactorial de las lesiones gástricas en esta subpoblación de equinos.
Palabras Clave: equino, gastroscopia, mucosa gástrica, úlcera.
Resumo
Antecedentes: a Síndrome da Ulcera Gástrica Equina (EGUS) apresenta uma ocorrência alta e variável em equinos de diferentes faixas etárias e classes segundo a atividade que desenvolvem. Objetivo: determinar a presença e intensidade das lesões ulcerativas gástricas em cavalos da raça Brasileiro de Hipismo (BH) a serviço da polícia militar. Métodos: um grupo de 80 equinos (38 machos e 42 fêmeas), com idade entre os 3,3 e 29,2 anos, desenvolvendo atividades de adaptação, treinamento, patrulhamento e inativos foram avaliados por exame físico e gastroscópicos. Analise por estatística descritiva para taxas de ocorrências de ulceras e analise de Qui-quadrado (X2) com teste de exato Fisher foram realizados para verificar possível associação entre EGUS, atividade, sexo e idade. Resultados: foi determinada uma ocorrência de úlcera de 45%, sendo a mucosa escamosa (40%) mais comprometida ao longo do Margo plicatus. Entretanto, não houve associação significativa (p>0,05) entre os fatores avaliados e a presença de EGUS. Conclusão: os cavalos estudados da raça BH apresentaram incidência baixa da EGUS apesar de submetidos a situações de estresse, sinalizando para a natureza multifatorial das lesões gástricas nesta subpopulação de equinos.    
Palavras chave: equinos, gastroscopia, mucosa gástrica, úlcera.
|Abstract = 40 veces | PDF = 19 veces| | HTML = 8 veces|
Downloads
Download data is not yet available.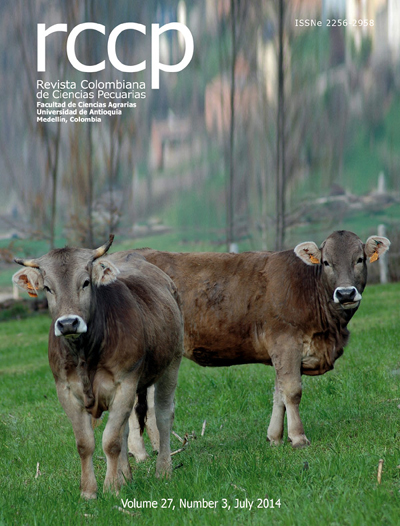 How to Cite
Martinez Aranzales, J. R., De Marval, C. A., & Silveira Alves, G. E. (2014). Ulcerative gastric lesions in Brasileiro de Hipismo horses. Revista Colombiana De Ciencias Pecuarias, 27(3), 211–220. Retrieved from https://revistas.udea.edu.co/index.php/rccp/article/view/324894
Section
Original research articles
License
The authors enable RCCP to reprint the material published in it.
The journal allows the author(s) to hold the copyright without restrictions, and will allow the author(s) to retain publishing rights without restrictions.