Pharmacological treatment with cabergoline in three cats with acromegaly
Keywords:
diabetes, dopaminergic agonist, growth hormone, hypersomatotropism, IGF-1, insulin resistance
Abstract
Anamnesis: Three cats diagnosed with diabetes mellitus (DM) were referred for examination due to the presence of insulin resistance signs, which included polyuria, polydipsia, polyphagia and high fructosamine levels, even with insulin glargine doses greater than 2 U/Kg/application. Clinical and laboratory findings: All patients had enlarged facial features along with increased interdental space. The biochemical tests revealed high IGF-1 concentrations. The magnetic resonance imaging displayed enlarged pituitary gland in one of the cats and images compatible with a pituitary macroadenoma in the other two. Acromegaly was the final diagnosis. Treatment approach: Oral cabergoline at 10 μg/Kg every 48 h was administered. Conclusion: The treatment with cabergoline successfully decreased IGF-1 concentrations and all insulin resistance signs, and it enhanced glycemic control for the DM in the three cats. Our results suggest cabergoline could be used for the treatment of acromegaly in cats.
|Abstract = 400 veces | PDF = 181 veces|
Downloads
Download data is not yet available.
References
Barkan AL. Biochemical markers of acromegaly: GH vs. IGF-I. Growth Hormone & IGF. Research 2004; 14: 97-100.
Castillo VA, Gomez NV, Lalia JC, Blatter MC, Garcia JD. Cushing's disease in dogs: Cabergoline treatment. Res Vet Sci 2008; 85(1):26-34.
Feldman EC. Hyperadrenocorticism in cats. In: Feldman EC, Nelson RW, Reusch CE, Scott-Moncrieff JCR, Behrend EN. Canine & Feline Endocrinology. 4th ed. Elsevier, 2015. p. 452-484.
Fracassi F, Salsi M, Sammartano F, Bo S, Kooistra HS. Acromegaly in a non-diabetic cat. JFMS Reports 2016; 2:1-4.
Gostelow R, Scudder C, Keyte S, Forcada Y, Fowkes RC, Schmid HA, Church DB, Niessen SJ. Pasireotide long-acting release treatment for diabetic cats with underlying hypersomatotropism. J Vet Intern Med 2017; 31(2):355-364.
Katznelson L, Laws ER, Melmed S, Molitch ME, Murad MH, Utz A, Wass JA. Acromegaly: An endocrine society clinical practice guideline. J Clin Endocrinol Metab 2014; 99: 3933-3951.
Khandelwal D, Khadgawat R, Mukund A, Suri A. Acromegaly with no pituitary adenoma and no evidence of ectopic source. Indian J Endocrinol Metab 2011; 15(3):250-252.
Lonser RR, Kindzelski BA, Mehta GU, Jane JA, Oldfield EH. Acromegaly without imaging: Evidence of pituitay adenoma. J Clin Endocrinol Metab 2010; 95(9):4192-4196.
Marazuela M, Ramos AL, Núñez MS, Bernabeu I. Cabergoline treatment in acromegaly: Pros. Endocrine 2014; 46:215-219.
Niessen SJ, Petrie G, Gaudiano F, Khalid M, Smyth JB, Mahoney P, Church DB. Feline acromegaly: An underdiagnosed endocrinopathy? J Vet Intern Med 2007; 21:899-905.
Peterson ME. Acromegaly in cats: Are we only diagnosing the tip of the iceberg? J Vet Intern Med 2007; 21:889-891.
Rains CP, Bryson HM, Fitton A. A review of its pharmacological properties and therapeutic potential in the treatment of hyperprolactinaemia and inhibition of lactation. Drugs 1995; 49:255.
Reusch CE. Disorders of growth hormone. In: Feldman EC, Nelson RW, Reusch CE, Scott-Moncrieff JCR and Behrend. EN. Canine & Feline Endocrinology. 4th ed. Elsevier, 2015. p. 37-76.
Scott-Moncrieff JC. Insulin resistance in cats. Vet Clin North Am Small Anim Pract 2010; 40(2):241-257.
Wanke MM, Romagnoli S, Verstegen J, Concannon PW. Pharmacological approaches to pregnancy termination in dogs and cats including the use of prostaglandins, dopamine agonists, and dexamethasone. Recent Advances in Small Animal Reproduction. International Veterinary Information Services. 2002.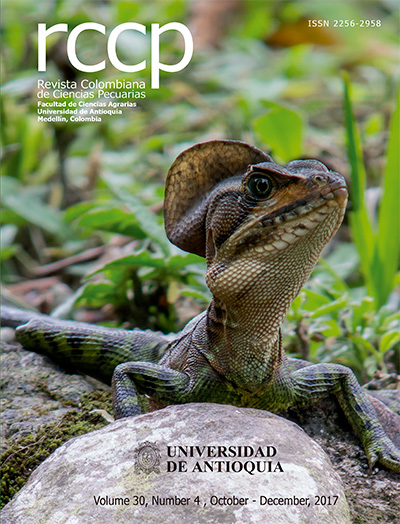 Downloads
How to Cite
Soler Arias, E. A., García, J. D., & Castillo, V. A. (2017). Pharmacological treatment with cabergoline in three cats with acromegaly. Revista Colombiana De Ciencias Pecuarias, 30(4), 316–321. https://doi.org/10.17533/udea.rccp.v30n4a07
License
The authors enable RCCP to reprint the material published in it.
The journal allows the author(s) to hold the copyright without restrictions, and will allow the author(s) to retain publishing rights without restrictions.