Pharmacological treatment with cabergoline in three cats with acromegaly
Elber A Soler Arias

Hospital Escuela, Unidad de Endocrinología, Area de Clínica Médica de Pequeños Animales, Fac. de Ciencias Veterinarias, UBA, Av. Chorroarín 280, Ciudad Autónoma de Buenos Aires, Argentina

Jorge D García

Víctor A Castillo
Abstract
Anamnesis: Three cats diagnosed with diabetes mellitus (DM) were referred for examination due to the presence of insulin resistance signs, which included polyuria, polydipsia, polyphagia and high fructosamine levels, even with insulin glargine doses greater than 2 U/Kg/application. Clinical and laboratory findings: All patients had enlarged facial features along with increased interdental space. The biochemical tests revealed high IGF-1 concentrations. The magnetic resonance imaging displayed enlarged pituitary gland in one of the cats and images compatible with a pituitary macroadenoma in the other two. Acromegaly was the final diagnosis. Treatment approach: Oral cabergoline at 10 μg/Kg every 48 h was administered. Conclusion: The treatment with cabergoline successfully decreased IGF-1 concentrations and all insulin resistance signs, and it enhanced glycemic control for the DM in the three cats. Our results suggest cabergoline could be used for the treatment of acromegaly in cats.Keywords: diabetes, dopaminergic agonist, growth hormone, hypersomatotropism, IGF-1, insulin resistance. ResumenAnamnesis: Tres gatos diagnósticados con diabetes mellitus (DM) fueron referidos para ser examinados debido a la presencia de signos de resistencia a la insulina, que incluían poliuria, polidipsia, polifagia, y de valores elevados de fructosamina, incluso con dosis de insulina glargina mayor a 2 U/Kg/aplicación. Hallazgos clínicos y de laboratorio: Los tres gatos presentaron amplios rasgos faciales con aumento de los espacios interdentales. En la bioquímica sanguínea, la concentración de IGF-1 fue hallada elevada. La imagen por resonancia magnética mostró agrandamiento de la glándula hipófisis en uno de los gatos, e imágenes compatibles con un macroadenoma de hipófisis en los otros dos. El diagnóstico final fue de acromegalia. Abordaje terapéutico: Se administraron 10 μg/Kg de cabergolina cada 48 h, via oral. Conclusión: El tratamiento con cabergolina logró disminuir las concentraciones de IGF-1 y todos los signos de resistencia a la insulina con mejor control glucémico de la DM en los tres gatos. Los anteriores hallazgos sugieren que la cabergolina es una opción viable para el tratamiento de la acromegalia en gatos.Palabras clave: agonista dopaminergico, diabetes, hipersomatotropismo, hormona de crecimiento, IGF-1, insulino resistencia. ResumoAnamnese: Três gatos diagnosticados com diabetes mellitus (DM) foram encaminhados para exame devido à presença de sinais de resistência à insulina, que incluíram poliúria, polidipsia, polifagia e altos níveis de fructosamina, mesmo com doses de insulina glargina superiores a 2 U/Kg/aplicação. Achados clínicos e de laboratório: Os três gatos apresentavam mudanças dos rasgos faciais e aumento do espaço interdental. As provas bioquímicas revelaram altas concentrações de IGF-1. A ressonância magnética mostrou increment do tamanho da glândula pituitária em um dos gatos e imagens compatíveis com um macroadenoma pituitário nos outros dois. Com estes dados chegou-se ao diagnóstico de acromegalia. Enfoque terapêutico: Foram dadas 10 μg/Kg de cabergolina a cada 48 h, via oral. Conclusão: O tratamento com cabergolina diminuiu com sucesso as concentrações de IGF-1 e todos os sinais de resistência à insulina e aumentou o controlo glicémico para a DM nos três gatos. Conclusões anteriores evidenciam que a cabergolina é uma opção viável para o tratamento da acromegalia em gatos.Palavras chave: agonista dopaminérgico, diabetes, hipersomatotropismo, hormona de crescimento, IGF-1, resistência à insulina.
Downloads
Download data is not yet available.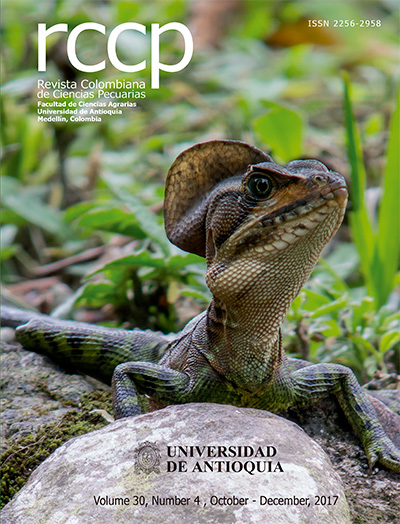 The authors enable RCCP to reprint the material published in it.
The journal allows the author(s) to hold the copyright without restrictions, and will allow the author(s) to retain publishing rights without restrictions.