Design and analytical validation of a duplex PCR for Ehrlichia and Rickettsia detection in ticks
Keywords:
exclusiveness, groEL, inclusiveness, robustness, rRNA 23S
Abstract
Background: Ehrlichia and Rickettsia are two major rickettsial genera transmitted by ticks that affect a number of wild and domestic animal species and human populations around the world. Objective: To design and validate a duplex PCR for Ehrlichia and Rickettsia in ticks. Methods: Assay validation included testing for sensitivity, specificity, reproducibility, and robustness of the PCR. The groEL and 23sr RNA genes were used for Ehrlichia and Rickettsia, respectively. Results: The limit of detection was one hundred gene copies per 50 μL of reaction for Ehrlichia spp, and one gene copy of Rickettsia per 50 μL of reaction. In general, the primers of the test only amplified in silico those bacterial agents for which they were originally designed, with the exception of the primers for Rickettsia that also amplified Methylocystis sp. The test was reproducible (intermediate precision) 96.7% of the times for both agents. The test was robust enough to tolerate concentration changes of all reagents with the exception of Taq DNA polymerase. Conclusions: The validation results indicated that this PCR is useful for detection in both bacterial genera and it is a good candidate for diagnostic validation.
|Abstract = 163 veces | PDF = 130 veces|
Downloads
Download data is not yet available.
References
Bowman DD. Introduction to the alpha-proteobacteria: Wolbachia and Bartonella, Rickettsia, Brucella, Ehrlichia, and Anaplasma. Top Companion Anim Med 2011; 26:173–7. doi:10.1053/j.tcam.2011.09.002.
Cabezas-Cruz A, Zweygarth E, Vancova M, Broniszewska M, Grubhoffer L, Maria L, Passos F, Ribeiro M, Alberdi P, De la fuente J. Ehrlichia minasensis sp. nov., isolated from the tick Rhipicephalus microplus. Int J Syst Evol Microbiol 2016. 66:1426–1430. doi:10.1099/ijsem.0.000895.
Corales JMI, Viloria VV, Venturina VM, Mingala CN. The prevalence of Ehrlichia canis, Anaplasma platys and Babesia spp. in dogs in Nueva Ecija, Philippines based on multiplex polymerase chain reaction (mPCR) assay. Ann Parasitol 2014; 60:267–272.
Dantas-Torres F, Chomel BB, Otranto D. Ticks and tick-borne diseases: a One Health perspective. Trends Parasitol 2012; 28:437–46. doi:10.1016/j.pt.2012.07.003.
Doyle CK, Labruna MB, Breitschwerdt EB, Tang YW, Corstvet RE, Hegarty BC, Bloch KC, Li P, Walker DH, McBride JW. Detection of medically important Ehrlichia by quantitative multicolor TaqMan real-time polymerase chain reaction of the dsb gene. J Mol Diagn 2005; 7:504–510. doi:10.1016/S1525-1578(10)60581-8.
Dumler JS, Walker DH. Tick-borne ehrlichioses. Lancet Infect Dis 2001; 1(Suppl.1):21–28. doi:10.1016/S1473-3099(09)70296-8.
Hidalgo M, Sánchez R, Orejuela L, Hernández J, Walker DH, Valbuena G. Prevalence of antibodies against spotted fever group rickettsiae in a rural area of Colombia. Am J Trop Med Hyg 2007; 77(2):378–380.
Jado I, Escudero R, Gil H, Jiménez-Alonso MI, Sousa R, García-Pérez AL, Rodríguez-Vargas M, Lobo B, Anda P. Molecular method for identification of Rickettsia species in clinical and environmental samples. J Clin Microbiol 2006; 44:4572–4576. doi:10.1128/JCM.01227-06.
Killmaster LF, Loftis AD, Zemtsova GE, Levin ML. Detection of Bacterial Agents in Amblyomma americanum (Acari: Ixodidae) From Georgia, USA, and the Use of a Multiplex Assay to Differentiate Ehrlichia chaffeensis and Ehrlichia ewingii. J Med Entomol 2014; 51:868–872. doi:10.1603/ME13225.
Kledmanee K, Suwanpakdee S, Krajangwong S, Chatsiriwech J, Suksai P, Suwannachat P, Sariya L, Buddhirongawatr R, Charoonrut P, Chaichoun K, Pathom N. Development of Multiplex Polymerase Chain Reaction for Detection of Ehrlichia Canis, Babesia spp y Hepatozoon canis in canine blood. Southeast Asian J Trop Med Public Heal 2009; 40:35–39.
Levine JM, Levine GJ, Chandler K, Kenny P, Nghiem P, Wei S, Greene CE, Kent M, Platt SR, Greer K, Schatzberg SJ, Samples C. Evaluation of Brain Tissue or Cerebrospinal Fluid with Broadly Reactive Polymerase Chain Reaction for Ehrlichia, Anaplasma, Spotted Fever Group Rickettsia, Bartonella, and Borrelia Species in Canine Neurological Diseases (109 Cases).J Vet Intern Med 2010; 24:372–378. doi:10.1016/S1590-8658(10)60628-7.
Loftis AD, Massung RF, Levin ML. Quantitative Real-Time PCR Assay for Detection of Ehrlichia chaffensis. J Clin Microbiol2003; 41(8):3870–3872. doi:10.1128/JCM.41.8.3870.
Loftis AD, Reeves WK, Szumlas DE, Abbassy MM, Helmy IM, Moriarity JR, Dasch G. Rickettsial agents in Egyptian ticks collected from domestic animals. Exp Appl Acarol 2006; 40:67–81. doi:10.1007/s10493-006-9025-2.
Loftis AD, Reeves WK, Szumlas DE, Abbassy MM, Helmy IM, Moriarity JR, Dasch G. Surveillance of Egyptian fleas for agents of public health significance: Anaplasma, bartonella, coxiella, ehrlichia, rickettsia, and Yersinia pestis. Am J Trop Med Hyg 2006; 75:41–48. doi:75/1/41.
Mansueto P, Vitale G, Cascio A, Seidita A, Pepe I, Carroccio A, di Rosa S, Rini GB, Cillari E, Walker DH. New insight into immunity and immunopathology of Rickettsial diseases. Clin Dev Immunol 2012; 967852. doi:10.1155/2012/967852.
Marshall OJ. PerlPrimer: cross-platform, graphical primer design for standard, bisulphite and real-time PCR. Bioinformatics 2004; 20(15):2471-2472.
Massung RF, Slater K, Owens JH, Nicholson WL, Mather TN, Solberg VB, Olson JG. Nested PCR assay for detection of granulocytic ehrlichiae. J Clin Microbiol 1998; 36: 1090–1095.
Moriello KA. Zoonotic skin diseases of dogs and cats. Anim Heal Res Rev 2007; 4:157–168. doi:10.1079/AHRR200355.
Moutailler S, Moro CV, Vaumourin E, Michelet L, Tran FH, Devillers E, Cosson JF, Gasqui P, Van VT, Mavingui P, Vourc ́h G, Vayssier-Taussat M. Co-infection of Ticks: The Rule Rather Than the Exception. PLOS Negl Trop Dis. 2016; 10(3):1–17.doi:10.1371/journal.pntd.0004539.
Oteo JA, Nava S, de Sousa R, Mattar S, Venzal JM, Abarca K, Labruna MB, Zavala-Castro J. Guías Latinoamericanas de la RIICER para el diagnóstico de las rickettsiosis transmitidas por garrapatas. Rev Chil Infectol 2014; 31(1):54–65.
Paris DH, Blacksell SD, Stenos J, Graves SR, Unsworth NB, Phetsouvanh R, Newton PN, Day NPJ. Real-time multiplex PCR assay for detection and differentiation of rickettsiae and orientiae. Trans R Soc Trop Med Hyg 2008; 102:186–193. doi:10.1016/j.trstmh.2007.11.001.
Peleg O, Baneth G, Eyal O, Inbar J, Harrus S. Multiplex real-time qPCR for the detection of Ehrlichia canis and Babesia canis vogeli. Vet Parasitol 2010; 173:292–299. doi:10.1016/j.vetpar.2010.06.039.
Pfäffle M, Littwin N, Muders SV, Petney TN. The ecology of tick-borne diseases. Int J Parasitol 2013; 43:1059–77. doi:10.1016/j.ijpara.2013.06.009.
Quarsten H, Skarpaas T, Fajs L, Noraas S, Kjelland V. Tick-borne bacteria in Ixodes ricinus collected in southern Norway evaluated by a commercial kit and established real-time PCR protocols. Ticks Tick Borne Dis 2015; 6:538–544. doi:10.1016/j.ttbdis.2015.04.008.
Quintero-Vélez JC, Hidalgo M, Rodas-González JD. Rickettsiosis, una enfermedad letal emergente y re-emergente en Colombia. Univ Sci 2012; 17:82–99.
Rar V, Golovljova I. Anaplasma, Ehrlichia, and "Candidatus Neoehrlichia" bacteria: pathogenicity, biodiversity, and molecular genetic characteristics, a review. Infect Genet Evol 2011; 11:1842–61. doi:10.1016/j.meegid.2011.09.019.
Regnery RL, Spruill CL, Plikaytis BD. Genotypic identification of rickettsiae and estimation of intraspecies sequence divergence for portions of two rickettsial genes. J Bacteriol 1991; 173:1576–1589.
Roux V, Rydkina E, Eremeeva M, Raoult D. Citrate synthase gene comparison, a new tool for phylogenetic analysis, and its application for the rickettsiae. Int J Syst Bacteriol 1997; 47:252–261. doi:10.1099/00207713-47-2-252.
Rufino CP, Moraes PHG, Reis T, Campos R, Aguiar DCF, McCulloch JA, Meneses AMC, Gonçalves EC. Detection of Ehrlichia canis and Anaplasma platys DNA using multiplex PCR. Vector Borne Zoonotic Dis 2013; 13:846–50. doi:10.1089/vbz.2013.1303.
Socolovschi C, Mediannikov O, Raoult D, Parola P. The relationship between spotted fever group Rickettsiae and ixodid ticks. Vet. Res 2009; 40:34. doi:10.1051/vetres/2009017.
Stevenson HL, Bai Y, Kosoy MY, Montenieri JA, Lowell JL, Chu MC, Gage KL. Detection of novel Bartonella strains and Yersinia pestis in prairie dogs and their fleas (Siphonaptera:Ceratophyllidae and Pulicidae) using multiplex polymerase chain reaction. J Med Entomol 2003; 40:329–337. doi:10.1603/0022-2585-40.3.329.
Sumner JW, Nicholson WL, Massung RF. PCR amplification and comparison of nucleotide sequences from the groESL heat shock operon of Ehrlichia species. J Clin Microbiol 1997; 35:2087–2092.
Thompson JD, Higgins DG, Gibson TJ. CLUSTAL W: improving the sensitivity of progressive multiple sequence alignment through sequence weighting, position-specific gap penalties and weight matrix choice. Nucleic Acid Res 1994; 22:4673–4680.
Warner K, Mitchell J, Stallknecht E, Warner K, Davidson R. Development and use of specific polymerase reaction for the detection of an organism resembling Ehrlichia sp. in white-tailed deer. J Wildl Dis 1997; 33:246–253.
Ye J, Coulouris G, Zaretskaya I, Cutcutache I, Rozen S, Madden TL. Primer-BLAST: A tool to design target-specific primers for polymerase chain reaction. BMC Bioinformatics 2012; 13:134.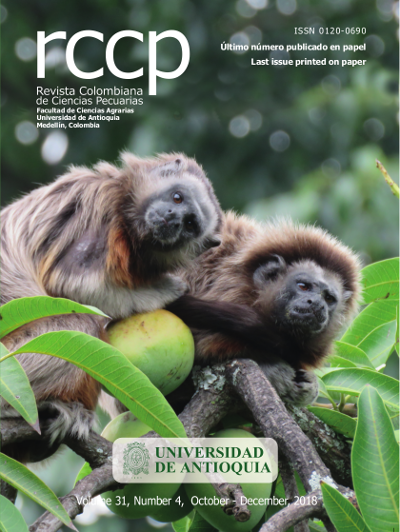 Downloads
How to Cite
Pérez Pérez, J. C., Montoya Ruiz, C., Arroyave Sierra, E., Paternina, L. E., & Rodas, J. D. (2018). Design and analytical validation of a duplex PCR for Ehrlichia and Rickettsia detection in ticks. Revista Colombiana De Ciencias Pecuarias, 31(4), 285–294. https://doi.org/10.17533/udea.rccp.v31n4a05
Section
Original research articles
License
Copyright (c) 2017 Revista Colombiana de Ciencias Pecuarias
This work is licensed under a Creative Commons Attribution-NonCommercial-ShareAlike 4.0 International License.
The authors enable RCCP to reprint the material published in it.
The journal allows the author(s) to hold the copyright without restrictions, and will allow the author(s) to retain publishing rights without restrictions.