Angustia e mulher
Elisabeth da Rocha Miranda

Universidade Veiga de Almeida
Palabras clave:
castração, feminino, angustia, mulher.
Resumen
O artigo visa discutir, a partir dos postulados por Freud e Lacan, a possibilidade de uma angústia específica à mulher. Não há universal feminino e a posição feminina de um sujeito é referida ao modo como ele se relaciona com o gozo, isto é, situando-se do lado do gozo não-todo fálico. A questão seria então melhor formulada: haveria uma angustia específica da não-toda fálica? A angústia nas mulheres pode ser experimentada em aspectos diferentes; a angústia da mulher histérica cuja defesa é a inveja do pênis e a eternização da reivindicação fálica; a angústia da mãe que presentifica a possibilidade da perda do filho enquanto falo. Mas a angústia própria à mulher, ao não-toda fálica, é esta que tem relação direta com o S(A) com a falta no Outro, com o gozo experimentado como infinito.
Palavras-chave: castração, feminino, angustia, mulher.
ANGUISH AND WOMAN
Abstract
The article tries to discuss, based on Freud and Lacan premises, the possibility of a specific anguish in women. There is neither a female universe nor a female position in an individual more referred to the manner as it is related to the jouissance (sexual pleasure); i.e., being beside no- quite phallic jouissance. The question, then, would be better asked: would there be a no-quite phallic specific anguish? The anguish in women can be experimented in different aspects; the anguish of the hysterical woman whose defense is the envy of the penis and the perpetuation of the phallic claim; the anguish of a mother who thinks about the possibility of losing her child as phallus. But the proper anguish of woman, no-quite phallic, is that which is directly related to S(A) the lack in the Other, with the jouissance experimented as infinite.
Keywords: castration, feminine, anguish, woman
ANGOISSE ET FEMME
Resumé
Cet article à l'intention de discuter, en partant des postulats de Freud et Lacan, la possibilité d'une angoisse particulière chez les femmes. Il n'y a de féminin universel ni de position féminine chez un sujet que rapportée à la façon dont il se met en relation avec la jouissance, c'est-à- dire, en se plaçant du côté de la jouissance pas-toute phallique. La question serait donc mieux posée ainsi: aura-t-il une angoisse particulière de la jouissance du pas-tout phallique? L'angoisse chez les femmes peut être vécue dans des différents aspects. L'angoisse chez la femme hystérique dont la défense est la jalousie du pénis et la perpétuation de la revendication phallique. L'angoisse d'une mère qui fait présente la possibilité de perdre son enfant parmi autant des phalles. Mais l'angoisse propre de la femme, pas-toute-phallique, est celle qui a une relation directe avec S(A) le manque chez l'Autre, avec la jouissance vécue comme infinie. 
Mots clés: castration, féminin, angoisse, femme.
ANGUSTIA Y MUJER
Resumen
El artículo pretende discutir, a partir de los postulados de Freud y Lacan, la posibilidad de una angustia específica en las mujeres. No hay un universal femenino ni una posición femenina en un sujeto más que referida al modo como se relaciona con el goce, es decir, situándose del lado del goce no-todo fálico. La pregunta sería entonces mejor formulada: ¿habría una angustia específica del no-toda fálica? La angustia en las mujeres puede ser experimentada en diferentes aspectos; la angustia de la mujer histérica cuya defensa es la envidia del pene y la perpetuación de la reivindicación fálica; la angustia de una madre que hace presente la posibilidad de perder a su hijo en tanto falo. Pero la angustia propia de la mujer, no-toda fálica, es esta que tiene relación directa con S(A) la falta en el Otro, con el goce experimentado como infinito.
Palabras clave: castración, femenino, angustia, mujer.
|Resumen = 300 veces | PDF = 745 veces|
Descargas
La descarga de datos todavía no está disponible.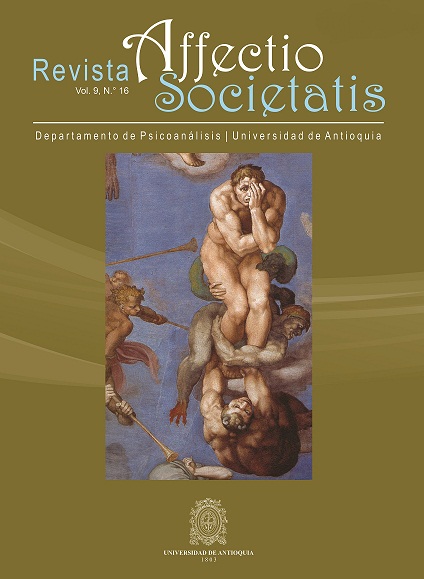 Sección
Artículos de Reflexión
Esta obra está bajo una
Licencia Creative Commons Atribución-NoComercial 4.0 Internacional
.
Los autores autorizan a la Revista a publicar sus trabajos académicos no sólo en la página web de la misma, sino también en cualquier otro medio escrito o electrónico de ella, así como en las bases de datos a las cuales acceda la Revista. Affectio Societatis reconoce que los derechos morales y la decisión de publicar sus trabajos posteriormente en otros medios de publicación compete exclusivamente a los autores, en cuyo caso éstos último habrán de hacer expreso reconocimiento de los créditos debidos a Affectio Societatis.
COPYRIGHT NOTICE
Authors authorize the Journal to publish their academic writings in the Journal's webpage and in any other printed or electronic media propriety of the Journal, as well as in the databases the Journal is registered in. Affectio Societatis acknowledges that moral rights and decision criteria for the material's subsequent publication in other media falls exclusively within the author's authority, who for such cases is prompted to give explicit credit to Affectio Societatis..