VALIDACIÓN DE UN TEST DE CARRERA SOBRE 3200 M. PARA LA DETERMINACIÓN DEL CONSUMO MÁXIMO DE OXIGENO Y DE LAS FRACCIONES AERÓBICA-ANAERÓBICAS A CONCENTRACIONES DEFINIDAS DE LACTATO PLASMÁTICO EN CORREDORES DE FONDO
Resumen
Basados en la metodología descrita por Weltman y col. (1987) se validó el test de 3200 m en 10 corredores de fondo (edad 23.0 ± 3.8 años, peso 59.6 ± 4.9 kg, talla 171.4 ± 5.2 cm., porcentaje de grasa 10.7 ± 0.3%). Se determinó la potencia aeróbica máxima (VO2 max.) mediante análisis directo, y la utilización de las fracciones aeróbicas (% VO2 max) a niveles de 2.0, 2.5 y 4.0 m moles de lactato plasmático y se estableció su correlación con el tiempo de carrera y velocidad máxima media en 3200 m de cada uno de los atletas en carrera en pista sintética. El V02 max. fue de 66.2 ± 4.2 ml/kg min y la frecuencia cardíaca máxima de 201.8 ± 5.4 ppm sobre la banda rodante. Los valores porcentuales del VO2 a 2.0, 2.5 y 4.0 m moles fueron 76.7 ± 6.7, 83.0 ± 6.3 y 90.1 ± 4.5, respectivamente.
Los valores máximos logrados en el test de 3200 m fueron de 9:48.0*04.09 minutos (rango 9:20.5 -10:21.0), la velocidad media máxima de 328.5 ± 3.6 m/min y la frecuencia cardíaca máxima de 187.3 ± 6.4 ppm. La correlación V02 max V.S. velocidad máxima media de carrera que r = 0.92 (a = 66.3, b = 0.403, p < 0.05) y con V02 max V.S. tiempo de carrera de r = -0.935 (a = 203, 8, b = 14,15, p < 0.05). Al comparar los valores obtenidos en el presente estudio con los reportados por Weltman y Col. (1987) se encontraron diferencias significativas en la edad (p > 0.0 l),talla (p > 0.05), peso (p > 0.01), tiempo de carrera (p > 0.01), VO2 max. a 2.0 m. mol. (p > 0.01) y frecuencia cardíaca máxima (p > 0.01).
|Resumen = 264 veces | PDF = 23 veces|
Descargas
Los datos de descargas todavía no están disponibles.
Citas
1. American College Of Sports Medicine: Position statement of the recomended quantity and quality of exercise for developing and maintaining fitness in healthy adults. Med Sci Sports 10: 10-10, 1978.
2. Anderson G. S. y Rhodes E. C: A review of blood lactate and ventilatory methods of detecting transition threshold. Sports Med 8 (1): 43-55, 1989.
3. Arnheim D. D. y Klafs C. E.: Athletic Training, a study and laboratory guide. C. V. Mosby, 1978.
4. Boileau, R. A., Mayhew J. L., Reiner W. F. y Lussier L.: Physiological characteristics of elite middle and long distance runners. Can J appl Sports Sci 7:167-172, 1982.
5. Carter J. E. L.: Physical structure of olimpic athletes. Part II. Kineanthropometry of olimpic athletes No. 18. Medicine and Sport Science (ed. E. Jokl y M. Hebbelinck), Karger, 1984.
6. Costill D. L.: Inside rurming. Basics of sport physiology. Benchmark Press, 1986.
7. Daniels J. T.: A physiologist view of running economy. Med Sci Sports Exerc 17 (3): 332-338, 1985.
8. Dwyer J. y Bibeer: Heart rate indices of the an aerobic threshold. Med Sci Sports Exerc 15: 72-76, 1983.
9. Farrell P. A., Wilmore J. H., Coyle E. F., Billing J. E. y Costill D. L.: Plasma Lactate accumulation and distance running performance Med Sci Sports 11: 338-344,1979.
10. Faulkner J. A.: Physiology of swimming and diving en: Falls. J.: Exercise Physiology. Academic Press, 1968.
11. Forenbach R., Mader A y Jollmann W.: Determination of endurance capacity and competition in marathon runners. Int J. Sports Med 8:11-18, 1987.
12. Froehlicher V. F. y Marcondes G. D.: Manual of exercise testing. Yearbook Medical Publishers Inc., 1989.
13. Hammond H. K. y Froehlicher V. F.: Exercise testing for cardiorespiratory fitness. Sports Med 1: 234-239, 1984.
14. Haverrty M., Kenney W. L. y Hodgson J. L.: Lactate and gas exchange responses to incremental and steady state running. Brit J Sports Med 22: 51-54, 1988.
15. Henritze J., Weltman A., Schurrer R. y Barlow K: Effects of training at and abore the lactate threshold and maximal oxygen uptake. Eur J Appl Physiol 56: 84-88, 1985.
16. Holloszy J. 0. y Coyle E. F.: Adaptations of skeletal muscle to endurance exercise and their metabolic consequences J Appl Physiol 56: 838-851,1984.
17. Jacobs. I: Blood lactate: Implications for training and sports performance. Sports performance. Sports Med 3: 10-25, 1986.
18. Karvonen J. y Vuorimaa t.: Heart rate and exercise intensity during sports activities. Sports Medicine (5) 5: 303-311, 1988.
19. Kumagai S., Tanaka S., Matsuura V. y Hirakoba K.: Relationships of the anaerobic Threshold with the 5 km, 10 km y 10 miles races. Eur J Appl Physicol 49:13-23, 1982.
20. Lehmann M., Berg A., Kapp R., Wessinghaget y Keul J: Correlation between laboratory testing and distance running performance in marathoners of similar performance ability. Int J Sports Med 4: 226-230, 1983.
21. Mc. Connell T.: Practical considerations in the testing of V02 max in runners. Sports Med. 5: 57-68, 1988.
22. Morgan D. W., Bacdini F.D., Martin P. E. y Kohrtw. M.: Ten kilometer performance and predicted velocity at V02 max among well trained male runners. Med Sci Sports exerc 21 (1). 78-83, 1989.
23. Morgan D., Martin P. E. y Krakenbuhl G.: Factors affecting running economy. Sport Med 7: 310-330, 1989.
24. Nussbaumer I., Spinks W y Montcrieff J.: Determinants of distance running performance in junior male athletes. Proceedings of the second I. A.A. F. Medical Congress. Australian Institute of Sport, Camberra, 1987.
25. Sjodin B., Jacobsi y Svendehag J.: Changes in onset of blood lactate accumulation (OBLA) and muscle enzymes after training at OBLA. Eur J Appl Physiol 49: 45-47, 1982.
26. Stegmann H., Kindermann W. y Schnabel A.: Lactate kinetics and the individual anaerobic threshold. Int J. Sports. Med. 2: 160-165, 1981.
27. Sjodin, B y Shele R.: Oxigen cost of treadmill running in long distance runners, en: Exercise and Sport Biology, (ed P. V. Komi), Human Kinetics, 1982.
28. Sjodin B. y Jacobs I: Onset of blood lactate accumulation and marathon iruining performance. Int J Sports Med. 2: 166-170, 1981.
29. Tanaka H.: Predicting running velocity at blood lactate threshold from running performance tests in adolescent boys. Eur J Appl Physiol 55: 344-348, 1986.
30. Weltmana., Sneadd.,Seipr.,Schurrerr.,Levines., Rutt R., Reilly T., Weltman J. y Rogol A.: Prediction of lactate threshold and fixed blood lactate concentrations from 3200 m running performance in male runners. Int J Sports Med. 8: 401-406, 1987.
31. Wasserman K: The anaerobic threshold measurement to evaluate exercise performance. Am Rev Respir Dis. 129: Suppl 35-40, 1984.
32. Yoshida T, Suda Y. y Takeuchi N.: Endurance training regimen based upon arterial blood lactate: effects on anaerobic threshold. Eur J Appl Physiol. 49: 223-230, 1982.
33. Yoshidat., Chida M., Ichioka M. y Suda Y.: Blood lactate parameters related to aerobic capacity and endurance performance. Eur J Appl Physiol. 56: 7-11, 1987.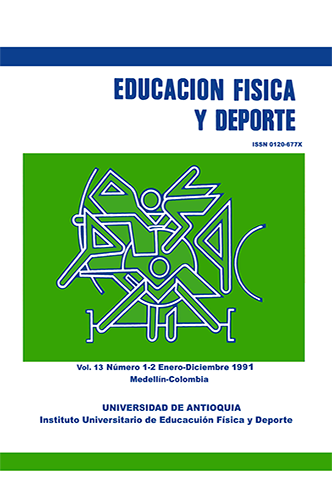 Descargas
Cómo citar
Caldas Zarate, R., Marino Isaza, F., & Valbuena, L. H. (2010). VALIDACIÓN DE UN TEST DE CARRERA SOBRE 3200 M. PARA LA DETERMINACIÓN DEL CONSUMO MÁXIMO DE OXIGENO Y DE LAS FRACCIONES AERÓBICA-ANAERÓBICAS A CONCENTRACIONES DEFINIDAS DE LACTATO PLASMÁTICO EN CORREDORES DE FONDO. Educación Física Y Deporte, 13(1-2), 83–100. Recuperado a partir de https://revistas.udea.edu.co/index.php/educacionfisicaydeporte/article/view/4625
Sección
Artículos de Investigación
Licencia
Política de acceso abierto a contenidos y derechos de autor
El material contenido en la revista puede ser distribuido, mezclado y ajustado para construir a partir de su obra, incluso con fines comerciales, siempre que le sea reconocida la autoría de la creación original.

Esta obra está bajo una licencia de Creative Commons Reconocimiento 4.0 Internacional
Con relación al acceso abierto Educación Física y Deporte, revista editada por la Universidad de Antioquia, adhiere a las declaraciones de:
Educación Física y Deportes no cobra tasas o cargos a autores o caloboradores por la recepción, revisión o publicación de artículos (APC - Article Processing Charges/ publication fee).