Puerperal women's satisfaction with their delivery
Keywords:
Personal satisfaction; obstetrical nursing; parturition; obstetrics.
Abstract
Objective. To assess puerperal women's level of satisfaction with their delivery.
Methodology. A descriptive study was developed at a teaching hospital in São José do Rio Preto (Brazil between July and December 2010. Participants were 200 puerperal women from the neonatal screening service, who completed the Delivery Experience and Satisfaction Questionnaire to measure their satisfaction level. Answer options for each question range between 1 and 10 (maximum satisfaction).
Results. The puerperal women's mean age was 28 years; 96% had a partner; all women had participated in prenatal care; 82% were submitted to caesarean section. Satisfaction with pain management during labor ranged from 8.5 for caesarean section to 6 for normal birth. In comparison with the vaginal birth group, women subject to c-section showed greater satisfaction with postpartum pain intensity (8.7 versus 6.2) and less satisfaction with labor (6.0 versus 8.5) and delivery (7.1 versus 9.0).
Conclusion. Without any difference per delivery type, women's satisfaction level with their delivery was high. Women who underwent caesarean section obtained higher satisfaction scores for postpartum pain management, while women who underwent vaginal birth manifested greater satisfaction with pain control during labor and delivery.
|Abstract = 51 veces | PDF (ENGLISH) = 32 veces| | PDF (PORTUGUÊS) = 17 veces| | HTML(ENGLISH) = 7 veces|
Downloads
Download data is not yet available.
References
(1) Serruya SJ, Cecatti JG, Lago T di G. O Programa de Humanização no Pré-natal e Nascimento do Ministério da Saúde no Brasil: resultados iniciais. Cad Saúde Pública. 2004;20(5):1281-9.
(2) Barcellos LG, Souza AOR, Machado CAF. Cesariana: uma visão bioética. Rev Bioética. 2009;17(3):497-510.
(3) Uzcátegui UO, Cabrera C. Aspectos bioéticos de la cesárea y consentimiento informado. Rev Obstet Ginecol Venez. 2010;70(1):47-52.
(4) Ministério da Saúde. O modelo de atenção obstétrica no setor de Saúde Suplementar no Brasil: cenários e perspectivas [Internet]. Rio de Janeiro: Ministério da Saúde; 2008 [cited 2010 January 16]. Available in: http://bvsms.saude.gov.br/bvs/publicacoes/livro_parto_web.pdf
(5) Velasco LA, Barroso MTS, Segura MH, Martínez ER, Perales S, González-Acosta V, et al. Influencia de la analgesia epidural en el parto [Internet]. [cited 2010 April 16]. Available in: http://dialnet.unirioja.es/servlet/articulo?codigo=3147815
(6) Birnbach DJ, Bucklin BA, Dexter F. Impact of anesthesiologists on the incidence of vaginal birth after cesarean in the United States: role of anesthesia availability, productivity, guidelines, and patient safety. Semin Perinatol. 2010;34(5):318-24.
(7) Ministério da Saúde. Saúde incentiva parto normal [Internet]. Brasília: Ministério da Saúde [cited 2010 March 29]. Available in: http://portal.saude.gov.br/portal/saude/visualizar_texto.cfm?idtxt=33908
(8) Ministério da Saúde. Campanha incentivo ao parto normal [Internet]. Brasília: Ministério da Saúde [cited 2010 January 20]. Available in: http://portal.saude.gov.br/portal/aplicacoes/campanhas_publicitarias/campanha_detalhes.cfm?co_seq_campanha=1765
(9) Faneite P, Rivas M. Mortalidad materna: tragedia prevenible? Hemos avanzado? Rev Obstet Ginecol Venez. 2010;70(1):24-30.
(10) Bruzadeli, DS, Tavares BB. Expectativa quanto ao parto e conhecimento do motivo da cesárea: entre puérperas adolescentes e adultas. Rev Eletr Enf. 2010;12(1):150-7.
(11) Melchiori LE, Maia ACB, Bredariolli RN, Hory RI. Preferência de gestantes pelo parto normal ou cesariano. Interação Psicol. 2009;13(1):13-23.
(12) Domingues RMSM, Santos EM, Leal MC. Aspectos da satisfação das mulheres com a assistência ao parto: contribuição para o debate. Cad Saúde Pública. 2010;20(Suppl 1):S52-S62.
(13) Costa R, Figueiredo B, Pacheco A, Marques A, Pais A. Questionário de experiência e satisfação com o parto (QESP). Psicol Saúde Doenças. 2004;5(2):159-87.
(14) Salim R, Shalev E. Health implications resulting from the timing of elective cesarean delivery. Reprod Biol Endocrinol. 2010;8:68.
(15) Lally JE, Murtagh MJ, Macphail S,Thomson R. More in hope than expectation: a systematic review of women's expectations and experience of pain relief in labour. BMC Med. 2008;6: 7:7.
(16) Silva, AC de S. Vivências da maternidade:expectativas e satisfação das mães no parto. [Dissertation] Coimbra: Faculdade de Psicologia e de Ciências da Educação, Universidade de Coimbra; 2010.
(17) Davim RMB, Torres GV, Dantas JC. Efetividade de estratégias não farmacológicas no alívio da dor de parturientes no trabalho de parto. Rev Esc Enferm USP. 2009;4(2):438-45.
(18) Lopes CV, Meincke SMK, Carraro TE, Soares MC, Reis SP, Heck RM. Experiências vivenciadas pela mulher no momento do parto e nascimento de seu filho. Cogitare Enferm. 2009;14(3):484-90.
(19) Oliveira ASS, Rodrigues DP, Guedes MVC, Felipe GF. Percepção de mulheres sobre a vivência do trabalho de parto e parto. Rev Rene. 2010;11(Esp):32-41.
(20) Oliveira ASS, Rodrigues DP, Guedes MVC, Felipe GF, Galiza FT, Monteiro LC. O acompanhante no momento do trabalho de parto e parto: percepção de puérperas. Cogitare Enferm. 2011;16(2):247-53.
(21) Cardoso PO, Alberti LR, Petroianu A. Morbidade neonatal e maternas relacionada ao tipo de parto. Ciênc Saúde Coletiva. 2010;15(2):427-35 .
(22) Odinino NG, Guirardello EB. Satisfação da puérpera com os cuidados de enfermagem recebidos em um alojamento conjunto. Texto Contexto Enferm. 2010;19(4):682-90.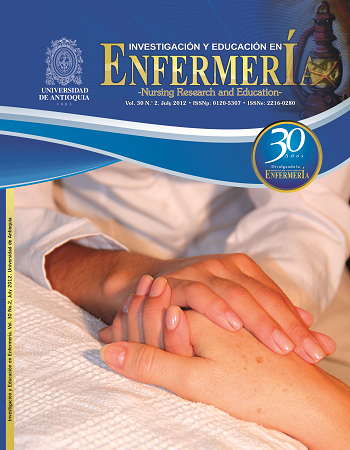 Downloads
How to Cite
Tavares, B. B., Leite Belisário, C. R., & Cicuto, A. G. (2012). Puerperal women's satisfaction with their delivery. Investigación Y Educación En Enfermería, 30(2). Retrieved from https://revistas.udea.edu.co/index.php/iee/article/view/11122
Section
ORIGINAL ARTICLES / ARTÍCULOS ORIGINALES / ARTIGOS ORIGINAIS
License
Derechos de propiedad / Direitos de Propriedade
English: If the article is accepted for publication, all copyright will be of exclusive property of Investigación y Educación en Enfermería. The text and the graphics included in the publication are exclusive responsibility of the authors and not necessarily reflect the thought of the Editorial Committee.
Español: Si el artículo es aprobado para publicación, todos los derechos son de propiedad de Investigación y Educación en Enfermería. El texto y las gráficas incluidas en la publicación son de exclusiva responsabilidad de los autores y no necesariamente refleja el pensamiento del Comité Editorial.
Português: Se o artigo for aceito para publicação, todos os direitos autorais serão de propriedade exclusiva de Investigación y Educación en Enfermería. O texto e os gráficos incluídos na publicação são de responsabilidade exclusiva dos autores e não refletem necessariamente o pensamento do Comitê Editorial.