Experience of nursing staff facing the hospitalization of burned children
Keywords:
Child; burn units; burns; nursing team.
Abstract
Objective. To present the experiences of nursing staff working with hospitalized burned children.
Methodology. Qualitative study. Data were obtained from semi-structured interviews applied to 16 people of the nursing team (12 professional technicians and 4) working at a burn treatment center. For the analysis, the Method information Interpretation of the Senses was used. The theoretical basis used to support the discussion of the study was proposed by Geertz's interpretive anthropology.
Results. The narratives showed that the process of care to burned children is stressful for the participants because they are psychologically involved with the tragic story of a patient who suffered burns, and therefore with the clinical situation. This allows for the development of empathy. On the other hand there cultural involvement facing and accepting the consequences of what happened to the patient, due to the change of body image stigma that the child will suffer hamper the re-socialization of the child after discharge.
Conclusion. The nursing team is affected in various ways during the care of hospitalized burned children. There is need for educational programs for their preparation in the care of these patients.
|Abstract = 164 veces | RESUMEN | RESUMO = 9 veces| | PDF (ENGLISH) = 68 veces| | HTML (ENGLISH) = 5 veces| | HTML (PORTUGUES) = 62 veces|
Downloads
Download data is not yet available.
References
(1) Vendrusculo TM, Balieiro CRB, Echevarría-Guanilo ME, Farina Junior JA, Rossi LA. Burns in the domestic environment: characteristics and circumstances of accidents. Rev Latino-Am Enfermagem. 2010; 18(3):444-51.
(2) Ministério da Saúde. Banco de dados do Sistema Único de Saúde – DATASUS [Web site]. Brasilia: Ministério da Saúde; 2013 [cited 6 Jan 2013]. Available from : http://www.datasus.gov.br.
(3) Takejima M, Netto FB, Toebe BL, Andretta MA, Prestes MA, Takaki JL. Prevenção de queimaduras: avaliação do conhecimento sobre prevenção de queimaduras em usuários das unidades de saúde de Curitiba. Rev Bras Queimaduras. 2011; 10(3):85-8.
(4) Guerrero GZ. Reacciones emocionales de los niños hospitalizados con quemaduras, así como de sus familiares. Rev. latinoam. psicopatol. Fundam. 2008; 11(1):29-38.
(5) Spanholtz TA, Theodorou P, Amini P, Spilker G. Severe burn injuries: acute and long-term treatment. Dtsch Arztebl Int. 2009; 106(38):607–13.
(6) Gomes ILV, Caetano R, Jorge MSB. Compreensão das mães sobre a produção do cuidado pela equipe de saúde de um hospital infantil. Rev Bras Enferm. 2010; 63(1):84-90.
(7) Grau C, Hawrylak MF. Familia y enfermedad crónica pediátrica. An Sist Sanit Navar. 2010; 33(2):203-12.
(8) Lima EMLJ, Novaes FN, Piccolo NS, Serra MCVFS. Tratado de queimaduras no paciente agudo. 2nd Ed. São Paulo: Atheneu; 2008. 646 p.
(9) Schwartz RJ, Chirino CN, Sáenz SV, Rodríguez TV. Algunos aspectos del manejo del paciente quemado en un servicio de cirugía infantil: a propósito de 47 pacientes pediátricos. IIa. Parte. Rev Argent Dermatol. 2008; 89:165-73.
(10) Gomes R. Análise e interpretação de dados de pesquisa qualitativa. In: Minayo MC S. Pesquisa social: teoria, método e criatividade. 27th Ed. Rio de Janeiro: Vozes; 2008. P. 79-108.
(11) Geertz C. A interpretação das culturas. Rio de Janeiro: Livros Técnicos e Científicos; 1989. 273 p.
(12) Quirino DD, Collet N, Neves AFGB. Hospitalização infantil: concepções da enfermagem acerca da mãe acompanhante. Rev Gaúcha Enferm. 2010; 31(2):300-6.
(13) Rossi LA, Camargo C, Santos CMNM, Barruffin RCP, Carvalho EC. A dor da queimadura: terrível para quem sente, estressante para quem cuida. Rev Latino-Am Enferm. 2000; 8(3):18-26.
(14) Trevisan EMBM. A dinâmica satisfação-sofrimento e a qualidade de vida no trabalho de uma equipe de saúde no atendimento à criança queimada. [Dissertation]. Florianópolis: Doutorado em Engenharia de Produção, Universidade Federal de Santa Catarina; 2005.
(15) Tacla MTGM, Hayashida M, Lima RAG. Registros sobre dor pós-operatória em crianças: uma análise retrospectiva de hospitais de Londrina, PR, Brasil. Rev Bras Enferm. 2008; 61(3):289-95.
(16) Viana FP, Resende SM, Tolêdo MC, Silva RC. Aspectos epidemiológicos das crianças com queimaduras internadas no Pronto Socorro para Queimaduras de Goiânia – Goiás. Rev Eletr Enferm. 2009; 11(4):779-84.
(17) Rossi LA, Ferreira E, Costa ECFB, Bergamasco EC, Camargo C. Prevenção de queimaduras: percepção de pacientes e de seus familiares. Rev Latino-Am Enferm. 2003; 11(1):36-42.
(18) Rossi LA. O processo de cuidar da pessoa que sofreu queimaduras: significado cultural atribuído por familiares. Rev Esc Enferm USP. 2001; 35(4):336-45.
(19) Rossi C, Rodrigues B. The implications of the hospitalization for the child, his family and nursing team. A descriptive exploratory study. Online Braz J Nurs [Internet]. [cited Oct 19 2012]; 2007 ; 6(3). Available from: http://www.objnursing.uff.br/index.php/nursing/article/view/1110
(20) Faquinello P, Higarashi IH, Marcon SS. Atendimento humanizado em unidade pediátrica: percepção do acompanhante da criança hospitalizada. Texto Contexto Enferm. 2007; 16(4): 609-16.
(21) Rocha HJS, Lira SVG, Abreu RNDC, Xavier EP, Vieira LJES.Perfil dos acidentes por líquidos aquecidos em crianças atendidas em centro de referência de fortaleza. Rev Bras Promoç Saude. 2007; 20(2): 86-91.
(22) Schneider CM, Medeiros LG. Criança hospitalizada e o impacto emocional gerado nos pais. Unoesc Ciênc ACET. 2011; 2(2):140-54.
(23) Bortolote GS, Brêtas JRS. O ambiente estimulador ao desenvolvimento da criança hospitalizada. Rev. Esc. Enferm. 2008; 42(3): 422-429.
(24) Albano MAS, Correa I. Lectura de cuentos infantiles como estrategia de humanización en el cuidado del niño encamado en ambiente hospitalario. Invest Educ Enferm. 2011; 29(3): 370-80.
(25) Goffman E. Estigma: notas sobre a manipulação da identidade deteriorada. 4th Ed. Rio de Janeiro: LTC; 1988. 124 p.
(26) Gualda DMR; Hoga LAK. Pesquisa etnográfica em enfermagem. Rev Esc Enf USP. 1997; 31(3):410-22.
(27) Lopes, DMQ. Prazer, sofrimento e estratégias defensivas dos agentes comunitários de saúde no trabalho. [Dissertation]. Santa Maria: Mestrado em Enfermagem, Universidade Federal de Santa Maria; 2010.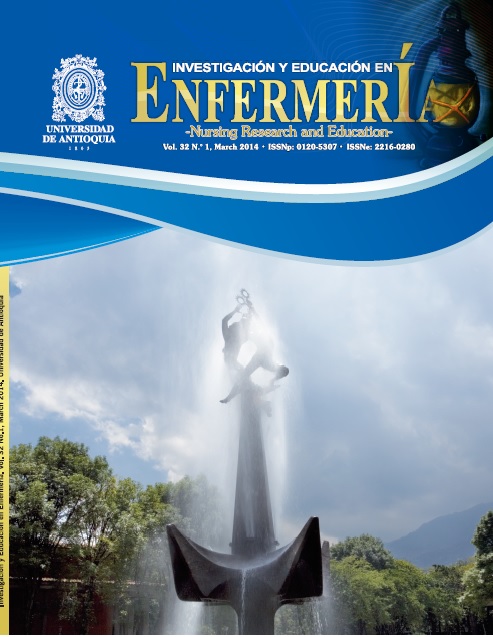 How to Cite
Inocencio Soares, N. T., & Grubisich Mendes Tacla, M. T. (2014). Experience of nursing staff facing the hospitalization of burned children. Investigación Y Educación En Enfermería, 32(1). Retrieved from https://revistas.udea.edu.co/index.php/iee/article/view/18567
Section
ORIGINAL ARTICLES / ARTÍCULOS ORIGINALES / ARTIGOS ORIGINAIS
License
Derechos de propiedad / Direitos de Propriedade
English: If the article is accepted for publication, all copyright will be of exclusive property of Investigación y Educación en Enfermería. The text and the graphics included in the publication are exclusive responsibility of the authors and not necessarily reflect the thought of the Editorial Committee.
Español: Si el artículo es aprobado para publicación, todos los derechos son de propiedad de Investigación y Educación en Enfermería. El texto y las gráficas incluidas en la publicación son de exclusiva responsabilidad de los autores y no necesariamente refleja el pensamiento del Comité Editorial.
Português: Se o artigo for aceito para publicação, todos os direitos autorais serão de propriedade exclusiva de Investigación y Educación en Enfermería. O texto e os gráficos incluídos na publicação são de responsabilidade exclusiva dos autores e não refletem necessariamente o pensamento do Comitê Editorial.