Nursing students attitudes across the suicidal behavior
Keywords:
Students, nursing, attitude, suicide.
Abstract
Objective. Examine the attitudes of nursing students with the suicidal behavior before and after a training course on the subject.
Methodology. Performed quantitative, cross-sectional study, with 58 nursing students from a public university in Minas Gerais (Brazil) who participated in training on the theme. For data collection were used the Questionnaire of Attitudes Before Suicidal Behavior. The questionnaire was applied just before the start and the end of the training measuring attitudes toward suicidal behavior.
Results. Were found statistically significant differences in negative feelings factors on the patient and perception of professional competence (p <0.05). The right factor to suicide was not significantly different among nursing students.
Conclusion. The academic training may have influenced positively the desired changes regarding the attitudes of nursing students across the suicidal behavior.
How to cite this article: Botti NCL, Araújo LMC, Costa EE, Machado JSA. Nursing students attitudes across the suicidal behavior. Invest Educ Enferm. 2015; 33(2):
|Abstract = 350 veces | PDF = 137 veces| | HTML RESUMEN = 7 veces| | HTML ENGLISH = 0 veces| | HTML PORTUGUES = 0 veces|
Downloads
Download data is not yet available.
References
(1) Cassorla RMS. Do suicídio: Estudo brasileiros. Campinas: Papirus; 1991.
(2) Brêtas JRS, Oliveira JR, Yamaguti L. Reflexões de estudantes de enfermagem sobre morte e o morrer. Rev Esc Enferm. USP. 2006; 40(4):477-83.
(3) Friedman T, Newton C, Coggan C, Hooley S, Patel R, Pickard M, et al. Predictors of A&E staff attitudes to self-harm patients who use self-laceration: influence of previous training and experience. J Psychosom Res. 2006; 60:273–7.
(4) Ouzouni C, Nakakis K. Attitudes towards attempted suicide: The development of a measurement. Health Sci J. 2009; 3(4):222-31.
(5) Sun FK, Long A, Boore J. The attitudes of casualty nurses in Taiwan to patients who have attempted suicide. J Clin Nurs. 2007; 16(2):255-63.
(6) Silva VP, Boemer MR. O suicídio em seu mostrar-se a profissionais de saúde. Rev Eletrônica Enferm. 2004; 6(2):143-52.
(7) Luoma JB, Martin CE, Pearson JL. Contact with mental health and primary care providers before suicide: a review of the evidence. Am J Psychiatry. 2012; 159(6):909-16.
(8) Baca E. Intervenciones sobre poblaciones de riesgo. In: Bobes J, Giner J, Saiz J. Suicidio y Psiquiatría. Madrid (ES): Triacastela; 2011. p. 143-61.
(9) McCann T, Clark E, McConnachie S. y Harvey, I. Accident and emergency nurses' attitudes towards patients who self-harm. Accident Emerg Nurs. 2006; 14:4–10.
Nogueira-Martins MCF. Humanização das relações assistenciais: a formação do profissional de saúde. São Paulo: Casa do Psicologo; 2001.
(10) Trebejo AL, Trebejo LAL. Comportamiento del suicidio en ciudad de la Habana. Intervención de enfermería en la atención primaria de salud. Rev Cubana Enferm. 2000; 16(2):78-87.
(11) Kohlrausch E, Lima MADS, Abreu KP, Soares JSF. Atendimento ao comportamento suicida: concepções de enfermeiras de unidades de saúde. Cienc Cuid Saude. 2008; 7(4):468-75.
(12) Botega NJ, Reginato DG, Silva SV, Cais CFS, Rapeli CB, Mauro MLF et al. Nursing personnel attitudes towards suicide: the development of a measure scale. Rev Bras Psiquiatr. 2005; 27(4):315-8.
(13) Nascimento APP. O cuidado prestado a pessoas que tentaram suicídio: questões sobre a formação para o trabalho em saúde. [Dissertation]. Rio de Janeiro (RJ). Programa de Pós-graduação em Educação Profissional. Fundação Oswaldo Cruz – FIOCRUZ; 2011.
(14) World Health Organization. SUPRE - The WHO worldwide initiative for the prevention of suicide. Reported (1950-1995) and estimated (2020) suicide rates in reporting countries. [Internet]. Geneva: WHO; 2000 [cited Apr 2 2014]. Available from: http://www.who.int/mental_health/management/en/SUPRE_flyer1.pdf
(15) Brasil. Ministério da Saúde. Portaria nº 1.876, de 14 de agosto de 2006 - institui as diretrizes nacionais para prevenção do suicídio a ser implantados em todas as unidades federadas, respeitadas as competências das três esferas de gestão. Brasil (DF): Ministério da Saúde; 2006.
(16) Sadala MLA, Silva FM. Cuidando de pacientes em fase terminal: a perspectiva de alunos de enfermagem. Rev Esc Enferm USP. 2009; 43(2):287-94.
(17) Cais CFS. Prevenção do suicídio: estratégias de abordagem aplicadas no município de Campinas-SP. [Dissertation]. Campina (SP). Faculdade de Ciências Médicas da Universidade Estadual de Campinas; 2011.
(18) Bertolote, JM, Mello-Santos C, Botega NJ. Detecção do risco de suicídio nos serviços de emergência psiquiátrica. Rev Bras Psiquiatr. 2010; 32(suppl.2):S87-S95.
(19) Botega NJ, Werlang BG. Comportamento Suicida. Porto Alegre: Artmed; 2004.
(20) Quental IA. Tentativas de suicídio: construindo dispositivos de prevenção, um desafio para o SUS. In: PrevSuicídio UFRGS Acervo (Porto Alegre); 2008. Available from: http://prevencaodosuicidio.ea.ufrgs.br/uploaded/Quental.pdf
(21) Machin R. Nem doente, nem vítima: o atendimento às "lesões autoprovocadas" nas emergências. Ciênc Saúde Colet. 2009; 14(5):1741-50.
(22) Botega NJ. Suicídio e tentativa de suicídio. In: Lafer B, Almeida OP, Fráguas Jr. R (Org). Depressão no ciclo da vida. Porto Alegre: Artes Medicas; 2000. p.157-165.
(23) Estellita-Lins C, Oliveira VM, coutinho MFC. Acompanhamento terapêutico: intervenção sobre a depressão e o suicídio. Psyche. 2006; 10(18):151-66.
(24) Angerami-Camon VA. Tendências em psicologia Hospitalar. São Paulo: Pioneira Thomson Learning; 2004.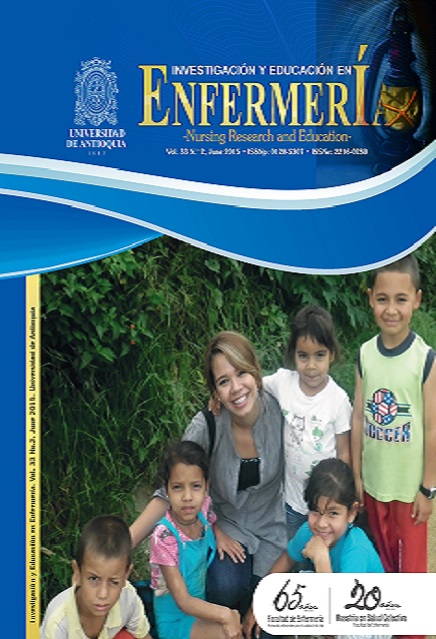 Downloads
How to Cite
Lappann Botti, N. C., Costa de Araújo, L. M., Costa, E. E., & de Almeida Machado, J. S. (2015). Nursing students attitudes across the suicidal behavior. Investigación Y Educación En Enfermería, 33(2). Retrieved from https://revistas.udea.edu.co/index.php/iee/article/view/23015
Section
ORIGINAL ARTICLES / ARTÍCULOS ORIGINALES / ARTIGOS ORIGINAIS
License
Derechos de propiedad / Direitos de Propriedade
English: If the article is accepted for publication, all copyright will be of exclusive property of Investigación y Educación en Enfermería. The text and the graphics included in the publication are exclusive responsibility of the authors and not necessarily reflect the thought of the Editorial Committee.
Español: Si el artículo es aprobado para publicación, todos los derechos son de propiedad de Investigación y Educación en Enfermería. El texto y las gráficas incluidas en la publicación son de exclusiva responsabilidad de los autores y no necesariamente refleja el pensamiento del Comité Editorial.
Português: Se o artigo for aceito para publicação, todos os direitos autorais serão de propriedade exclusiva de Investigación y Educación en Enfermería. O texto e os gráficos incluídos na publicação são de responsabilidade exclusiva dos autores e não refletem necessariamente o pensamento do Comitê Editorial.