Knowledge of folic acid supplementation during pregnancy
Keywords:
Knowledge, public health, folic acid, neural tube, midwifery.
Abstract
Objective. To identify the use of folic acid during pregnancy, as well as the new mothers´ knowledge about folic acid.
Methodology. Quantitative, descriptive exploratory, and prospective study. A total of 198 mothers were interviewed in the pediatric outpatient service of Hospital de Base Sao José do Rio Preto, Brazil. They have taken their children for neonatal screening and formally consented to participating in the study. The research project was approved by the Research Ethics Committee (350,287). A specific instrument was used for data collection. The data were entered into an appropriate spreadsheet and later statistically analyzed. Pearson´s chi-squared test, p <0.15, was used.
Results. On average, the interviewed mothers were 25 years old and received less than two minimum wages. Most had prenatal in the first quartile and a mean of seven appointments, starting the use of folic acid from the 7th to the 9th week of gestational age. However, when asked about the importance of folic acid and its action, almost the majority was not able to answer.
Conclusion.  Although daily acid supplementation is recommended in prenatal care, this study found that consumption is inadequate, contributing to the increased risk of fetal malformation. Healthcare professionals, especially nurses, should develop educational activities for women about the use of folic acid in the pre-gestation period and in the first pregnancy trimester.
How to cite this article:  Tavares BB, Sabino AMNF, Lima JC, Garcia CT. Knowledge of folic acid supplementation during pregnancy. Invest Educ Enferm. 2015; 33(3):
|Abstract = 511 veces | PDF = 186 veces| | HTML RESUMEN = 7 veces| | HTML ENGLISH = 1 veces| | HTML PORTUGUES = 2 veces|
Downloads
Download data is not yet available.
References
(1) Brandalize CPA. Análise dos fatores genéticos e ambientais relacionados ao metabolismo do ácido fólico/ homocisteina como fatores de risco para síndrome de Down e suas malformações maiores [Master's thesis]. Porto Alegre: Universidade Federal do Rio Grande do Sul; 2009.
(2) Molloy AM, Kirke PN, Troendle JF, Burke H, Sutton M, Brody LC, et al. Maternal vitamin B12 status and risk of neural tube defects in a population with high neural tube defect prevalence and no folic acid fortification. Pediatrics. 2009; 123(3):917-23.
(3) Zampieri LB. Síndrome de Down e o metabolismo do folato: analise genética e metabólica [Master's thesis]. São José do Rio Preto: FAMERP; 2009.
(4) Mezzomo CLS, Garcias GL, Sclowitz ML, Sclowitz IT, Brum CB, Fontana T, et al. Prevenção de defeitos do tubo neural: prevalência do uso da suplementação de ácido fólico e fatores associados em gestantes na cidade de Pelotas, Rio Grande do Sul, Brasil. Cad Saúde Pública. 2007; 23(11):2716-26.
(5) Pontes BLE, Passoni SMC, Paganotto M. Importância do ácido fólico na gestação: requerimento e biodisponibilidade. Cad Esc Saúde Nutr. 2008; 1:1-6.
(6) Brognoli BB. Consumo habitual de alimentos ricos em folato como um possível fator de proteção para a Síndrome de Down [Msster's thesis]. Porto Alegre: Universidade Federal do Rio Grande do Sul; 2010.
(7) Lima SMM, Diniz PC, Souza RSA, Melo ASO, Neto CN. Ácido Fólico na prevenção de gravidez acometida por morbidade fetal: aspectos atuais. Feminina. 2009; 37(10):569-75.
(8) Kubota MA. Efeito das concentrações das vitaminas (séricas e da dieta) e do polimorfismo MTHFR C677T na taxa de metilação global do DNA durante o período gestacional [Master's thesis]. São Paulo: USP. Universidade de São Paulo; 2008.
(9) Nascimento CFL. Prevalência de defeitos de fechamento de tubo neural no Vale do Paraíba, SP. Rev Paul Pediatr. 2008; 26(4):372-7.
(10) Takemoto APV, Lourenço FMN. Impacto do uso de ácido fólico sobre os defeitos de fechamento do tubo neural. Perspect Medicas. 2008; 19(1):33-6.
(11) Uehara KS, Rosa G. Associação da deficiência de ácido fólico com alterações patológicas e estratégicas para sua prevenção: uma visão critica. Rev Nutr. 2010; 23(5):881-94.
(12) Fujimori E, Baldino CF, Sato APS, Borges ALV, Gomes MN. Prevalência de defeitos do tubo neural no estado de São Paulo antes e após a fortificação das farinhas com ácido fólico. Cad Saúde Pública. 2013: 29(1):145-54.
(13) Ferreira AG, Gama NF. Percepção de gestantes quanto o ácido fólico e sulfato ferroso durante o pré natal. Rev Enferm Integr. 2010; 3(2):578-89.
(14) Brasil. Ministério da Saúde. Secretaria de Atenção à Saúde. Departamento de Ações Programáticas Estratégicas. Gestação de alto risco: manual técnico. 5th Ed. Brasília: Ministério da Saúde, 2012. Cabral VCA, Cabral AM, Brandão FHA. Prevenção dos defeitos de tubo neural com o uso periconcepcional do ácido fólico. Rev Med Minas Gerais. 2011; 21(2):186-9.
(15) Håberg SE, London SJ, Stigum H, Nafstad P, Nystad W. Folic acid supplements in pregnancy and early childhood respiratory health. Arch Dis Child. 2009; 94(3):180-4.
(16) Popa Popa AD, Niţă O, Graur Arhire LI, Popescu RM, Botnariu GE, Mihalache L, et al. Nutritional knowledge as a determinant of vitamin and mineral supplementation during pregnancy. BMC Public Health. 2013; 13: 105.
(17) BarBosa L, Ribeiro DDQ, Faria FCD, Nobre LN, Lessa ADC. Fatores associados ao uso de suplemento de ácido fólico durante a gestação. Rev Bras Ginecol Obstet. 2011: 33(9):246-51.
(18) Sato Y, Nakanishi T, Chiba T, Yokotani K, Ishinaga K, Takimoto H, et al. Prevalence of inappropriate dietary supplement use among pregnant women in Japan. Asia Pac J Clin Nutr. 2013; 22(1):83-9.
(19) Mallard SR, Houghton LA. Folate knowledge and consumer behaviour among pregnant New Zealand women prior to the potential introduction of mandatory fortification. Asia Pac J Clin Nutr. 2012; 21(3):440-9.
(20) Conceição RC, Barbosa MAH, Dornela LL, Ramos OS, Castellano Filho DS, Ricardo DR, et al. Conhecimento de médicos e enfermeiros obstetras sobre a prevenção dos defeitos /no tubo neural. Ciênc Saúde Coletiva. 2012; 17(10): 2795-803.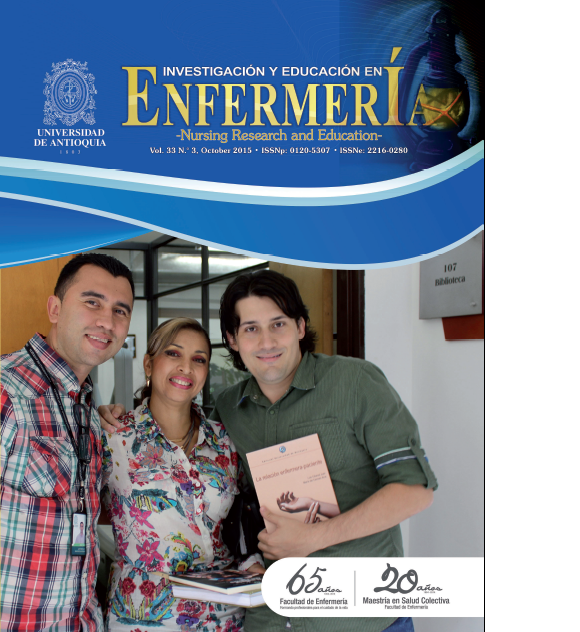 Downloads
How to Cite
Barco Tavares, B., Neves Finochio Sabino, A. M., Lima, J. C., & Tozzo Garcia, C. (2015). Knowledge of folic acid supplementation during pregnancy. Investigación Y Educación En Enfermería, 33(3). https://doi.org/10.17533/udea.iee.24454
Section
ORIGINAL ARTICLES / ARTÍCULOS ORIGINALES / ARTIGOS ORIGINAIS
License
Derechos de propiedad / Direitos de Propriedade
English: If the article is accepted for publication, all copyright will be of exclusive property of Investigación y Educación en Enfermería. The text and the graphics included in the publication are exclusive responsibility of the authors and not necessarily reflect the thought of the Editorial Committee.
Español: Si el artículo es aprobado para publicación, todos los derechos son de propiedad de Investigación y Educación en Enfermería. El texto y las gráficas incluidas en la publicación son de exclusiva responsabilidad de los autores y no necesariamente refleja el pensamiento del Comité Editorial.
Português: Se o artigo for aceito para publicação, todos os direitos autorais serão de propriedade exclusiva de Investigación y Educación en Enfermería. O texto e os gráficos incluídos na publicação são de responsabilidade exclusiva dos autores e não refletem necessariamente o pensamento do Comitê Editorial.