Homeless children: Experiences and meanings of the environments they construct
Keywords:
Homeless youth, working environment, anthropology, cultural, interpersonal relations, social condition.
Abstract
Objective. This work sought to learn of the experiences of homeless children and understand the meanings they give to environments they construct within these spaces. The study took place in Medellín, Colombia in 2015.
Methods. Ours was a qualitative research with ethnographic approach. Non-structured interviews and observations were conducted; a field diary was kept.
Results. The street, although a space of public use, is converted by children into their private space; they carry in it almost all their activities and construct two big environments: that of the street that attracts and educates and that of the work that is transitory because it is performed to survive. These children dream with an ideal environment that allows them to live quietly.
Conclusion. Children convert the street into a private place where they carry out their daily practices: socializing, working, sleeping, having fun, and relaxing, that is, a place of social construction.
How to cite this article. Forero C, Giraldo A, Martínez JV. Homeless children: Experiences and meanings of the environments they construct. Invest Educ Enferm. 2016; 34(1): 9-17
|Abstract = 253 veces | PDF = 224 veces| | HTML RESUMEN = 7 veces| | HTML ENGLISH = 0 veces| | HTML ESPAÑOL = 0 veces|
Downloads
Download data is not yet available.
References
(1) Alcaldía de Medellín. Diagnóstico Situacional de la Infancia y la Adolescencia en el Municipio de Medellín [Internet]. Medellín: Secretaria de Bienestar Social; 2012 [Cited Nov 23, 2015] Available from: http://www.medellin.gov.co/irj/go/km/docs/wpccontent/Sites/Subportal%20del%20Ciudadano/Bienestar%20Social/Secciones/Informes/Documentos/2012/Diagnóstico%20de%20infancia%20y%20adolescencia%20nuevo%20formato.pdf
(2) Convención sobre los derechos del niño. Fondo de Naciones Unidas para la Infancia- UNICEF. 1989 [Cited Nov 23, 2015] Available from: http://www.unicef.es/sites/www.unicef.es/files/CDN_06.pdf
(3) Melo V. La calle: espacio geográfico y vivencia urbana en Santa Fe de Bogotá. Bogotá: Alcaldía Mayor de Bogotá; 2003.
(4) Delgado M. Sociedades movedizas. Pasos hacia una antropología de las calles. Barcelona: Anagrama; 2007.
(5) Certeau M. La Invención de lo Cotidiano 1 Artes de Hacer. Universidad Iberoamericana. Departamento de Historia Instituto Tecnológico y de Estudios Superiores de Occidente: México DF; 2000.
(6) Marrero I. La producción del espacio público. fundamentos teóricos y metodológicos para una etnografía de lo urbano. Contextos. Revista D'antropologia I investigación social. 2008; 1:74-90.
(7) Giraldo A, Forero C, López L, Tabares L, Duran P. Encontrar una familia en la calle. Medellín, Rev Fac Nac Salud Pública 2006; 24(1):92-7.
(8) Cárdenas Y, Rodríguez I. Adolescentes y jóvenes adultos en situación de calle Municipio Maracaibo. Omnia. 2009; 15(3):169–85.
(9) Atanacio MA, Mendoza RL. Un estudio sobre los valores de los niños de la calle. Rev Electr Psicola Iztacala. 2014; 17(1):166-86.
(10) Forselledo AG. Niñez en situación de calle, un modelo de prevención de las farmacodependencias basado en los derechos humanos. En: Alejandro Bonasso. Programa de promoción integral de los derechos del Niño Proder. 2nd ed. Montevideo: Instituto Interamericano del Niño; 2002. P.43.
(11) Llorens M, Alvarado C, Hernández N, Jaramillo U, Romero M, Souto J. Niños con experiencia de vida en la calle. Una aproximación psicológica. Buenos Aires: Paidós; 2005.
(12) Alvarado RE, Guerra A, Mejías M. Las adolescentes de la calle y su percepción de la sociedad. Enferm Glob. 2013; 12(32):371-80.
(13) Muñoz IF, Noreña C, Londoño BE, Rojas CA. Morbilidad atendida y conductas de riesgo de la niñez y adolescencia en situación de calle de Medellín, 2008. Rev Salud Pública. 2011; 13(2): 207-18.
(14) Velasco H, Díaz de Rada Á. La lógica de la investigación etnográfica. Un modelo de trabajo para etnógrafos de escuela. Madrid: Trotta; 2006. P.303.
(15) Geertz C. La interpretación de las culturas. Barcelona: Gedisa; 2003. P.390.
(16) Boyle JS. Estilos de Etnografía. En: Morse, J.M. Asuntoscríticosen la metodología de investigación cualitativa. Medellín: Universidad de Antioquia; 2003. P.185-214.
(17) Arias M, Giraldo C. El rigor científico en la investigación cualitativa. Invest Educ Enferm. 2011; 29(3):500-14.
(18) Colombia. Ministerio de Salud. Resolución 008430 de 1993, Octubre 4. Por la cual se establecen las normas científicas, técnicas y administrativas para la investigación en salud. Bogotá D.C: Ministerio de salud; 1993.
(19) Neiva-Silva L,Koller, SH. A rua como contexto desenvolvimento. In: Lordelo ER, Carvalho AMA, Koller SH. Infância brasileira e contextos de desenvolvimento. São Paulo: Casa do Psicólogo - Salvador. UFBA; 2002. P.205-30.
(20) Lindón A, Aguilar MG,Hiernaux N. Lugares e imaginarios en la metrópolis. Barcelona: Anthropos. 2006; P.219.
(21) Berroeta H y Vidal T. La noción de espacio público y la configuración de la ciudad: fundamentos para los relatos de pérdida, civilidad y disputa. Polis Rev Latinoam. 2012; 31:2-16
(22) Duarte HJ. Jovens em situação de rua: espaço, tempo, negociações de sentido. Psicol Soc. 2011; 23(2):237-47.
(23) Vargas AL. Corpo e marginalidade: estudo de um contexto dedesenvolvimento de meninos de rua soicedade de Rio de Janeiro. Cad Direito, Piracicaba. 2006; 6(11):49-60.
(24) Motta J, Rosa P, García A. Perspectivas y tensiones del espacio público: los habitantes de la calle en la ciudad autónoma de Buenos Aires. Cuad Urbano [Internet]. 2013 [Cited 19 Nov, 2015]; 15(15). Available from: http://www.scielo.org.ar/scielo.php?script=sci_arttext&pid=S1853-36552013000200003&lng=es&nrm=iso.
(25) Martinelli E. Jogando pela honra: corpo e masculinidade em uma escola para meninos em situação de rua. Movimento. 2010; 16(2): 229-47.
(26) Domínguez M, Romero M, Paul G. Los "Niños Callejeros". Una visión de sí mismos vinculada al uso de las drogas. Salud Mental. 2000; 23(3):20-8.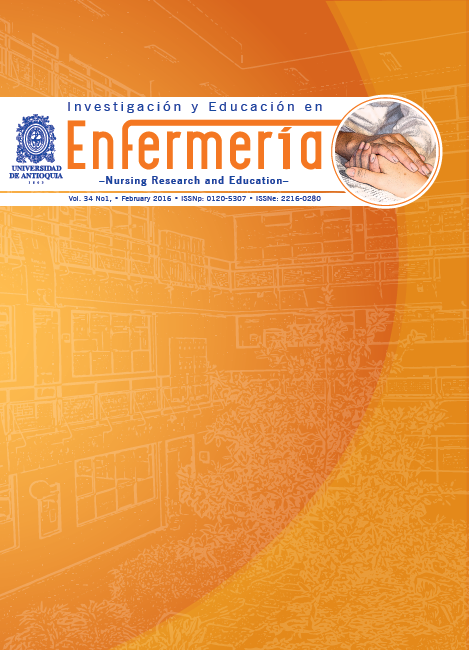 Downloads
How to Cite
Forero Pulido, C., Giraldo Pineda, Álvaro, & Martínez Hernández, J. V. (2016). Homeless children: Experiences and meanings of the environments they construct. Investigación Y Educación En Enfermería, 34(1). https://doi.org/10.17533/udea.iee.25984
Section
ORIGINAL ARTICLES / ARTÍCULOS ORIGINALES / ARTIGOS ORIGINAIS
License
Derechos de propiedad / Direitos de Propriedade
English: If the article is accepted for publication, all copyright will be of exclusive property of Investigación y Educación en Enfermería. The text and the graphics included in the publication are exclusive responsibility of the authors and not necessarily reflect the thought of the Editorial Committee.
Español: Si el artículo es aprobado para publicación, todos los derechos son de propiedad de Investigación y Educación en Enfermería. El texto y las gráficas incluidas en la publicación son de exclusiva responsabilidad de los autores y no necesariamente refleja el pensamiento del Comité Editorial.
Português: Se o artigo for aceito para publicação, todos os direitos autorais serão de propriedade exclusiva de Investigación y Educación en Enfermería. O texto e os gráficos incluídos na publicação são de responsabilidade exclusiva dos autores e não refletem necessariamente o pensamento do Comitê Editorial.