The bond as a soft technology in the daily routine of the Family Health Strategy: perception of the user
Bianca Pozza dos Santos

Nurse, Master's degree. Pelotas Federal University (UFPel), Brazil. email: bi.santos@bol.com.br

Fernanda Nizoli Nunes

Nurse, Intern. UFPel, Brazil. email: fernandannunes@hotmail.com

Patrícia Tuerlinckx Noguez

Nurse, Doctoral Student. Professor, UFPel, Brazil. email: patriciatuer@hotmail.com

Adriana Roese

Nurse, PhD. Professor, Rio Grande do Sul Federal University, Brazil. email: adiroese@gmail.com
Keywords:
Primary health care, delivery of health care, chronic disease, interpersonal relations.
Abstract
Objective. This study aimed to analyze the production of a bond between users and health care professionals in a Family Health Unit (FHU).
Methods. This was a qualitative, descriptive study, with 33 hypertensive and/or diabetic users. Interviews were transcribed, analyzed and data were compared to the literature.
Results. The users who have been accessing the FHU for years stated that the bond with professionals has grown weak, it is a fragile bond. When it does exist, it is directed toward some professionals in the team. A disruption in the bond was also mentioned in some situations, owing to individual issues. Establishment of a bond between the user and the health care professionals in the reference FHU consists of a soft technology. Therefore, it impacts quality of health care and the prevention and management of chronic diseases.
Conclusion. Establishment  of a bond is essential for health care professionals to become references for the users of health care services.
How to cite this article: Santos BP, Nunes FN, Noguez PT, Roese A. The bond as a soft technology in the daily routine of the Family Health Strategy: perception of the user. Invest Educ Enferm. 2016; 34(1): 189-197
|Abstract = 58 veces | PDF = 54 veces| HTML RESUMEN = 1 veces| HTML ENGLISH = 1 veces| HTML PORTUGUES = 0 veces|
Downloads
Download data is not yet available.
References
(1) Silva ACMA, Villar MAM, Cardoso MHCA, Wuillaume SM. A estratégia saúde da família: motivação, preparo e trabalho segundo médicos que atuam em três distritos do município de Duque de Caxias, Rio de Janeiro, Brasil. Saúde Soc. 2010; 19(1):159-69.
(2) Ministério da Saúde. Política Nacional de Atenção Básica. Brasília; 2012.
(3) Franco FA, Hino P, Nichiata LYI, Bertolozzi MR. A compreensão das necessidades de saúde segundo usuários de um serviço de saúde: subsídios para a enfermagem. Esc Anna Nery Rev Enferm. 2012; 16(1):157-62.
(4) Gomes ALC, Sá LD. As concepções de vínculo e a relação com o controle da tuberculose. Rev Esc Enferm USP. 2009; 43(2):365-72.
(5) Schimith MD, Simon BS, Brêtas ACP, Budó MLD. Relações entre profissionais de saúde e usuários durante as práticas em saúde. Trab Educ Saúde. 2011; 9(3):479-503.
(6) Cecílio LCO. As necessidades de saúde como conceito estruturante na luta pela integralidade e eqüidade na atenção em saúde. Em: Pinheiro R, Mattos RA. Os sentidos da integralidade na atenção e no cuidado à saúde. Rio de Janeiro: IMS/UERJ; 2001. P. 113-26.
(7) Beck CLC, Prochnow A, Silva RM, Prestes FC, Tavares JP. Fatores que favorecem e dificultam o trabalho dos enfermeiros nos serviços de atenção à saúde. Esc Anna Nery Rev Enferm. 2010; 14(3):490-5.
(8) Souza KMJ, Sá LD, Palha PF, Nogueira JA, Villa TCS, Figueiredo DA. Abandono do tratamento de tuberculose e relações de vínculo com a equipe de saúde da família. Rev Esc Enferm USP. 2010; 44(4):904-10.
(9) Gomes MCPA, Pinheiro R. Acolhimento e vínculo: práticas de integralidade na gestão do cuidado em saúde em grandes centros urbanos. Interface Comun Saúde Educ. 2005; 9(17):287-301.
(10) Gomes AMA, Caprara A, Landim LOP, Vasconcelos MGF. Relação médico-paciente: entre o desejável e o possível na atenção primária à saúde. Physis. 2012; 22(3):1101-19.
(11) Minayo CSM. O desafio do conhecimento. 12th ed. São Paulo: Hucitec; 2010. 408 p.
(12) Ministério da Saúde. Conselho Nacional de Saúde. Resolução nº 196, de 10 de outubro de 1996. Diretrizes e normas regulamentadoras de pesquisa envolvendo seres humanos. Brasília; 1996.
(13) Munkevis MSG, Pelicioni MCF. Saúde Bucal na Estratégia Saúde da Família no município de São Paulo: uma perspectiva do usuário. Rev Bras Crescimento Desenvolv Hum. 2010; 20(3):791-801.
(14) Coelho MO, Jorge MSB. Tecnologia das relações como dispositivo do atendimento humanizado na atenção básica à saúde na perspectiva do acesso, do acolhimento e do vínculo. Ciênc Saúde Coletiva. 2009; 14(Suppl.1):1523-31.
(15) Franco ECD. A estratégia de saúde da família na perspectiva do usuário. Rev Enferm UFSM. 2012; 2(1):49-58.
(16) Moraes PA, Bertolozzi MR, Hino P. Percepções sobre necessidades de saúde na Atenção Básica segundo usuários de um serviço de saúde. Rev Esc Enferm USP. 2011; 45(1):19-25.
(17) Camargo-Borges C, Mishima SM. A responsabilidade relacional como ferramenta útil para a participação comunitária na atenção básica. Saúde Soc. 2009; 18(1):29-41.
(18) Nery AA, Carvalho CGR, Santos FPA, Nascimento MS, Rodrigues VP. Saúde da família: visão dos usuários. Rev Enferm UERJ. 2011; 19(3):397-402.
(19) Duarte ED, Dittz ES, Madeira LM, Braga PP, Lopes TC. O trabalho em equipe expresso na prática dos profissionais de saúde. Rev Eletrônica Enferm. 2012; 14(1):86-94.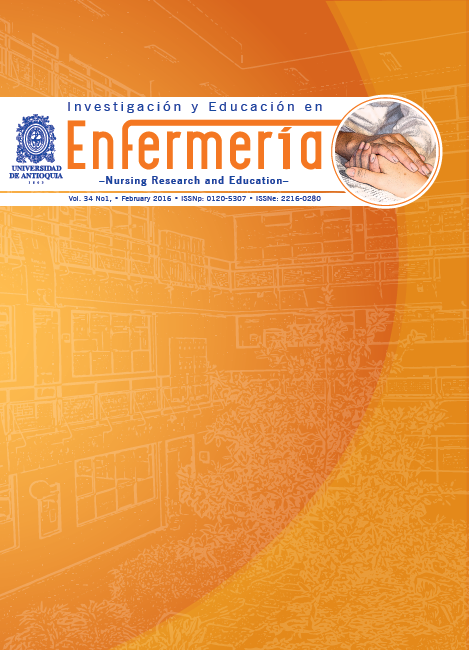 How to Cite
Pozza dos SantosB., Nizoli NunesF., Tuerlinckx NoguezP., & RoeseA. (2016). The bond as a soft technology in the daily routine of the Family Health Strategy: perception of the user. Investigación Y Educación En Enfermería, 34(1). Retrieved from https://revistas.udea.edu.co/index.php/iee/article/view/26006
Section
ORIGINAL ARTICLES / ARTÍCULOS ORIGINALES / ARTIGOS ORIGINAIS
Derechos de propiedad / Direitos de Propriedade
English: If the article is accepted for publication, all copyright will be of exclusive property of Investigación y Educación en Enfermería. The text and the graphics included in the publication are exclusive responsibility of the authors and not necessarily reflect the thought of the Editorial Committee.
Español: Si el artículo es aprobado para publicación, todos los derechos son de propiedad de Investigación y Educación en Enfermería. El texto y las gráficas incluidas en la publicación son de exclusiva responsabilidad de los autores y no necesariamente refleja el pensamiento del Comité Editorial.
Português: Se o artigo for aceito para publicação, todos os direitos autorais serão de propriedade exclusiva de Investigación y Educación en Enfermería. O texto e os gráficos incluídos na publicação são de responsabilidade exclusiva dos autores e não refletem necessariamente o pensamento do Comitê Editorial.