Spirituality and Religiosity in Elderly Adults with Chronic Disease
Keywords:
Spirituality, religion, aged, chronic disease.
Abstract
Objective. This work sought to explore the relationship between spirituality and religiosity in elderly adults with chronic disease.
Methods. This was a cross-sectional cohort study with a representative sample of 229 elderly adults with chronic disease registered in 12 life centers in the city of Cartagena. Reed's Spiritual Perspective and Francis' Religiosity scales were applied.
Results. Mean age was 74.4 years, 62.9% were women, and the most frequent occupations were: unemployed (45.9%) and housewives (44.5%); the religion most practiced was Catholicism (81.2%). Levels of spirituality and religiosity were high, showing a moderate and direct correlation (r = 0.57).
Conclusion. A directly proportional relationship exists between spirituality and religiosity in elderly adults with chronic disease.
How to cite this article: Gómez P, Cantillo D, Coronado M, López A, Vergara Y. Spirituality and religiosity in elderly adults with chronic disease. Invest. Educ. Enferm. 2016; 34(2):
|Abstract = 583 veces | PDF = 244 veces| | HTML RESUMEN = 5 veces| | HTML ENGLISH = 4 veces| | HTML ESPAÑOL = 6 veces|
Downloads
Download data is not yet available.
References
(1) Organización Mundial de la Salud –OMS. Enfermedades Cardiovasculares [Internet]. Geneve: OMS; 2016 [cited 29 Feb 2016]. Available from: http://www.who.int/mediacentre/factsheets/fs317/es/index.html.
(2) Pinto N. Percepción del apoyo social funcional en cuidadores familiares de enfermos crónicos. Aquichan. 2011; 11(3):276-81.
(3) Reed P. Theory of self-transcendence. In: Smith MJ, Liehr PR. Middle range theory for nursing. 3th Ed. New York: Springer Publishing Company; 2014. P:109-15.
(4) Krzemien D, Monchietti A. Espiritualidad y religiosidad en el envejecimiento: ¿Las estrategias de afrontamiento espiritual-religiosas son positivas o negativas en la vejez?. In: 9º Congreso Virtual de Psiquiatría. Madrid: Intersalud; 2008 [cited 29 Feb 2016]. Available from: http://www.psiquiatria.com/bibliopsiquis/handle/10401/4556
(5) Sánchez B. Bienestar espiritual en personas con y sin discapacidad. Aquichan. 2009; 9(1):8-22.
(6) Zavala M, Vásquez O, Whetsell M. Bienestar espiritual y ansiedad en pacientes diabéticos. Aquichan. 2006; 6(1):8-21.
(7) Whetsell M, Frederickson K, Aguilera P, Maya J. Niveles de bienestar espiritual y fortaleza relacionados con la salud en adultos mayores. Aquichan. 2005; 5(1):23-7.
(8) Rivera A, Montero M. Espiritualidad y religiosidad en adultos mayores mexicanos. Mental health. 2005; 28(6):51-8.
(9) Rivera A, López M. Medidas de afrontamiento religioso y espiritualidad en adultos mayores mexicanos. Salud Mental. 2007; 30(1):39-47.
(10) Beca J. El cuidado espiritual del enfermo como responsabilidad del profesional de la salud. Etic Cuid. 2008; 1(1):1-4.
(11) Reed PG. Spiruality and wellbeing in the terminally ill hospitalized adults. Res. Nurs. Health. 1987; 10:335-44.
(12) Gómez I, Durán M. Espiritualidad e incertidumbre ante la enfermedad: adultos diabéticos tipo 2. Av. Enferm. 2012; 30(3):18-28.
(13) Canaval G, González M, Sánchez M. Espiritualidad y resiliencia en mujeres maltratadas que denuncian su situación de violencia de pareja. Colomb. Med. 2007; 4(38):72-8.
(14) Jaramillo D, Ospina D, Cabarcas G, Humpreys J. Resiliencia. Espiritualidad, aflicción y tácticas de resolución de conflictos en mujeres maltratadas. Rev. Salud Pública. 2005; 7(3):281-92.
(15) Francis L, Orchard A. The Relationship Between the Francis Scale of Attitude Toward Christianity and Measures of Intrinsic, Extrinsic and Quest Religiosity. Pastoral Psychol. 1999; 47(5):365-71.
(16) Campo A, Oviedo H, Diaz C, Cogollo Z. Internal Consistency of a Spanish translation of the Francis Scale of Attitude Toward Christianity short form. Psychol. Rep. 2006; 99(3):1008-10.
(17) Quiceno J, Vinaccia S. La salud en el marco de la psicología de la religión y la espiritualidad. Diversitas Perspect. Psicol. 2009; 5(2):321-36.
(18) Barboza F, Forero M. Ansiedad y depresión en pacientes con cáncer de seno y su relación con la espiritualidad/religiosidad. Rev. Psicol. Univ. Antioquia [Internet]. 2011 [cited 25 Apr 2014]; 3(1). Available on: http://aprendeenlinea.udea.edu.co/revistas/index.php/psicologia/article/viewArticle/10610
(19) Bell J, Ritchey K, Sahgal N. Religión en américa latina. Cambio generalizado en una región completamente católica. Washington, D.C.: Pew Research Center; 2014 [cited 22 Jan 2016]. Available from: http://www.pewforum.org/files/2014/11/PEW-RESEARCH-CENTER-Religion-in-Latin-America-Overview-SPANISH-TRANSLATION-for-publication-11-13.pdf
(20) Rodríguez M, Fernández M, Pérez M, Noriega R. Espiritualidad variable asociada a la resiliencia. Cuad. Hispanoamericanos Psicol. 2011; 11(6):24-49.
(21) Quiceno JM, Vinaccia S. Creencias-prácticas y afrontamiento espiritual-religioso y características sociodemográficas en enfermos crónicos. Psychol. Av. Discip. 2011; 5(1):25-36.
(22) Koening H. Religion, spirituality, and Medicine: Research Findings and Implications for Clinical Practice. Southern South Med J. 2004; 97(12):1194-200.
(23) Reyes C. Importancia de la Religión en los Ancianos. Colomb. Med. 1998; 29(4):155-7.
(24) Ocampo J, Romero N, Saa H, Herrera J, Reyes C. Prevalencia de las prácticas religiosas, disfunción familiar, soporte social y síntomas depresivos en adultos mayores. Cali Colombia 2001. Colomb. Med. 2006; 37(7):26-30.
(25) San Martín C. La espiritualidad en el proceso de envejecimiento del adulto mayor. Acad Hologramática. 2008; 6(6):103-20.
(26) Martínez M, Méndez C, Ballesteros B. Características espirituales y religiosas de pacientes con cáncer que asisten al centro Javeriano de Oncología. Univ. Psychol. 2004; 3(2):231-46
(27) San Martin C. Espiritualidad en la tercera edad. Psicol. Cult. Soc. 2007:111-28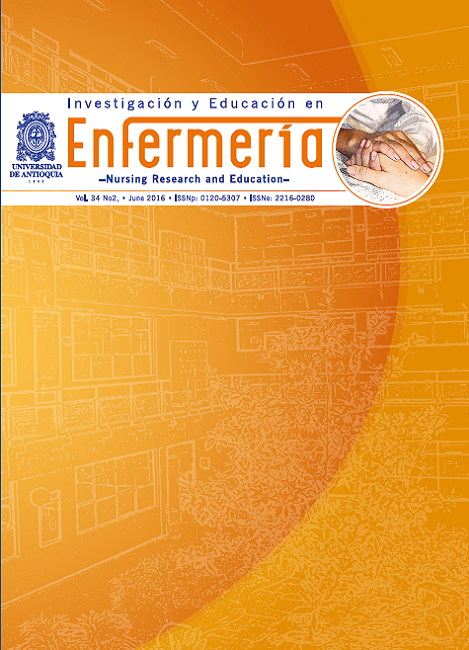 Downloads
How to Cite
Gómez Palencia, I. P., Cantillo Banquett, D., Coronado Quintana, M., López Villamizar, A., & Vergara Mendoza, Y. (2016). Spirituality and Religiosity in Elderly Adults with Chronic Disease. Investigación Y Educación En Enfermería, 34(2). Retrieved from https://revistas.udea.edu.co/index.php/iee/article/view/323256
Section
ORIGINAL ARTICLES / ARTÍCULOS ORIGINALES / ARTIGOS ORIGINAIS
License
Derechos de propiedad / Direitos de Propriedade
English: If the article is accepted for publication, all copyright will be of exclusive property of Investigación y Educación en Enfermería. The text and the graphics included in the publication are exclusive responsibility of the authors and not necessarily reflect the thought of the Editorial Committee.
Español: Si el artículo es aprobado para publicación, todos los derechos son de propiedad de Investigación y Educación en Enfermería. El texto y las gráficas incluidas en la publicación son de exclusiva responsabilidad de los autores y no necesariamente refleja el pensamiento del Comité Editorial.
Português: Se o artigo for aceito para publicação, todos os direitos autorais serão de propriedade exclusiva de Investigación y Educación en Enfermería. O texto e os gráficos incluídos na publicação são de responsabilidade exclusiva dos autores e não refletem necessariamente o pensamento do Comitê Editorial.