Health-promoting lifestyle y assertiveness in university workers
Keywords:
Assertiveness, life style, surveys and questionnaires, occupational health.
Abstract
Objective. The work sought to analyze the health-promoting lifestyle variables, assertiveness, and their relation to health condition in university workers.
Methods. This was a correlational study with the participation of 112 workers selected through census-type random sampling. To gather information, a form was used that included sociodemographic, anthropometric, and clinical data, in addition to the health-promoting lifestyle scale by Walker et al., and the Assertiveness Questionnaire by Lazarus and Folkman.
Results. Participants ranged between 24 and 72 years of age (mean = 45), 61.6% were women, 49.1% worked the day shift, and 59.8% worked as teaching staff. With respect to health problems diagnosed: 17.0% had high blood pressure, 4.5% type II diabetes mellitus, and 4.5% suffer both diseases; 46.4% were found with overweight condition and 23.9% with some degree of obesity. The general index of health-promoting lifestyle was of 39.2 points (medium level) and assertiveness of 74.5 points (high level). A positive and significant relationship was found between assertiveness and the general index of the health-promoting lifestyle (r = 0.22, p <0.05) and the dimensions of spiritual development (r = 0.35, p<0.01) and interpersonal relations (r = 0.29, p <0.01). Likewise, glucose level, one of the parameters of the health condition, was inversely related to the health-promoting lifestyle (r = -0.20, p <0.05) and to the dimensions of physical activity (r = -0.24, p <0.01) and stress management (r = -0.24, p <0.01).
Conclusion. The findings show the relationship between the health-promoting lifestyle and assertiveness in university workers studied, which justifies the design of educational interventions from nursing aimed at improving these aspects.
How to cite this article: Jiménez E, Álvarez A, Reyes BL, Casique L, Herrera JM, Sánchez M. Health-promoting lifestyle and assertiveness in university workers. Invest. Educ. Enferm. 2017; 35(1):
|Abstract = 428 veces | PDF = 71 veces| | HTML ENGLISH = 0 veces| | HTML ESPAÑOL = 5 veces| | VÍDEO = 0 veces|
Downloads
Download data is not yet available.
References
(1) Maville JA, Huerta CG. Health promotion in nursing: 3rd Ed. The United States of America: DELMAR; 2013.
(2) Organización Mundial de la Salud - OMS. Entornos Laborales Saludables: Fundamentos y Modelos de la OMS. Contextualización, Prácticas y Literatura de Soporte. Ginebra: OMS; 2010.
(3) Gil P. Riesgos psicosociales en el trabajo y salud ocupacional. Rev. Peru Med. Exp. Salud Pública. 2012; 29(2):237-241.
(4) Universidad Nacional de Colombia. Proyecto educativo de programa: autoevaluación y seguimiento de la calidad de los programas de Enfermería. Bogotá: Universidad Nacional de Colombia; 2013.
(5) Ruiz-Frutos C, Delclós J, Ronda E, García AM, Benavides FG. Salud laboral, conceptos y técnicas para la prevención de riesgos laborales. 4th Ed. Barcelona: Elsevier; 2013.
(6) Cañón S, Galeano G. Factores laborales psicosociales y calidad de vida laboral de los trabajadores de la salud de ASSBASALUD E.S.E Manizales (Colombia). Arch. Med. 2011; 11(2):114-26.
(7) Plan de acción mundial para la prevención y el control de las enfermedades no transmisibles 2013-2020. Organización Mundial de la Salud – OMS [Internet]. 2013 [Cited 29 Feb 2016]. Available from: http://www.who.int/cardiovascular_diseases/15032013_updated_revised_draft_action_plan_spanish.pdf?ua=1
(8) Velazco-Contreras ME. Perfil de salud de los trabajadores del Instituto Mexicano del Seguro Social. Rev. Med. Ins. Mex. Seguro. Soc. 2013; 51(1):12-25.
(9) Salinas J, Lera L, González CG, Villalobos E, Vio F. Estilos de vida, alimentación y estado nutricional en trabajadores de la construcción de la Región Metropolitana de Chile. Rev. Med. Chile. 2014; 142:834-40.
(10) López JM. Posibles enfermedades no transmisibles en trabajadores de la UNIMAR. Bol. Inf. CEI. 2014; 1(2):88.
(11) Artime EM, Alonso MI. Estado ponderal y su relación con el tipo de trabajo y estilos de vida en población laboral. Enferm. Trab. 2012; 11:239-47.
(12) Becerra S. Universidades saludables: una apuesta a una formación integral del estudiante. Rev. Psicol. 2013; 31(2): 288-314.
(13) Gaviria A. La Universidad de Antioquia como institución promotora de la salud (Medellín, Colombia, 2010-2013). Invest. Enferm. Imagen Desarr. 2016; 18(1):13-30.
(14) Camacho LA, Echeverria SB, Reynoso L. Estilos de vida y riesgos en la salud de trabajadores universitarios. J. Behav. Health Soc Issues. 2010; 2(1):91-103.
(15) Laguado E, Gómez MP. Estilos de vida saludable en estudiantes de enfermería en la universidad cooperativa de Colombia. Hacia Promoc. Salud. 2014; 19(1):68-83.
(16) Arredondo D.M, Granda, A.M. Teletrabajo: la asertividad como estrategia de comunicación en el mundo laboral. Rev. Reflexiones Saberes. 2015; 3(4):48-55.
(17) Universidad Autónoma de Guerrero. Contrato Colectivo de Trabajo del Sindicato de Trabajadores Académicos de la Universidad Autónoma de Guerrero 2015-2016 [Internet]. México: Comercializadora del Centro Calzadilla SA de CV [CCsa]; 2015 [Cited 06 Dec 2016]. Available from: http://seguridadsocial.uagro.mx/pdf/STAUAG_CCT-2015-2016.pdf
(18) Universidad Autónoma de Guerrero. Plan de Desarrollo Institucional 2013-2017 [Internet]. México: Comercializadora del Centro Calzadilla SA de CV [CCsa]; 2013 [Cited 06 Dec 2016]. Available from: https://www.uagro.mx/conocenos/images/pdf/PDI.pdf
(19) Walker SN, Kerr MJ, Pender NJ, Sechrist KR. A Spanish language version of the Health-Promoting Lifestyle Profile. Nursing Research. 1990; 39: 268– 273.
(20) Lazaruz R, Folkman. El concepto de afrontamiento en estrés y procesos cognitivos. Barcelona: Ediciones Martínez Roca. S.A:1986.
(21) Secretaría de Salud. Reglamento de la Ley General de Salud en materia de Investigación para la SaludMéxico, Reforma 2014. [Citado el 9 de Septiembre 2016] Available from: http://www.salud.gob.mx/unidades/cdi/nom/compi/rlgsmis.html
(22) Tavakol M, Dennick R. Making sense of Cronbach's alpha. Int. J. Med. Educ. 2011; 2:53-5.
(23) Gutiérrez JP, Rivera-Dommarco J, Shamah-Levy T, Villalpando-Hernández S, Franco A, Cuevas-Nasu L, Romero-Martínez M, Hernández-Ávila M. Encuesta Nacional de Salud y Nutrición 2012. Resultados Nacionales [Internet]. Cuernavaca, México: Instituto Nacional de Salud Pública (MX); 2012 [Cited 06 Dec 2016]. Available from: http://ensanut.insp.mx/informes/ENSANUT2012ResultadosNacionales.pdf
(24) Ramírez R, Agredo R. Fiabilidad y validez del instrumento "Fantástico" para medir el estilo de vida en adultos colombianos. Rev. Salud Pública. 2012; 14(2):226-37.
(25) Ruiz V, Nobles D, Ruiz C. Asertividad en funcionarios de la administración pública del municipio de Montería, Colombia. Encuentros. 2015; 13(2): 13-24.
(26) Castillo I, Flores LE, Miranda G, Murillo S. Docencia Universitaria saludable: Una metamorfosis impostergable. Revista Electrónica Educare. 2016; 20(2):1-27.
(27) Martínez MI, Ferri A, Mateos AM, Alegre A. Mejora de los parámetros clínicos en pacientes con síndrome metabólico mediante intervención en educación nutricional y mejora del estilo de vida. Nutr. Hosp. 2015; 31(3):1444-8.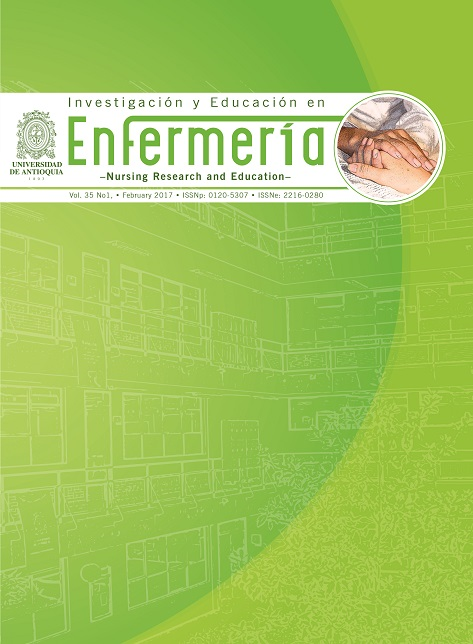 Downloads
How to Cite
Jiménez Bernardino, E., Álvarez Aguirre, A., Reyes Rocha, B. L., Casique Casique, L., Herrera Paredes, J. M., & Sánchez Perales, M. (2017). Health-promoting lifestyle y assertiveness in university workers. Investigación Y Educación En Enfermería, 35(1). Retrieved from https://revistas.udea.edu.co/index.php/iee/article/view/327342
Section
ORIGINAL ARTICLES / ARTÍCULOS ORIGINALES / ARTIGOS ORIGINAIS
License
Derechos de propiedad / Direitos de Propriedade
English: If the article is accepted for publication, all copyright will be of exclusive property of Investigación y Educación en Enfermería. The text and the graphics included in the publication are exclusive responsibility of the authors and not necessarily reflect the thought of the Editorial Committee.
Español: Si el artículo es aprobado para publicación, todos los derechos son de propiedad de Investigación y Educación en Enfermería. El texto y las gráficas incluidas en la publicación son de exclusiva responsabilidad de los autores y no necesariamente refleja el pensamiento del Comité Editorial.
Português: Se o artigo for aceito para publicação, todos os direitos autorais serão de propriedade exclusiva de Investigación y Educación en Enfermería. O texto e os gráficos incluídos na publicação são de responsabilidade exclusiva dos autores e não refletem necessariamente o pensamento do Comitê Editorial.