Risk factors for developing cardiovascular disease in women
Raíssa Santos Vieira

Thecnitian in Nursing. Heart Hospital, Londrina, Paraná, Brazil. email: raissa_sv@hotmail.com

Adriana Martins Gallo

Nurse, M.Sc. Professor, Federal Institute of Paraná, Londrina, Paraná, Brazil. email: adriana.gallo@ifpr.edu.br

Cesar Junior Aparecido de Carvalho

Nurse, Ph.D. Professor, Federal Institute of Paraná, Londrina, Paraná, Brazil. email: cesar.carvalho@ifpr.edu.br

Juliane Pagliari Araujo

Nurse, M.Sc. Professor, Federal Institute of Paraná, Londrina, Paraná, Brazil. email: juliane.pagliari@ifpr.edu.br

Rosangela Cabral

Nurse, Specialist. Professor, Federal Institute of Paraná, Londrina, Paraná, Brazil. email: rosangela.cabral@ifpr.edu.br

Gabrielle Jacklin Eler

Nurse, Ph.D. Professor, Federal Institute of Paraná, Londrina, Paraná, Brazil. email: gabrielle.eler@ifpr.edu.br
Keywords:
Cardiovascular diseases, women, life style, risk factors, surveys and questionnaires.
Abstract
Objective. To evaluate the factors that predispose to the development of cardiovascular diseases in women who were attended at a Basic Health Unit in Londrina, Paraná, Brazil.
Methods. The research was characterized as observational and quantitative. The population sample consisted of 60 women aged over 18 years, being chosen at random. For data collection, mHealth Data Collector (mHDC), a mobile device, was used with a questionnaire on daily habits, health status, and disease. Measurements were made of glucose and blood cholesterol, blood pressure and anthropometric measurements. Data collection took place in February 2014 to November 2014.
Results. Risk factors were overweight / obesity (63.8%) and sedentary lifestyle (65%), followed by family history of cardiovascular disease (43.3%), hypercholesterolemia (38.3%), and hypertension (13.3%).
Conclusion. This population of women presented risk factors for the development of cardiovascular disease in all ages, being necessary the implementation of measures that stimulate changes in the daily habits and improve health conditions among women by the health team.
How to cite this article: Vieira RS, Gallo AM, Carvalho CJA, Araujo JP, Cabral R, Eler GJ. Risk factors for developing cardiovascular disease in women. Invest. Educ. Enferm. 2016; 35(1):
|Abstract = 3108 veces | PDF = 1349 veces| HTML ENGLISH = 80 veces| VÍDEO = 0 veces| HTML PORTUGUÊS = 90 veces| VÍDEO PORTUGUÊS = 0 veces|
Downloads
Download data is not yet available.
References
(1) Brasil. Ministério da Secretaria de Saúde do Departamento de Vigilância Sanitária de Vigilância de Doenças e Doenças Não Transmissíveis e Promoção da Saúde.Vigitel Brasil 2014: Vigilância de fatores de risco e proteção para doenças crônicas por inquérito telefônico / Ministério da1 Secretaria de Vigilância em Saúde, Departamento de Vigilância de Doenças e Doenças Não Transmissíveis e Saúde promoção - Brasília: Ministério da saúde [Internet]. 2015 [Cited 18 Apr 2016]. Available from: http://www.ans.gov.br/images/stories/Materiais_para_pesquisa/Materiais_por_assunto/2015_vigitel.pdf.
(2) Malta DC, Silva Jr JB da. O Plano de Ações Estratégicas para o Enfrentamento das Doenças Crônicas Não Transmissíveis no Brasil e a definição das metas globais para o enfrentamento dessas doenças até 2025: uma revisão. Epidemiol. Serv. Saúde. 2013; 22(1):151-64.
(3) Brasil. Ministério da Saúde. Secretaria de Atenção à Saúde. Departamento de Atenção Básica. Diretrizes para o cuidado de pessoas com doenças crônicas em redes de cuidados de saúde e nas linhas de cuidado prioritárias / Ministério da Saúde, Secretaria de Atenção à Saúde, Departamento de Atenção Básica. - Brasília: Ministério da Saúde [Internet]. 2013 [Cited 18 Apr2016]. Available from: http://189.28.128.100/dab/docs/portaldab/publicacoes/diretrizes_doencas_cronicas.pdf.
(4) Shishido HY, de Andrade RAC, Eler GJ. mHealth Data Collector: An Application to Collect and Report Indicators for Assessment of Cardiometabolic Risk. Studies in Health Technology and Informatics. 2014; 201:425-32.
(5) Miranda DEGA, Camargo LRBD, Braga TM. Manual de Avaliação nutricional de adultos e idosos. Rio de Janeiro: Editora Rubio; 2012.
(6) Herdy AH, López-Jiménez F, Terzic CP, Milani M, Stein R, Carvalho T et al. South American Guidelines for Cardiovascular Disease Prevention and Rehabilitation. Arq. Bras. Cardiol. 2014; 103(2Suppl1):1-31.
(7) Loch MR, Souza RKT de, Mesas AE, Martinez-Gómez D, Rodríguez-Artalejo F. Relationship between social capital indicators and lifestyle in Brazilian adults. Cad. Saúde Pública. 2015; 31(8):1636-47.
(8) Instituto Brasileiro de Geografia e Estatística [Internet]. 2012. [cited 18 Apr 2016]; v. 32. Available from: ftp://ftp.ibge.gov.br/Trabalho_e_Rendimento/Pesquisa_Nacional_por_Amostra_de_Domicilios_anual/2012/Volume_Brasil/pnad_brasil_2012.pdf.
(9) Carvalho MS, Souza-Santos R. Análise de dados espaciais em saúde pública: métodos, problemas, perspectivas. Cad. Saúde Pública. 2005; 21(2):361-78.
(10) Mohnen SM, Völker B, Flap H, Groenewegen PP. Health-related behavior as a mechanism behind the relationship between neighborhood social capital and individual health-a multilevel analysis. BMC Public Health. 2012; 12(1):116.
(11) Santos JC, Moreira TMM. Factores de riesgo y complicaciones en hipertensos/diabéticos de una región sanitaria del noreste brasileño. Rev. Esc. Enferm. USP. 2012; 46(5):1125-32.
(12) Koutra K, Kritsotakis G, Orfanos P, Ratsika N, Kokkevi A, Philalithis A. Social capital and regular alcohol use and binge drinking in adolescence: a cross-sectional study in Greece. Drugs: education, preventionandpolicy. 2014; 21(4):299-309.
(13) Souza RKT, Bortoletto MS, Loch MR, González AD, MatsuoT, Cabrera MAS, Remondi FA, Yonomine CY. Prevalence of cardiovascular risk factors in people aged 40 years or more from the city of Cambé, PR, Brazil (2011): a population-based study. Epidemiol. Serv. Saúde. 2013; 22(3):435-44.
(14) Loch MR, Eumann Mesas A, Rodriguez-Artalejo F, Durán González A, Tanno de Souza RK, Associação entre capital social e autopercepção de saúde em adultos brasileiros. Rev. Saúde Pública. 2015; 491-9.
(15) Loch MR, Bortoletto MSS, Tanno de Souza RK, Mesas AE. Simultaneidade de comportamentos de risco para a saúde e fatores associados em estudo de base populacional. Cad. Saúde Colet. 2015; 23(2):180-7.
(16) Jurkowski JM, Mosquera M. Selected Cultural Factors Associated with Physical Activity Among Latino Women. Women's Health Issues. 2010; 20(3):219-26.
(17) ReichertFF, Loch MR, Capilheira MF. Self-reported health status in adolescents, adults and the elderly. Ciênc.Saude Coletiva. 2012; 17(12):3353-62.
(18) Teixeira de Paula JA, Costa Moreira O, Diniz da Silva C, Silva DS, dos Santos Amorim PR. Metabolic syndrome prevalence in elderly of urban and rural communities participants in the HIPERDIA in the city of Coimbra/MG, Brazil. Invest.Educ.Enferm. 2015; 33(2):325-33.
(19) Cabral NAL, Ribeiro VS, França AKTC, Salgado JVL, Dos Santos AM, Salgado Filho N, Da Silva AA. Hypertriglyceridemic waist and cardiometabolic risk in hypertensive women. Rev. Assoc. Med. Bras. 2012; 58(5):568-73.
(20) Siqueira DGB, Souza RKT de, Mesas AE, Santos HGdos, BortolettoMSS. Diferenças entre sexos nos determinantes da obesidade abdominal em adultos de 40 anos ou mais: estudo de base populacional. Rev. Nutr. 2015; 28(5):485-96.
(21) Amer NM, Marcon SS, Santana RG. Body Mass Index and Hypertension in Adult Subjects in Brazil's Midwest. ArqBrasCardiol. 2011; 96(1):47-53.
(22) Lopez-Jaramillo P, Lahera V, Lopez-Lopez J. Epidemic of cardiometabolic diseases: a Latin American point of view. Adv. Cardiovasc. Dis. 2011; 5:119.
(23) Silva V, Cade N, Molina M. Coronary risk and associated factors in hypertensive patients at a family health clinic. Rev.Enferm. UERJ. 2013; 20(4):439-44.
(24) Andrade SSCA, Malta DC, Iser BM, Sampaio PC, de Moura L. Prevalence of self-reported arterial hypertension in Brazilian capitals in 2011 and analysis of its trends in the period between 2006 and 2011. Rev. Bras. Epidemiol. 2014; 17(Suppl1):215-26.
(25) Schmidt MI, Duncan BB, Mill JG, Lotufo PA, Chor D, Barreto SM, Aquino EML, Passos VMAP, Matos SMA, Molina MCB, Carvalho MS, Bensenor IM. Cohort profile: longitudinal study of adult health (ELSABrasil). Int. J. Epidemiol. 2015; 44(1):68-75.
(26) Lentsck MH, Mathias TAF. Hospitalizations for cardiovascular diseases and the coverage by the family health strategy. Rev. Latino-Am. Enfermagem. 2015; 23(4):611-9.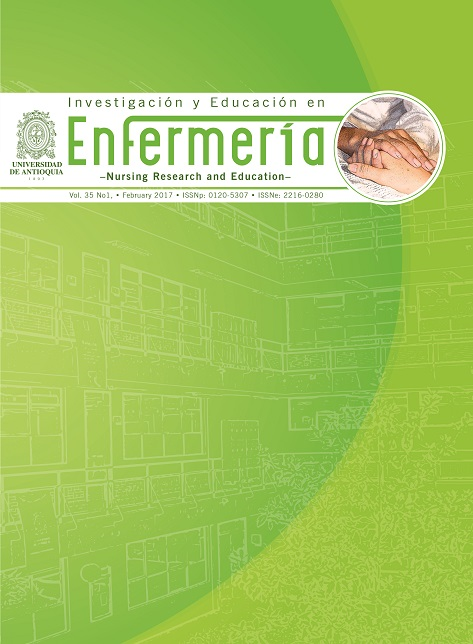 How to Cite
Santos Vieira, R., Martins Gallo, A., Aparecido de Carvalho, C. J., Pagliari Araujo, J., Cabral, R., & Jacklin Eler, G. (2017). Risk factors for developing cardiovascular disease in women. Investigación Y Educación En Enfermería, 35(1). https://doi.org/10.17533/udea.iee.v35n1a05
Section
ORIGINAL ARTICLES / ARTÍCULOS ORIGINALES / ARTIGOS ORIGINAIS
Derechos de propiedad / Direitos de Propriedade
English: If the article is accepted for publication, all copyright will be of exclusive property of Investigación y Educación en Enfermería. The text and the graphics included in the publication are exclusive responsibility of the authors and not necessarily reflect the thought of the Editorial Committee.
Español: Si el artículo es aprobado para publicación, todos los derechos son de propiedad de Investigación y Educación en Enfermería. El texto y las gráficas incluidas en la publicación son de exclusiva responsabilidad de los autores y no necesariamente refleja el pensamiento del Comité Editorial.
Português: Se o artigo for aceito para publicação, todos os direitos autorais serão de propriedade exclusiva de Investigación y Educación en Enfermería. O texto e os gráficos incluídos na publicação são de responsabilidade exclusiva dos autores e não refletem necessariamente o pensamento do Comitê Editorial.