Content and face validity of the spanish version of the sexual self-concept inventory for early adolescent girls
Keywords:
Adolescent, female, semantics, comprehension, reproducibility of results, translations, self-concept.
Abstract
Objective. To determine the content and face validity of the Spanish version of the Sexual Self-Concept Inventory (O'Sullivan et al.) for early adolescent girls.
Methods. Instrument-based study in which the translation, back-translation and adaptation of the 34 items of the Sexual Self-Concept Inventory (SSCI) scale was performed. Five experts carried out the content and face validation; face validation included 35 girls from the municipality of Girón (Colombia).
Results. The version translated into Spanish has adequate content validity because all items exceeded the minimum CVI (0.58) value considered within an overall scale of 0.92. The face validity for the 35 early adolescent girls showed that 10 items of the instrument needed to be adjusted semantically and culturally.
Conclusion. The Spanish version of the scale is semantically and conceptually equivalent to the original scale and can be used in similar contexts to evaluate sexual self-concept in early adolescent girls.
How to cite this article: Villamizar-Osorio ML, LaguadoJaimes E. Content and face validity of the Spanish version of the Sexual Self-Concept Inventory for early adolescent girls. Invest. Educ. Ill. 2019; 37(1):e02.
|Abstract = 311 veces | PDF = 223 veces| | HTML ENGLISH = 0 veces| | HTML SPANISH = 0 veces| | VIDEO = 0 veces| | PMC = 0 veces|
Downloads
Download data is not yet available.
References
(1) Organización Mundial de la Salud (OMS). Empoderamiento de mujeres adolescentes: un proceso clave para lograr los Objetivos de Desarrollo del Milenio. Washington D.C.: OMS; 2010.
(2) Borges AL. Pressão social do grupo de pares na iniciação sexual de adolescentes. Rev. Esc. Enferm. USP. 2007; 41(spe):782-6.
(3) Chacón-Quesada T, Corrales-González D, Garbanzo-Núñez D, Gutiérrez-Yglesias JA, Hernández-Sandí A, LoboAraya A, et al. ITS Y SIDA en adolescentes: descripción, prevención y marco legal. Med. Leg. Costa Rica. 2009; 26(2):79-98.
(4) O'Sullivan LF, Meyer-Balhburg HF, Watkins BX. Social cognitions associated with pubertal development in a sample of urban, low-income, African-American and Latina girls and mothers. J. Adolesc. Health. 2000; 27(4):227-35.
(5) Coley RL, Lombardi CM, Lynch AD, Mahalik JR, Sims J. Sexual partner accumulation from adolescence through early adulthood: The role of family, peer, and school social norms. J. Adolesc. Health. 2013; 53(1):91-7.
(6) Manlove J, Wildsmith E, Ikramullah E, Terry-Humen E, Schelar E. Family environments and the relationship context of first adolescent sex: Correlates of first sex in a casual versus steady relationship. Soc. Sci. Res. 2012; 41(4):861-75.
(7) Markham CM, Peskin MF, Shegog R, Baumler ER, Addy RC, Thiel M, et al. Behavioral and psychosocial effects of two middle school sexual health education programs at tenth-grade follow-up. J. Adolesc. Health. 2014; 54(2):151-9.
(8) Peres CA, Rutherford G, Borges G, Galano E, Hudes ES, Hearst N. Family structure and adolescent sexual behavior in a poor area of São Paulo, Brazil. J. Adolesc. Health. 2008; 42(2):177-83.
(9) O'Sullivan LF, Meyer‐Bahlburg HF, McKeague IW. The development of the sexual self‐concept inventory for early adolescent girls. Psychol. Women Q. 2006; 30(2):139-49.
(10) O'Sullivan LF, Brooks-Gunn J. The timing of changes in girls' sexual cognitions and behaviors in early adolescence: A prospective, cohort study. J. Adolesc. Health. 2005; 37(3):211-9.
(11) Valencia CP, Canaval GE, Sevilla TM, Orcasita LT. Sexual debut in young adults in Cali as transition: keys for care. Invest. Educ. Enferm. 2015; 33(2):355-64.
(12) Pai HC, Lee S, Yen WJ. The effect of sexual self-concept on sexual health behavioural intentions: a test of moderating mechanisms in early adolescent girls. J. Adv. Nurs. 2012; 68(1):47-55.
(13) Pai HC, Lee S. Sexual self-concept as influencing intended sexual health behaviour of young adolescent Taiwanese girls. J. Clin. Nurs. 2012; 21(13-14):1988-97.
(14) Parkes A, Henderson M, Wight D, Nixon C. Is parenting associated with teenagers' early sexual risk-taking, autonomy and relationship with sexual partners?. Perspect. Sex. Reprod. Health. 2011; 43(1):30-40.
(15) Sánchez R, Echeverry J. Validación de escalas de medición en salud. Revista de Salud pública. 2004; 6:302-18.
(16) Arribas Alberto. Adaptación transcultural de instrumentos. Guía para el proceso de validación de instrumentos de tipo encuestas. Rev. Asoc. Med. Bahía Blanca. 2006; 16(3):74-82.
(17) Urrutia-Egaña M, Barrios-Araya S, Núñez MG, Camus MM. Métodos óptimos para determinar validez de contenido. Rev. Cub. Educ.Méd. Super. 2014; 28(3):547-58.
(18) Tristán- López A. Modificación al modelo de Lawshe para el dictamen cuantitativo de la validez de contenido de un instrumento objetivo. Avances en medición. 2008;6(1):37-48.
(19) Herrera BS, González GM, Cardenas DC, Alarcón AA. Diseño, validez facial y de contenido del instrumento carga de la enfermedad crónica para el paciente–GPCP-UN. Rev. Méd. Risaralda. 2017; 23(1):18-29.
(20) Fleiss JL. The design and analysis of clinical experiments. New York: Wiley; 1999.
(21) Hutchinson A, Bentzen N, Konig-Zanhn C. Cross cultural health outcome assessment: a user's guide. Groningen: European Research Groupon Health Outcomes (ERGHO); 1997.
(22) Rincón-Álvarez DA, Chaparro-Díaz L. Validity and Reliability of the Spanish Version of the Technological Competency as Caring in Nursing Instrument. Invest. Educ. Enferm. 2017; 35(2):154-64.
(23) González GMC, Herrara BS, Rosero EV. Desarrollo y pruebas psicométricas del Instrumento "cuidar"-versión corta para medir la competencia de cuidado en el hogar. Rev. Salud UIS. 2016; 48(2):222-31.
(24) Vesga-Gualdrón LM, Ruiz CH. Validez y confiabilidad de una escala de cuidado profesional en español. Av. Enferm. 2016; 34(1):69-78.
(25) Galeano EMM, Cuevas VMC. Validez y confiabilidad del instrumento "Medición de la autoeficacia percibida en apnea del sueño"-SEMSA. Versión en español. Aquichan. 2016; 16(1):67-82.
(26) Polit DF, Hungler BP. Investigación Científica en Ciencias de la Salud. 6th ed. México: McGraw-Hill; 2005.
(27) Morales MNP, Ruiz CH. Adecuación semántica de la Escala de Cuidado Profesional (CPS). Aquichan, 2013; 13(1):104-17.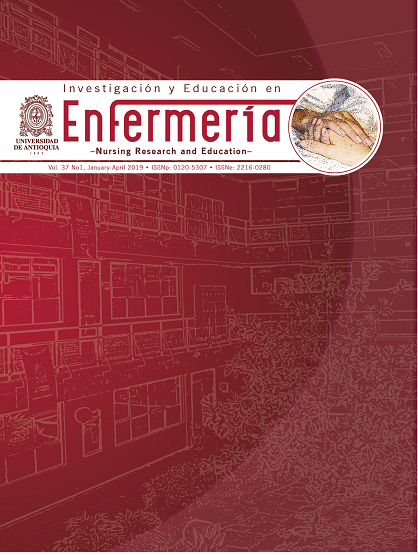 Downloads
How to Cite
Villamizar Osorio, M. L., & Laguado Jaimes, E. (2019). Content and face validity of the spanish version of the sexual self-concept inventory for early adolescent girls. Investigación Y Educación En Enfermería, 37(1). https://doi.org/10.17533/udea.iee.v37n1e02
Section
ORIGINAL ARTICLES / ARTÍCULOS ORIGINALES / ARTIGOS ORIGINAIS
License
Copyright (c) 2019 Investigación y Educación en Enfermería
This work is licensed under a Creative Commons Attribution-NonCommercial-ShareAlike 4.0 International License.
Derechos de propiedad / Direitos de Propriedade
English: If the article is accepted for publication, all copyright will be of exclusive property of Investigación y Educación en Enfermería. The text and the graphics included in the publication are exclusive responsibility of the authors and not necessarily reflect the thought of the Editorial Committee.
Español: Si el artículo es aprobado para publicación, todos los derechos son de propiedad de Investigación y Educación en Enfermería. El texto y las gráficas incluidas en la publicación son de exclusiva responsabilidad de los autores y no necesariamente refleja el pensamiento del Comité Editorial.
Português: Se o artigo for aceito para publicação, todos os direitos autorais serão de propriedade exclusiva de Investigación y Educación en Enfermería. O texto e os gráficos incluídos na publicação são de responsabilidade exclusiva dos autores e não refletem necessariamente o pensamento do Comitê Editorial.