Implications of institutional racism in the therapeutic itinerary of people with chronic renal failure
Keywords:
racismo, renal insufficiency, chronic, health services accessibility, ethnic inequality
Abstract
Objective. To understand the implications of institutional racism in the therapeutic itinerary of patients with chronic renal failure (CRF) in the search for diagnosis and treatment of the disease.
Methods. Descriptive, qualitative study developed with 23 people with CRF in a regional reference hospital for hemodialysis treatment in Northeast Brazil. Two techniques of data collection were used: semi-structured interview and consultation to the NEFRODATA electronic medical record. For systematization and analysis, the technique of content analysis was used.
Results. Black and white people with CRF showed significant divergences and differences in their therapeutic itineraries: while white people had access to diagnosis during outpatient care in other medical specialties, black people were only diagnosed during hospitalization. In addition, white people had more access to private health plans when compared to black people, which doubles the possibility of access to health services. Moreover, even when the characteristics in the itinerary of black and white people were convergent, access to diagnosis and treatment proved to be more difficult for black people.
Conclusion. The study showed the presence of institutional racism in the therapeutic itinerary of people with kidney disease in which black people have greater difficulty in accessing health services. In this sense, there is a need to create strategies to face institutional racism and to consolidate the National Policy for Comprehensive Health Care of the Black Population.
|Abstract = 888 veces | PDF = 459 veces| | HTML INGLES = 103 veces| | HTML PORTUGUES = 78 veces| | VIDEO = 0 veces| | PMC = 0 veces|
Downloads
Download data is not yet available.
References
1. Amaral TLM, Amaral CA, Vasconcellos, MTL, Monteiro, GTR. Prevalence and factors associated to chronic kidney
disease in older adults. Rev. Saúde Pública. 2019; 53:44.
2. Arogundade FA , Omotoso BA , Adelakun A , T Bamikefa , Ezeugonwa R , Omosule B , et al . Burden of endstage renal disease in sub-Saharan Africa. Clin. Nephrol. 2010; 74:13-6.
3. Gouveia DSS, Bignelli AT, Hokazono SR, Danucalov I, Siemens TA, Meyer F, et al. Análise do impacto econômico
entre as modalidades de terapia renal substitutiva. J. Bras. Nefrol. 2017; 39(2):162-71.
4. Jones D, You Z, Kendrick JB. Racial/Ethnic Differences in Barriers to Kidney Transplant Evaluation among
Hemodialysis Patients. Am. J. Nephrol . 2018; 47(1):1–7.
5. Sesso RC, Lopes AA, Thomé FS, Lugon JR, Martins CT. Brazilian Chronic Dialysis Survey 2016. J Bras. Nefrol.
2017; 39(3):261-66.
6. Bock F, Stewart TG, Robinson-Cohen C, Morse J, Kabagambe EK, Cavanaugh KL, et al. Racial disparities in
end-stage renal disease in a high-risk population: The Southern Community Cohort Study. BMC Nephrol. 2019;
20(1):308.
7. George C, Yako YY, Okpechi IG, Matsha TE, Kaze Folefack FJ, Kengne AP. An African perspective on the genetic risk
of chronic kidney disease: a systematic review. BMC Med. Genet. 2018; 19(1):187.
8. Peralta CA, Risch N, Lin F, Shlipak, MG, Reiner A, Ziv E, Tang H, et al . The Association of African Ancestry
and Elevated Creatinine in the Coronary Artery Risk Development in Young Adults (CARDIA) Study. Am. J.
Nephrol. 2010; 31(3):202–8.
9. Langefeld, CD Comeau ME, Ng MCY, Guan M, Dimitrov L, Mudgal P, et al . Genome-wide association studies
suggest that APOL1-environment interactions more likely trigger kidney disease in African Americans with
nondiabetic nephropathy than strong APOL1-second gene interactions. Kidney Int. 2018; 94(3):599–607.
10. Werneck J. Racismo institucional e saúde da população negra. Rev. Saúde Soc. 2016; 25(3):535-49.
11. Pérez-Urdiales I, Goicolea I, Sebastián MS, Irazusta A, Linander I. Sub-Saharan African immigrant women's
experiences of (lack of) access to appropriate healthcare in the public health system in the Basque Country,
Spain. Int J Equity Health . 2019; 18(1):59.
12. Cabral ALLV, Martinez-Hemáez A, Andrade EIG, Cherchiglia ML. Itinerários terapêuticos: o estado da arte da
produção científica no Brasil. Ciênc. Saúde Coletiva. 2011; 16(11):4433-42.
13. Saturnino MNG, Santos TP, Vale PRLF, Aguiar MGG. Modos de ver e de fazer: saúde, doença e cuidado em
unidades familiares de feirantes. Ciênc. Saúde Coletiva. 2019; 24(5):1723-32.
14. Brasil. Ministério da Saúde. Portaria Nº 389, de 13 de março de 2014 - Define os critérios para a organização da
linha de cuidado da Pessoa com Doença Renal Crônica (DRC) e institui incentivo financeiro de custeio destinado
ao cuidado ambulatorial pré-dialítico; 2014.
15. Brasil. Ministério da Saúde. Secretaria de Gestão Estratégica e Participativa. Departamento de Apoio à Gestão
Participativa e ao Controle Social. Política Nacional de Saúde Integral da População Negra: uma política para o
SUS. 3rd. Ed. – Brasília: Editora do Ministério da Saúde; 2017.
16. Kosik K. Dialética do Concreto, 2ª ed., São Paulo: Paz e Terra; 1976.
17. Mézaro S, I. A educação para além do capital. São Paulo: Boitempo, 2005.
18. Sestelo JAF. Dominância financeira na assistência à saúde: a ação política do capital sem limites no século XXI.
Ciênc. Saúde Coletiva. 2018; 23(6):2027-34.
19. Pilotto LM, Celeste RK. Tendências no uso de serviços de saúde médicos e odontológicos e a relação com nível
educacional e posse de plano privado de saúde no Brasil, 1998-2013. Cad. Saúde Pública. 2018;34(4):e00052017.
20. Agência Nacional de Saúde Suplementar (ANS). Sala de situação: ANS; 2019.
21. Brasil. Instituto Brasileiro de Geografia e Estatística. Pesquisa Nacional por Amostra de Domicílios contínua,
consolidado de primeiras entrevistas; 2016.
22. Marx K, Engels F. Manifesto Comunista. 1.ed. Revista - São Paulo: Boitempo; 2010.
23. Santos, GNB. Neoliberalismo e Seus Reflexos Na Política De Saúde No Brasil. In: Anais 7º Seminário Frente
Nacional Contra a Privatização da Saúde. Maceió; 27 -29 de Outubro de 2017. Maceió: Forum SUS; 2017.
24. Rubio MVR, Arnal LML, Ornab JAG, Navarro PMN, Gutiérrez-Dalmaua A, Ibor AL, et al. Supervivencia y calidad de
vida en pacientes ancianos en tratamiento renal conservador. Nefrologia. 2019; 39(2):141–50.
25. Trent M, Dooley DG, Dougé J. The Impact of Racism on Child and Adolescent Health. Rev. Pediatrics. 2019;
144(2):e20191765.
26. Muennig P; Murphy M. Does racism affect health? Evidence from the United States and the United Kingdom. J.
Health Polit. Policy Law. 2011; 36(1):187-214.
27. Cobbinah SS, Lewis J. Racism & Health: A public health perspective on racial discrimination. J. Eval. Clin.
Pract. 2018; 24(5):995-8.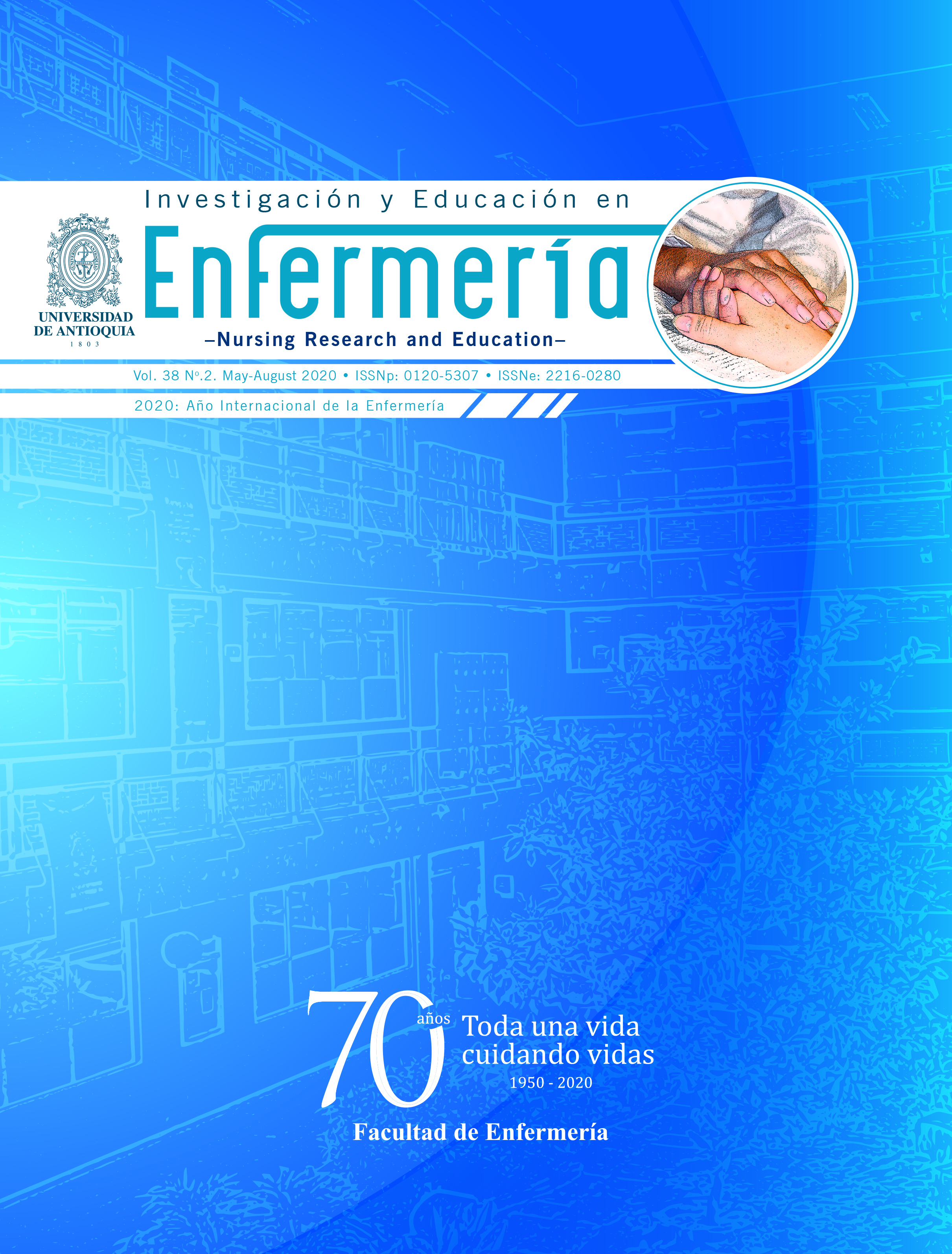 Downloads
How to Cite
Santos Ferreira, R. B. ., de Camargo, C. L. ., da Silva Barbosa, M. I. ., Silva Servo, M. L. ., Carneiro Oliveira, M. M. ., & Alves Leite Leal, J. . (2020). Implications of institutional racism in the therapeutic itinerary of people with chronic renal failure. Investigación Y Educación En Enfermería, 38(2). https://doi.org/10.17533/udea.iee.v38n2e09
Section
ORIGINAL ARTICLES / ARTÍCULOS ORIGINALES / ARTIGOS ORIGINAIS
License
Copyright (c) 2020 Investigación y Educación en Enfermería
This work is licensed under a Creative Commons Attribution-NonCommercial-ShareAlike 4.0 International License.
Derechos de propiedad / Direitos de Propriedade
English: If the article is accepted for publication, all copyright will be of exclusive property of Investigación y Educación en Enfermería. The text and the graphics included in the publication are exclusive responsibility of the authors and not necessarily reflect the thought of the Editorial Committee.
Español: Si el artículo es aprobado para publicación, todos los derechos son de propiedad de Investigación y Educación en Enfermería. El texto y las gráficas incluidas en la publicación son de exclusiva responsabilidad de los autores y no necesariamente refleja el pensamiento del Comité Editorial.
Português: Se o artigo for aceito para publicação, todos os direitos autorais serão de propriedade exclusiva de Investigación y Educación en Enfermería. O texto e os gráficos incluídos na publicação são de responsabilidade exclusiva dos autores e não refletem necessariamente o pensamento do Comitê Editorial.