Father's participation in prenatal care and childbirth: contributions of nurses' interventions
Keywords:
paternity, nursing, prenatal care, obstetric labor, parturition
Abstract
Objective. To describe the discourse of men about participation in prenatal care and childbirth/birth of their children from the contributions made by nurses.
Methods. This is an exploratory study, with a qualitative approach, carried out in the wards of a public hospital/maternity hospital in a city in the Northeast, Brazil. Fifty men participated in the study. Data collection with an individual interview, guided by semi-structured script. The data were recorded, transcribed in full, systematized, categorized, and organized by the Collective Subject Discourse method analyzed under the framework of Gender and Masculinities.
Result. It was evident in the collective discourse of men that how fatherhood is understood is in transformation, and that the father's participation in the pregnancy and parturition context is under construction. The study showed the change in behavior of men, as well as the expression of new models of masculinities, about the exercise of assisted parenthood motivated by nurses.
Conclusion. Nurses' contributions represented necessary elements for greater adherence and male involvement and revealed a possibility to re-signify male identity from the reconstruction of the idea of fatherhood, in the context of pregnancy and parturition.
|Abstract = 643 veces | PDF = 474 veces| | HTML INGLES = 24 veces| | HTML PORTUGUES = 121 veces| | PMC = 0 veces|
Downloads
Download data is not yet available.
References
Ferreira IS, Fernandes AFC, Lô KKR, Melo TP, Gomes AMF, Andrade IS. Percepções de gestantes acerca da atuação dos parceiros nas consultas de pré-natal. Rev. Rene. 2016; 17(3): 318-23.
Fiterman H, Moreira LVC. O pai na gestação, no parto e aos três meses de vida do primeiro filho. Polis (Santiago). 2018; 17(50):47-68
Bustamante V. Participação paterna no cuidado durante o primeiro ano de vida. Pensando familias. 2019; 23(1):89-104.
Abade F, Romanelli G. Paternidade e paternagem em famílias patrifocais. Rev. Estud. Fem. 2018; 26(2):e50106.
Silva MMJ, Cardoso EP, Calheiros CAP, Rodrigues EOMA, Leite EPRC, Rocha LCD. O envolvimento paterno na gestação sob o olhar de gênero. Rev. Enferm. UFPE online. 2013; 7(5):1376-81.
Scott J. Gênero: uma categoria útil para a análise histórica. Educ. Realidade 1995; 20(2):71-9.
Connell R. Masculinities: knowledge, power and social change. Berkeley, Los Angeles: University of California Press; 1995.
Lefevre AMC, Crestana MF, Cornetta VK. A utilização da metodologia do discurso do sujeito coletivo na avaliação qualitativa dos cursos de especialização "Capacitação e Desenvolvimento de Recursos Humanos em Saúde - CADRHU", São Paulo - 2002. Saúde Soc. 2003; 12(2):68-75.
Ribeiro CR, Gomes R, Moreira MC. Encontros e desencontros entre a saúde do homem, a promoção da paternidade participativa e a saúde sexual e reprodutiva na atenção básica. Physis. 2017;27(1):41–60.
Gomes R, Albernaz L, Ribeiro CRS, Moreira MCN, Nascimento M. Lines of male care geared to sexual health, reproduction and paternity. Cienc. Saude Colet. 2016; 21(5):1545–52.
Menezes MSL, Scorsolini-Comin F, Scorsolini-Comin F. Envolvimento paterno na relação mãe-bebê: revisão integrativa da literatura. Psicol. Rev. 2019; 25(1):19-39.
Catarina PCS, Martins C. Transition to fatherhood in the prenatal period: a qualitative study. Ciênc. Saúde Colet. 2021; 26(2):465-74.
Chikalipo MC, Chirwa EM, Muula AS. Acceptability of couple antenatal education: A qualitative study of expectant couples attending antenatal clinics in Blantyre, Malawi. Malawi Med. J. 2018; 30(3):146-51.
Brasil. Ministério da Saúde. Secretaria de Atenção à Saúde. Departamento de Ações Programáticas Estratégicas. Guia do pré-natal do parceiro para profissionais de saúde [Internet]. Rio de Janeiro (RJ): Ministério da Saúde; 2016 [cited 2017 Jun 2]. Available from: http://portalarquivos.saude.gov.br/images/pdf/2016/agosto/11/guia_PreNatal.pdf
Suhre PB, Costa AEK, Pissaia LF, Oreschi C. Systematization of nursing assistance: perceptions from pregnant women monitored at a basic health unit. Rev. Ciênc. Saúde. 2017; 5(1):20-31.
Almeida S, Pereda P, Ferreira, R. Custos da ampliação da licença-paternidade no Brasil. Rev. Bras. Estud. Popul. 2016; 33(3):495-516.
Dal-Rosso GR, Silva SO, Pieszak GM, Ebling SBD, Silveira VN. Experiências narradas por homens no exercício da paternidade: rompendo paradigmas. Rev. Enferm. UFSM. 2019; e2: 1-17.
Braide ASG, Brilhante AV, Arruda CN, Mendonça FAC, Caldas JMP, Nations MK, et al. Sou homem e pai sim! (Re)construindo a identidade masculina a partir da participação no parto. Rev. Panam. Salud Publica. 2018; 42:e190.
Brüggemann OM, Ebsen ES, Ebele RR, Batista BD. Possibilities of inclusion of the partner in deliveries in public institutions. Ciênc. Saúde Colet. 2016; 21(8):2555-64.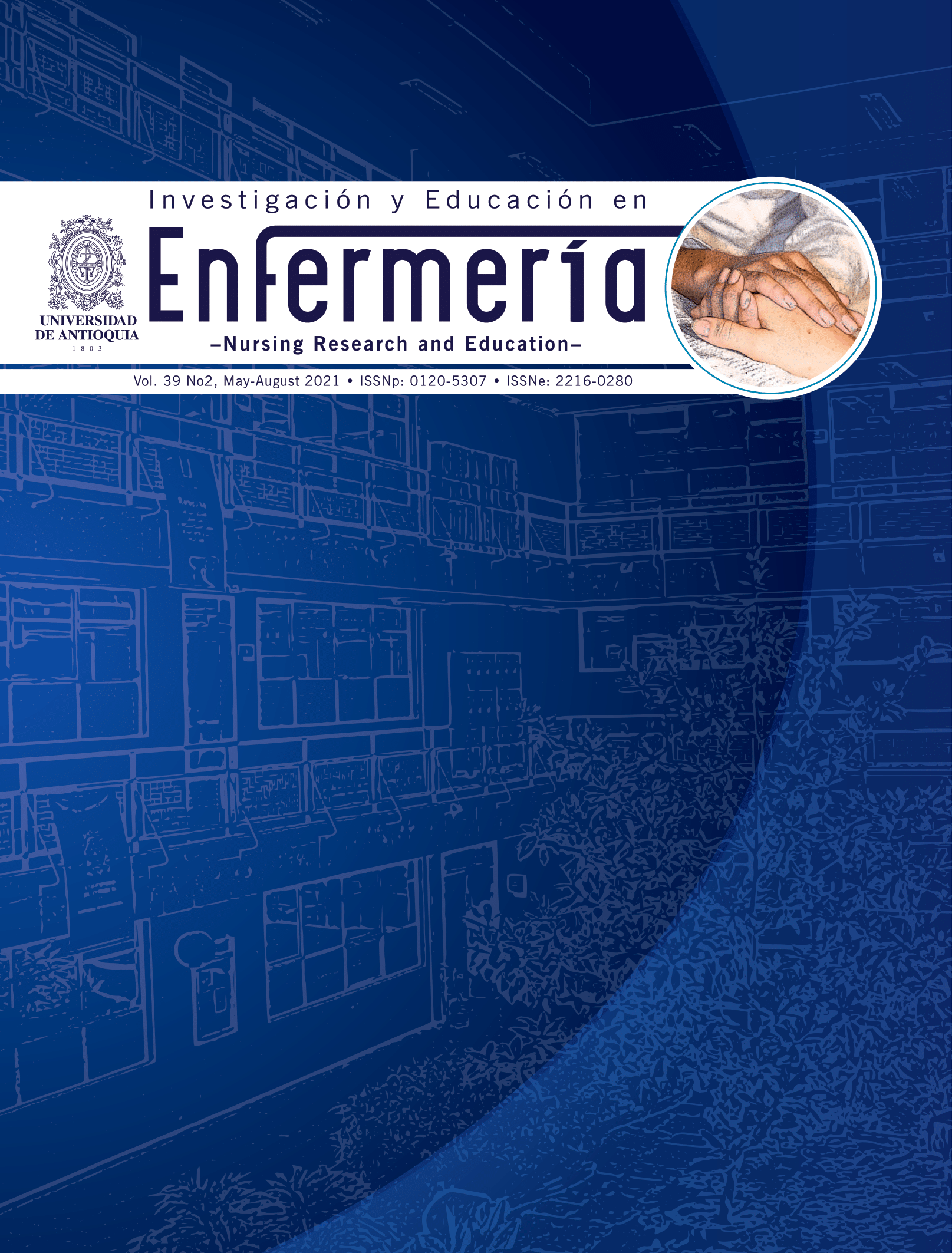 Downloads
How to Cite
Lima , K. S. V. ., Carvalho , M. M. de B. ., Lima , T. M. C. ., Alencar , D. de C. ., de Sousa , A. R. ., & Pereira , Álvaro . (2021). Father's participation in prenatal care and childbirth: contributions of nurses' interventions. Investigación Y Educación En Enfermería, 39(2). https://doi.org/10.17533/udea.iee.v39n2e13
Section
ORIGINAL ARTICLES / ARTÍCULOS ORIGINALES / ARTIGOS ORIGINAIS
License
Copyright (c) 2021 Investigación y Educación en Enfermería
This work is licensed under a Creative Commons Attribution-NonCommercial-ShareAlike 4.0 International License.
Derechos de propiedad / Direitos de Propriedade
English: If the article is accepted for publication, all copyright will be of exclusive property of Investigación y Educación en Enfermería. The text and the graphics included in the publication are exclusive responsibility of the authors and not necessarily reflect the thought of the Editorial Committee.
Español: Si el artículo es aprobado para publicación, todos los derechos son de propiedad de Investigación y Educación en Enfermería. El texto y las gráficas incluidas en la publicación son de exclusiva responsabilidad de los autores y no necesariamente refleja el pensamiento del Comité Editorial.
Português: Se o artigo for aceito para publicação, todos os direitos autorais serão de propriedade exclusiva de Investigación y Educación en Enfermería. O texto e os gráficos incluídos na publicação são de responsabilidade exclusiva dos autores e não refletem necessariamente o pensamento do Comitê Editorial.