Relationship between Spiritual Intelligence and Professional Self-concept among Iranian Nurses
Keywords:
self concept, spiritualism, intelligence, nurses, Iran
Abstract
Objective. To determine the relationship between spiritual intelligence (SI) and professional self-concept (PSC) among Iranian nurses.
Methods. This is a correlation study. A convenience sampling method was used and 344 nurses were selected from hospitals of Jahrom University of Medical Sciences. Data collection standard tools included two validated scales: Cowin's Nurse Self-Concept Questionnaire (36 items scored ranged from 1 to 8; Maximum score=288; 6 subcategories: General Nurse Self-Concept, Knowledge, Care, Communication, Staff Relation and Leadership) and Abdollahzadeh's SI Questionnaire (29 items scored ranged from 0 to 5; Maximum score=145; 2 subcategories: Relying on the inner core and Understanding and communicating with the origin of the universe.
Results. The mean total score of PSC was 220.3±30.61 and 120.67±16.13 for SI. There was a significant statistical correlation between PSC (r=0.348, p<0.0001) and almost all subcategories and SI. The results of the regression analysis showed that SI predicts 13.3% of the variance of PSC (p<0.0001).
Conclusion. Considering the correlation of SI and PSC among Iranian nurses, it is suggested that strategies be used to train and promote the SI of nurses.
|Abstract = 634 veces | PDF = 272 veces| | HTML INGLES = 19 veces| | VIDEO = 0 veces| | PMC = 0 veces|
Downloads
Download data is not yet available.
References
1. Çöplü M, Tekinsoy Kartın P. Professional self-concept and professional values of senior students of the nursing department. Nurs. Ethics. 2019; 26(5):1387-97.
2. Crigger N, Godfrey N. From the inside out: A new approach to teaching professional identity formation and professional ethics. J. Prof. Nurs. 2014; 30(5):376-82.
3. Larson J, Brady M, Engelmann L, Perkins BI, Shultz C. The formation of professional identity in nursing. Nurs. Educ. Perspect. 2013; 34(2):138.
4. Cowin LS, Johnson M, Craven RG, Marsh HW. Causal modeling of self-concept, job satisfaction, and retention of nurses. Int. J. Nurs. Stud. 2008; 45(10):1449-59.
5. Peng J, Li D, Zhang Z, Tian Y, Miao D, Xiao W, et al. How can core self-evaluations influence job burnout? The key roles of organizational commitment and job satisfaction. J. Health Psychol. 2016; 21(1):50-9.
6. Hosseini A, Mousavi SH, Hajibabaee F, Haghani S. The relationship between workplace bullying and professional self‐concept in Iranian nurses. Nurs. Open. 2021; 8(1):232-40.
7. Hoeve Yt, Jansen G, Roodbol P. The nursing profession: public image, self‐concept and professional identity. A discussion paper. J. Adv. Nurs. 2014; 70(2):295-309.
8. Ebrahimi Barmi B, Hosseini M, Abdi K, Bakhshi E, Shirozhan S. The Relationship between Spiritual Intelligence and Resiliency of Rehabilitation Staff. J. Pastoral Care Couns. 2019; 73(4):205-10.
9. Amram JY. The contribution of emotional and spiritual intelligences to effective business leadership [Dissertation]. Palo Alto: Institute of Transpersonal Psychology; 2009.
10. Wigglesworth C. The twenty one skills of spiritual intelligence. Selectbooks. Inc, New York. 2012.
11. Emmons RA. Is spirituality an intelligence? Motivation, cognition, and the psychology of ultimate concern. Int. J. Psychol. Religion. 2000; 10(1):3-26.
12. Bagherian F, Mahmoudi Rad GH. The Effect of Spiritual Intelligence Training on Communication Ability for Nurses. Mod. Care J. 2020; 17(1):e92334.
13. Kulshrestha S, Singhal TK. Impact of spiritual intelligence on performance and job satisfaction: A study on school teachers. Int. J. Hum. Resour. Ind. Res. 2017; 4(2):1-6.
14. Kaur D, Sambasivan M, Kumar N. Impact of emotional intelligence and spiritual intelligence on the caring behavior of nurses: a dimension-level exploratory study among public hospitals in Malaysia. Appl. Nurs.Res. 2015; 28(4):293-8.
15. Cowin L. Measuring nurses' self-concept. West. J. Nurs. Res. 2001; 23(3):313-25.
16. Zencir G, Zencir M, Khorshid L. Adaptation of the Turkish version of Nurses' Self Concept Questionnaire. Int. J. Nurs. Sci. 2019; 6(1):43-9.
17. Badiyepeyma Z, Keshavarzi S, Jahanbin I. Determination of the reliability and validity of the Persian version of nurses' self-concept questionnaire (NSCQ). J. Nurs. Educ. 2013; 2(4):63-71.
18. Abdollahzadeh H, Kashmiri M, Arab Ameri F. Construction and Standardization of spiritual intelligence questionnaires. Tehran: Ravansanji; 2009.
19. Mosayebi M, Rassouli M, Nasiri M. Correlation of Occupational Stress with Professional Self-concept in Pediatric Nurses. J. Health Promot. Manag. 2018; 6(6):23-9.
20. Hydari A, Bordbar Fayyazi MR, Basiri Moghadam K, Meshkinyazd A. Effect of spiritual intelligence training on perceived stress in a psychiatric nurse. Int. J. Med. Res. Health Sci. 2018; 7(11):6-10.
21. Heydari A, Meshkinyazd A, Soudmand P. The effect of spiritual intelligence training on job satisfaction of psychiatric nurses. Iran. J. Psychiatry. 2017; 12(2):128.
22. Sahebalzamani M, Farahani H, Abasi R, Talebi M. The relationship between spiritual intelligence with psychological well-being and purpose in life of nurses. Iran. J. Nurs Midwifery Res. 2013; 18(1):38.
23. Rani AA, Abidin I, Hamid M. The impact of spiritual intelligence on work performance: Case studies in government hospitals of east coast of Malaysia. Macrotheme Rev. 2013; 2(3):46-59.
24. Emamgholian F, Mostafaie M, Hoseinabadi M, Keshavarz M. Spiritual Intelligence and its influencing factors in nursing students: a cross-sectional study. Islam Health J. 2015; 2(2):16-22.
25. Golmakani N, Rezaei F, Mazloum SR. The Relationship of Spiritual Intelligence and Religious activities with happiness of midwives working in hospitals and health centers. J. Midwifery Reprod. Health. 2018; 6(2):1264-72.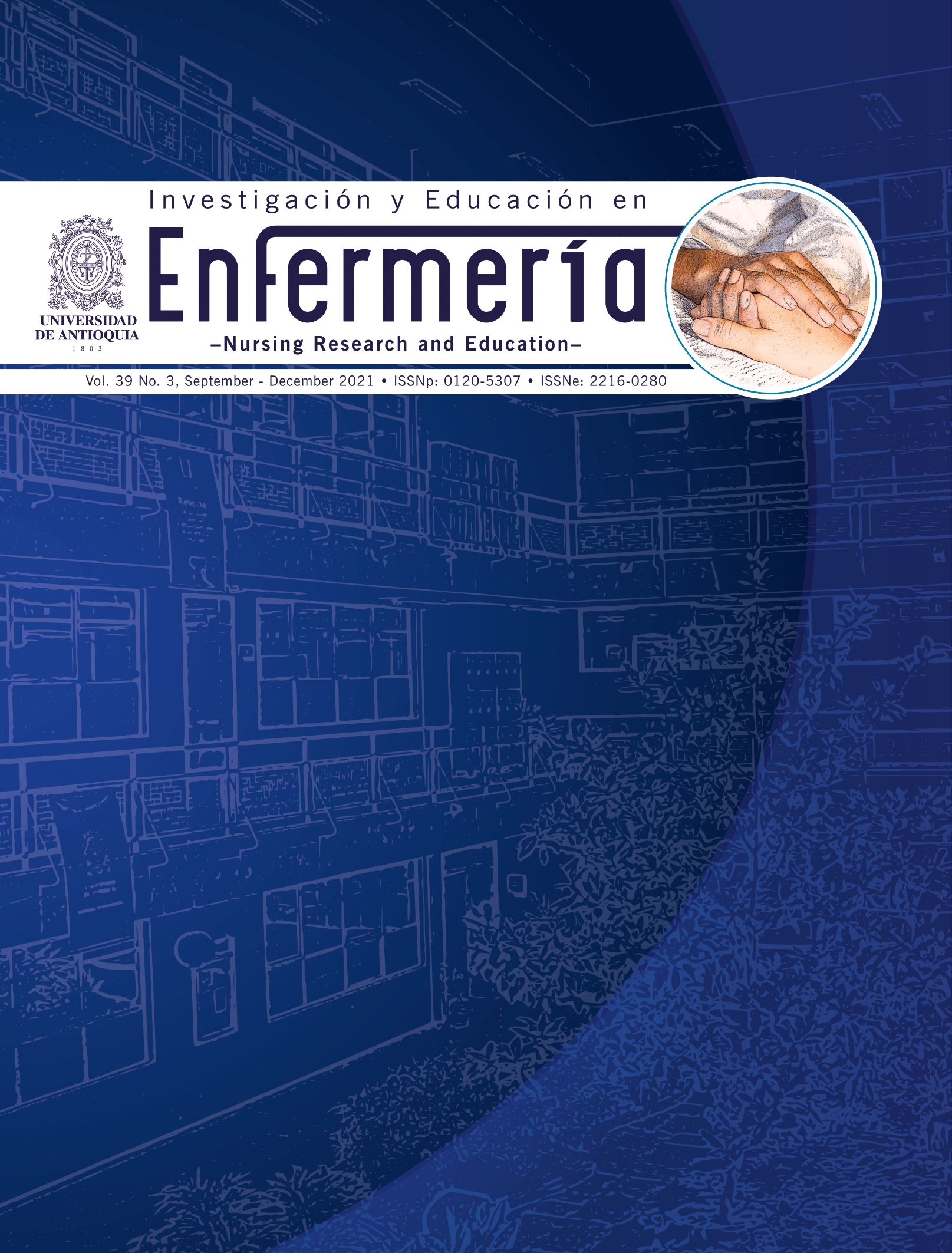 Downloads
How to Cite
Hojat , M., & Badiyepeymaiejahromi, Z. (2021). Relationship between Spiritual Intelligence and Professional Self-concept among Iranian Nurses. Investigación Y Educación En Enfermería, 39(3). https://doi.org/10.17533/udea.iee.v39n3e12
Section
ORIGINAL ARTICLES / ARTÍCULOS ORIGINALES / ARTIGOS ORIGINAIS
License
Copyright (c) 2021 Investigación y Educación en Enfermería
This work is licensed under a Creative Commons Attribution-NonCommercial-ShareAlike 4.0 International License.
Derechos de propiedad / Direitos de Propriedade
English: If the article is accepted for publication, all copyright will be of exclusive property of Investigación y Educación en Enfermería. The text and the graphics included in the publication are exclusive responsibility of the authors and not necessarily reflect the thought of the Editorial Committee.
Español: Si el artículo es aprobado para publicación, todos los derechos son de propiedad de Investigación y Educación en Enfermería. El texto y las gráficas incluidas en la publicación son de exclusiva responsabilidad de los autores y no necesariamente refleja el pensamiento del Comité Editorial.
Português: Se o artigo for aceito para publicação, todos os direitos autorais serão de propriedade exclusiva de Investigación y Educación en Enfermería. O texto e os gráficos incluídos na publicação são de responsabilidade exclusiva dos autores e não refletem necessariamente o pensamento do Comitê Editorial.